Biology is a Battlefield in "The How and the Why" at TimeLine Theatre
BY: Will Landon |
Feb 25, 2014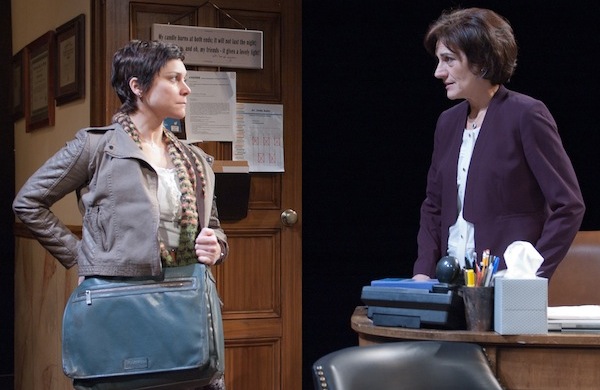 Two evolutionary biologists clash over their views on sex and science in TimeLine's production of the latest play from
House of Cards
writer Sarah Treem.
Biologist
Ernst Mayr
wrote that there are "two great truths": "(1) no two individuals are alike, and (2) both environment and genetic endowment make a contribution to nearly every trait." But can two people with polarized viewpoints be, in many ways, the same? In
The How and the Why
,
House of Cards
writer Sarah Treem answers that question with an emphatic yes. In her latest play, two evolutionary biologists—professor Zelda Kahn (
Janet Ulrich Brooks
) and grad student Rachel Hardeman (
Elizabeth Ledo
)—meet for the first time a few days before a national conference. The motivation for this visit isn't immediately apparent, but becomes clear as the two ease into a debate. Whereas Zelda built her legacy on a
theory
regarding the biological imperative for menstruation, Rachel posits a more radical hypothesis; one that flies in the face of the former's academic legacy. As they spar over their different outlooks and we learn the true nature of their relationship, the two scientists discover they struggle with similar things—most notably their romantic lives and asserting themselves in such a competitive, male-dominated field. Like Treem's work on
House of Cards
,
The How and the Why
appeals to both the heart and the head by juxtaposing steely intellectualism with raw emotion. As cerebral as the character Rachel is, Ledo imbues her with an almost frantic vulnerability. Brooks, on the other hand, moves with stoic, guarded body language, perhaps as a front for Zelda's own insecurities. As her doubts creep to the surface throughout the play, she often uses humor to deflect them and move the conversation toward something else. Director Keira Fromm's blocking further emphasizes the division between the two women's divide—and their first steps toward connection. At first, Rachel often moves or looks away after an accusation or argument, while Zelda keeps her gaze fixed. But as things progress and the two grow closer, Rachel grows able to look her colleague in the eye. Collette Pollard's set gives them plenty of room to flee and come toward each other, with minimal furniture and a thrust that extends into the audience. But regardless of Rachel and Zelda's frequent disconnect,
The How and the Why
presents them as two brilliant minds who use their work as a means to run from their personal struggles. They just run in different directions. The How and the Why
runs at TimeLine Theatre (615 W. Wellington Ave.) Wednesday–Sunday until April 6. Tickets are $25–$48. Click here to purchase.