Birds, Bunnies, and Butchers in West Town
BY: María Lalonde |
Jun 18, 2013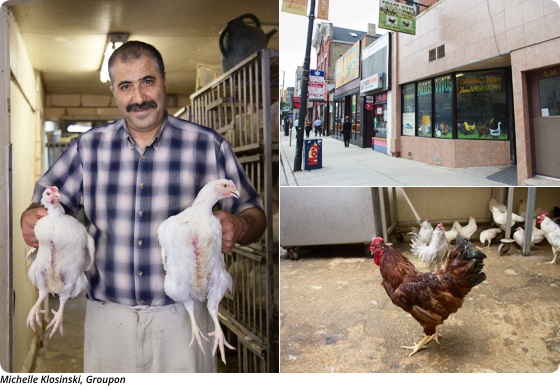 I obviously wasn't the first wide-eyed female who walked into the bright little storefront of Alliance Poultry Farms (1636 West Chicago Avenue). The staffers knew just what to do—they immediately steered me to a cage filled with peeping baby chicks and bunnies, pulled out the littlest rabbit, and plunked him directly into my outstretched palms. "What do you think about this one?" Naturally, I couldn't help but take the bait. "Aww!" I squeaked, kissing him on the head and conveniently forgetting for a moment that the little fur ball I was holding was destined to be someone's lapin à la cocotte or rabbit confit. My new furry friend was one of the many clucking, hooting, and cawing animals destined for the dinner table. Flanked by garish discount furniture stores and brightly lit pharmacies, Alliance surprises with its rural, farmyard-worthy selection of chickens, roosters, rabbits, ducks, pigeons, guinea fowl, and quail. Inside the shop, I was led down a lengthy tunnel of chicken coops and animal cages by a cheerful staffer named Muhammad, who proudly pointed out the different species and enthusiastically offered to pose for a picture with an armload of chickens (the chickens themselves seemed somewhat indignant about the photo shoot). The owner—a polite and patient Palestinian who introduced himself to me by his "American" name, Wally—has been working at the shop for more than 30 years. Wally tells me the shop sells as many as 300 chickens per day to a predominantly Asian, Muslim, and Hispanic clientele (he pauses our conversation every so often to greet customers in confident Spanish). The animals are delivered three times a week from local area Amish farms, where they're raised naturally without hormones or drugs. "Fresh meat is the best," Wally maintains. "It tastes different. No chemicals, not like the ones in the store. How long have they been frozen? One month, three months? This is all fresh." As Wally and I chat, Muhammad tends to the steady stream of customers floating in and out. He brings out squawking birds and sets them on the scale, determining their prices before taking them back to the butchering room to meet their fate. All animals are slaughtered according to halal standards, Wally explains, demonstrating the swift slicing of an imaginary jugular vein with his hands. To comply with halal slaughtering regulations, the butcher's knife must be sharp and clean and the animals respected and well cared for. But not all of the animals sold at the shop end up on the butcher's block. Wally says that many of his clients buy animals for their eggs.
Chicago law permits raising chickens in residential districts
, though keeping any animal for the purpose of slaughter is illegal—save for in licensed slaughtering facilities, such as Alliance. Upon learning this, I became momentarily engrossed in an enticing fantasy: I could buy a few birds, build a coop in the backyard, and have a parade of loyal pet chickens always trailing me around Lakeview. I would name them after the members of Destiny's Child. But my fantasy was soon quashed when I remembered I had to take the 66 bus home, and noisy, uncaged
chickens are not permitted on the CTA
.