GROUPON GUIDE TO NEW YORK
BLACK+graze's Jenny Volodarsky Spotlights Five Up-and-Coming New York Designers
BY: Michelle Algeo |
Apr 10, 2013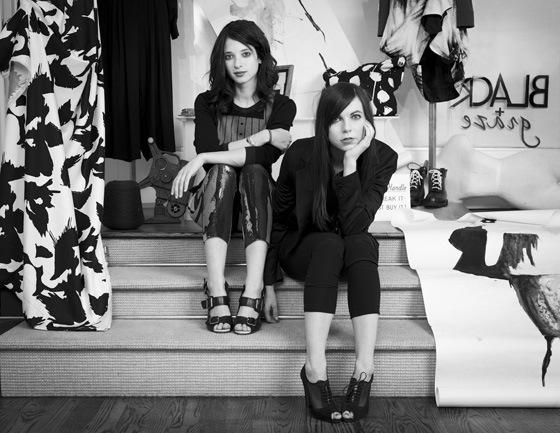 Before fashion designer Caycee Black creates a print, she picks up a paintbrush.
BLACK+graze owners Jenny Volodarsky and Caycee Black
"Each season she makes several paintings that she ultimately turns into prints, so each print is custom. ... When you buy her clothes, you are buying artwork," explains her business partner, Jenny Volodarsky. She and Caycee run
BLACK+graze
, a collective in SoHo dedicated to showcasing the talents of New York–based artists and designers—including Caycee, who does double duty as owner and contributing designer. "Fashion and art are intertwined. ... Our designers are artists," Jenny says. "Although our designers and artists are not running the store, their roles are equally important." That's why the shop owners take such care in selecting the designers they work with and the pieces they keep in stock. "We work with our artists/designers to find other designers that fit our message on local production [and] the importance of being socially conscious and aware of the materials we use." Here, Jenny shares five of the top local designers at BLACK+graze and why she thinks you'll want them in your closet.
Caycee Black
"She produces in NYC, and she is a brilliant painter and designer," Jenny says of her business partner and friend. In addition to Caycee's line of art-inspired pieces, she also makes ensembles to order: "You can pick one of her custom prints, one of her silhouettes, and we produce it in NYC in three weeks (or less)."
xOmar
"Omar Campbell repurposes vintage pieces, so each piece is unique, and he makes the pieces himself. He is a visionary."
Alexandra Grecco
"A master of femininity with a twist," Jenny gushes. "Her silhouettes are always flattering, and her construction is really well done. I think she's just intuitive to the needs of a woman that wants to wear something pretty and easy but also unique and cool."
MW
"MW is another master of construction. Her pieces are innovations on basics ... but made with interesting materials—the basic pants out of what feels like scuba material, basic maxi dresses made out of sheer silk. [The line's] playfulness is subtle."
Ryan Wilde
"We just started carrying her pieces, and we are obsessed!" Jenny says. "She is a milliner whose hats are out of this world. ... [The hats] have been worn by Chanel Iman, Rosario Dawson, and Janet Jackson."