Bone Marrow Is the Meat Jelly for Everyone
BY: Aimee Algas Alker |
Mar 3, 2014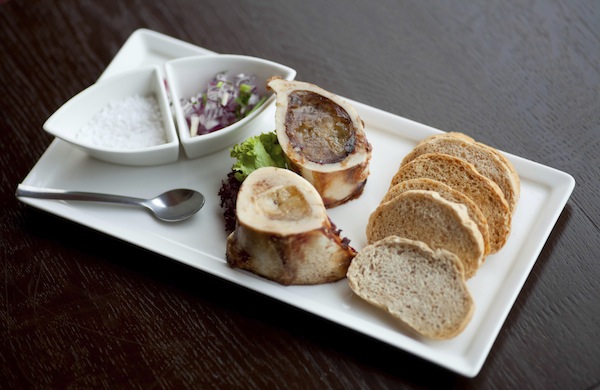 Meat jello is a phrase barbecue aficionados use to refer to meat that's too tender; meat jelly might accurately describe beef bone marrow. The ritual of scooping the center of a just-roasted bone and spreading the brown substance over some crostini is just the lead-in to the sublime savory treat.
Bone marrow has been on the menus of upscale restaurants for years, but a dish that's been around this long isn't just for highbrow dining. With the all the advantages of eating bone marrow, it's surprising that it hasn't graduated from "trendy dish" to "dinnertime staple."
Though the phrase meat jelly might not whet your appetite, believe me, you won't regret adding bone marrow to your family's dinner rotation.
Here are a few reasons you should try it.
A simple preparation
Not much goes into a good batch of bone marrow. Set the oven to 450 degrees, set the bones on end atop a baking sheet, and roast them for 15 minutes. When they're ready the insides will be smooth and spreadable. Use a thin marrow spoon, teaspoon, or butter knife to smear the marrow on thin slices of french bread, fresh from the toaster. You don't need them, but accompaniments usually brighten the dish and cut through the fat—a parsley and onion salad, a squeeze of lemon, herb-buttered bread, something like that.
A carnivore's superfood
The bone-marrow trend has held fast from diners' rising penchant for nose-to-tail dining and the increasing number of people eating paleo. It's touted as the carnivore's superfood, full of nutrients such as calcium, magnesium, and chondroitin sulfate, all of which are great for bones and joints.
Since it's so nutrient-rich as well as chock-full of protein and fat—the good kind—nutritionists call it a great first food for babies, which was music to my ears. At our 1-year-old's last pediatrician appointment, her growth curve had flattened, and we were encouraged to fatten her up.
Flavor trumps texture
Also, it's delicious. I don't dig cheesecake or tartare because of their mushy, nondescript textures. But bone marrow is one dish where, for me, flavor trumps texture. Everything that makes a good cut of beef taste so good is concentrated in the bone, and you get all that flavor in just one smear on toast. It's really the ultimate carnivore's delicacy. And my 1-year-old digs it too.
BY: Aimee Algas Alker
Guide Staff Writer
Though Aimee stays up to date on the latest food trends for the Guide, most of her meals are served cold and cut into tiny, toddler-sized bites.