Boston Baked Beans
BY: Fiona Coxe |
Oct 3, 2013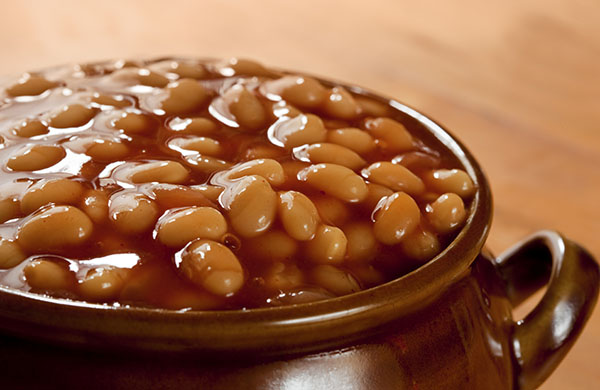 Did you know that Massachusetts is the only state in the Union to have a state bean? In the same rank as a state tree, or flower, Massachusetts has named the Baked Bean to be our state bean. That's right folks, Boston actually gets it's nickname of Beantown from the age old dish. Not surprisingly, baked beans were just another wonderful thing that were taught to the early settlers by the Native Americans who greeted us into the land. A rustic dish originally made by simmering pea beans with salt pork or bacon and spices over a low fire, or utilizing residual heat from a day's worth of cooking. It was simple food that the Native Americans offered the early settlers with corn bread, creating a rich, hearty meal with ingredients from their land.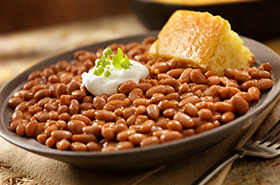 Boston Baked Beans, however, twist this recipe only slightly. See, Boston, during the 1700's was an exporter of Rum back to England. Bostonians were making rum by fermenting molasses, which was a very common sweetener during that time. With so much of it on hand, it's no surprise that we started adding it to a variety of dishes, one being the highly traditional baked bean. The change up created the unique flavor contrast that the Boston Baked Bean dish is known for- deep rich flavor from the slow cooking process with the sweet flavor of molasses and the salty smoke of bacon. For centuries now the people of Boston, and greater Massachusetts have made this recipe and served it basically unchanged. The place to try out the real deal in Boston is
Durgin Park
. Located in the Faneuil Hall area of Boston, Durgin Park draws a healthy crowd of visitors, it serves traditional Yankee fare, with the famed Boston Baked Beans (and of course chowdah and lobstah rolls) included. Of course if you can't make it out to Durgin Park, I'm going to slip you their recipe, courtesy of New England Home Cooking. 1 lb dried small white beans, such a pea beans, rinsed and picked over 1/2 teaspoon baking soda, optional ½ cup firmly packed light or dark brown sugar 1/2 cup molasses 1 teaspoon dry mustard 1 teaspoon salt 1/4 teaspoon pepper 1 medium onion (peeled and scored with a criss cross to the root end) 1/2 lb salt pork Directions: 1. NOTE: Use navy beans, California pea beans, or small white beans. 2. Soak beans in cold water for 4 hours or overnight.  Drain in a colander.  Bring 10 cups of water to boil in a large pot.  Add the baking soda, if you like, and the beans, return to a boil, and cook over medium heat for 15 minutes.  Drain in a colander and rinse the beans 3. Preheat oven to 300°F 4. Pour the beans into a 2 ½ to 3 quart bean pot or other baking dish.  In a bowl, combine the brown sugar, molasses, mustard, salt and pepper and stir into the beans.  Push the onion into the center of the beans.  Pour enough boiling water over the beans to cover them by about ½ inch.  Push the salt pork partway into the beans, letting it protrude a bit above the water. 5. Bake the beans, uncovered if in a bean pot, partially covered with foil if in a shallow casserole dish, for 6 – 8 hours, until the beans are softened and the sauce is lightly thickened.  Check every hour or so.  The sauce should be barely bubbling at the top of the pot.  Add boiling water if the liquid cooks down below the level of the beans.  When done the beans will turn a mahogany color and the sauce will be lightly thickened. 6. Remove the onion and serve the beans piping hot.
New England Home Cooking; Harvard Common Press, Boston, Massachusetts; Copyright 1999; page 152- 154
BY: Fiona Coxe
Fiona is a free-lance food writer living in the city of Boston.  Born with an extreme love of food, she put her passion to paper in 2008 with the creation of her own blog, A Boston Food Diary.  It began as a way to keep track of her own kitchen adventures, and record her dining experiences in and around Boston.  Since its inception, A Boston Food Diary, showcasing its extreme love of both food and the city of Boston, has become a well-known resource for both the people of Boston and visitors to the city.  Fiona has also written for various publications around the city, as well as spot pieces for national publications.