Boston Boutique Tour
BY: Sarah McManus |
May 22, 2014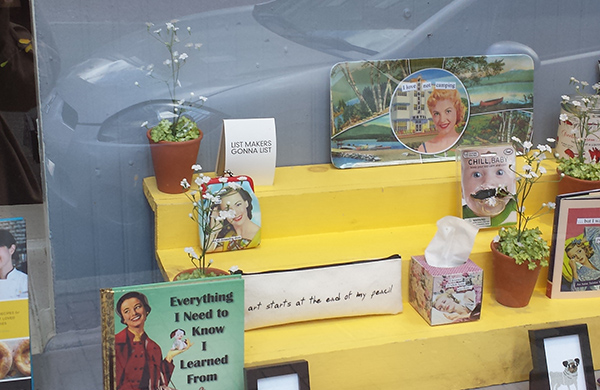 When you think of Boston, you may not think of the fashion right away, but hidden in some of the hottest spots are some of the trendiest boutiques. When looking for unique designers and a style to call all your own, these are the destinations you want to start with. From distinctive decor to expert assistance, it is worth a trip to discover some of the hidden gems Boston has to offer. Union Park is simply beautiful and reminds it's residents of a chic, London haven. Tucked in the heart of the South End, a row of unique boutiques make up this street. If you're looking for a cute gift or sentimental card,
Gracie Finn
has exactly what you need. Trinkets, exquisite notecards, and small treasures fill this shop. They also carry the famous Aunt Sadie's candles that come in scents like Birthday Cake. Make sure to pop into
Flock
around the corner for a new outfit or some fabulous jewelry. Bringing a "West Coast" vibe to Boston, Flock features small and large designers you will not find elsewhere like Wildfox, Kim Nations, and Maison Scotch. If you're looking for a modern bohemian style, this boutique has so much to choose from. The dressing room's warm and eclectic feel might make you want to move in. Charles Street in Beacon Hill is so enchanting you may never leave. There is a boutique on every corner with each one as unique as the next.
Moxie
is every girls' paradise featuring the hottest shoes in town. Whether you are searching for the latest "it" wedge or a classic pump, Moxie holds the key. Bags and jewelry also adorn this shop in exciting colors and silhouettes. For those looking for a small beauty boutique experience,
The Beauty Mark
will fill your makeup kit with personalized looks that they create with you. Brands like DuWop, Julie Hewett, and RevitaLash are part of the boutique's best sellers. Pamper yourself with a manicure or their award winning eyelash extensions while you're there.
The North End may be known for its cuisine but there are plenty of other attractions like
Offincina 189
. The concept is to create the ultimate Italian shopping experience bringing unique Italian made products right to their boutique. They sell everything from luxurious Italian handbags to BeSpoke bicycles. The idea is to merge the idea of a shop and a museum together. They encourage shoppers to explore and ask any questions while sipping espresso and enjoying the scene.
Shake The Tree
is truly an adorable, chic boutique featuring local jewelry, loads of designers, novelty for the home, and baby products. They also host monthly cocktail parties for local vendors with snacks from North End restaurants. If you're not even looking for something specific, you will not leave empty handed. Of course, there is Newbury Street, an attraction that brings thousands of tourists every month. With so many shops to choose from, these are two you can't walk by.
Crush Boutique
is any girl's dream featuring trendy designs from designers like Susana Monaco and Ella Moss. The staff here are like your very own personal stylists and a new outfit is a must before walking out of the Back Bay staple. The boutique offers closet cleansing and private shopping parties for clients as well. Don't forget to try on some of the distinctive jewelry they have! If you're looking for some high end vintage finds, stop at
The Closet
. The clothes are all gently worn with some fabulous prices. Think Chanel, YSL, and Diane Von Furstenberg. If you pride yourself on staying ahead of trends and keeping exclusive, this will become your new closet. There are also some major handbags adorning the walls and jewelry that will spice up any outfit. They also have a wonderful consignment program. Whether you're a Bostonian or just visiting, these are the spots you'll want to tour. Not only are the shops a sight to see but also the neighborhoods that house them.
BY: Sarah McManus
Lover of fishtail braids, connoisseur of jewelry, and social media maven who isn't afraid to rock a bold lip, Sarah McManus is a personal fashion stylist. More commonly known as BostonStylista, Sarah is the founder and creator of a fashion blog of the same name, offers styling tips and a unique peek into her fashionable South End lifestyle. Sarah is also a freelance fashion writer and has appeared as a style expert on NECN's StyleBoston and WHDH Channel 7 News. Her fashion tips have also appeared in Shape magazine, SheKnows, and Her Campus among other publications.