Boston's Bowling Havens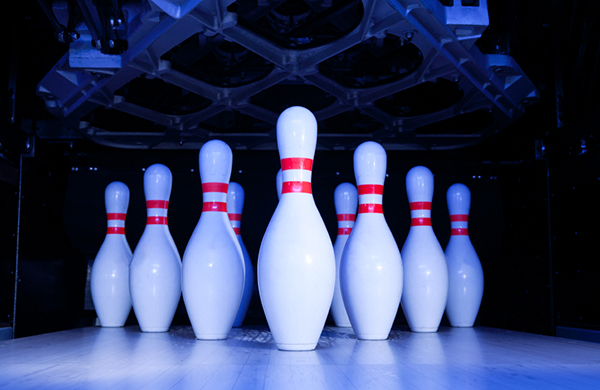 Boston isn't a town much known for its love of traditional ten-pin bowling. But the lanes the city does have are as varied as the color schemes at an all-night cosmic bowling session. From flashy, high-tech Kings in the Back Bay, serving up fancy cocktails and creative dishes with each frame, to the decidedly more low-key and family-friendly Ron's Gourmet Ice Cream and 20th Century Bowling, it's possible for anyone to enjoy a session at the lanes, and at nearly any budget.
Ron's, an institution in the Hyde Park neighborhood of Boston since the 1950s, offers ten lanes of candlepin bowling, complete with semi-automatic scoring and bumpers on each lane. The former pool hall-turned-bowling alley is popular with the younger crowd, having hosted many a birthday party inside its well-worn walls. It's also probably the least expensive place to bowl in the Boston area, and there's something so satisfying about rounding out a night at the bowling alley with a scoop of homemade ice cream.
Lucky Strike Lanes, located behind Fenway Park, is a glossy national chain housed inside the massive three-story, 70,000-square-foot Jillian's entertainment complex. The pulsating, dancey room also supplies professional billiards and lots to drink, all tucked inside the dim, party-hard space. Needless to say, this isn't your dad's bowling alley. No kids are allowed after 8 p.m., and there's a dress code enforced at the door. But with sixteen full lanes, each lit up in a colorful display, it's almost impossible to not get into the party vibe yourself.
And then there's Kings in the Back Bay, another massive facility with more than bowling on the menu. In addition to sixteen ten-pin lanes, there's billiards, shuffleboard, skee ball and video games, plus three bars and a full-service restaurant to boot. Like Lucky Strike, a dress code is enforced and the place goes adults-only at night, but if you're looking to impress a date or host a fun 21-and-over event, Kings is a great option.
Boston Bowl on Morrissey Boulevard offers a lot less flash than Lucky Strike or King's, but that's because the focus is on the fun. Both candlepin and ten-pin bowling is on offer, and there's a brewery right on site to keep the party going all night long. And, really, it's all night long: Boston Bowl stays open 24 hours a day, so you'll never have to miss a frame. Not bad for a city with precious few bowling options otherwise.
BY: Gayot
Gayot
GAYOT.com serves as a leading worldwide authority on the good life. Millions of readers turn to Gayot's savvy, professional reviews on dining, travel and lifestyle. From "Best of" lists and travel guides, to a searchable restaurant and hotel database, Gayot provides dependable coverage while keeping up with the latest trends and news.