Boston's Top 10 Romantic Restaurants
BY: Editors' Picks |
Jan 29, 2014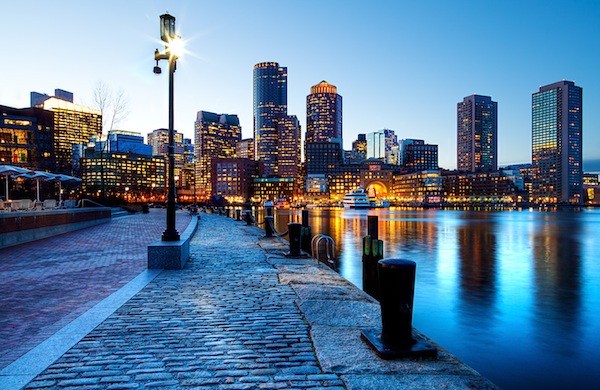 Save for
Love Story
, movies that paint Boston in a romantic light are few and far between. It's a stunning notion, considering the city's Georgian architecture, cobblestone streets and intimate eateries. From the artistically presented French cuisine at L'Espalier to the cozy ambiance and shared tapas at Dali, you can literally taste the romance in this town.
Inman Square: Farm-Fresh Fare by a Cozy Fireplace 
Bondir
|
279 Broadway, Suite A
Chef Jason Bond's sustainable approach to seasonal farm-style fare helped Bondir earn a spot on
Bon Appétit
's list of the
best new restaurants of 2011
. And while housemade breads and a daily changing menu are sure to impress a date, it's the crackling fireplace and endless supply of wine that really kindles the romance.
Inman Square: James Beard–Nominated Turkish Restaurant
Oleana
|
134 Hampshire Street
If the weather permits, you'll want to snag a spot on the patio at this Turkish oasis, where a trickling fountain and a live fig tree forms an exotic backdrop for a
James Beard–nominated
 menu. While carnivores dive into pork belly or Moroccan fluke, vegetarians can enjoy the popular tasting menu.
North End: Seasonal Italian in a Victorian Row Home
Mamma Maria
|
3 North Square
Perched on a small hill, this 19th-century structure's floor-to-ceiling windows reveal gorgeous views of the historic North Square. If that's not romantic enough, the chefs source their seasonal ingredients solely from New England farms and purveyors, meaning everything—from the carpaccio to the osso buco—is crafted in homage to the area.
Multiple Locations: Ode to the Seasons
Ten Tables
This ultra-cozy spot really has just 10 tables. Luckily, one of those is the chef's table, which grants glimpses of culinary masters in action as they honor the season with ingredients from Boston-area farms, such as littleneck clams from Woodbury Shellfish or roasted root vegetables from Allandale Farm. Even the cocktails include local fruits, which are puréed in house.
Back Bay: Upscale New French Dining
L'Espalier
|
774 Boylston Stree
t Head to "The Library"—one of L'Espalier's four dining rooms—for a tranquil and intimate meal. Amid the dim lighting and shelves of books, you'll find sophisticated yet accessible French cuisine crafted from local ingredients and served with a bit of flair. Try the rib eye for two, carved tableside and paired with mushroom ragout.
Wellington/Harrington: Southern Comfort Food Turns Upscale
Hungry Mother
|
233 Cardinal Medeiros Avenue
A 2013 James Beard nominee, Chef Barry Maiden marries classic French culinary techniques with traditional Southern recipes. The result? Wagyu beef tongue, crayfish and grits, and spring lamb meat pies with saffron aioli—each born from a foundation of New England ingredients. End the meal with a shareable slice of buttermilk chess pie.
Beacon Hill: Modern Italian in a Subterranean Setting
Grotto
|
37 Bowdoin Street
Situated in the basement of a Beacon Hill brownstone, this softly lit date-night hot spot features contemporary Italian cuisine infused with local undertones. Cherry-pick items from the three-course prix fixe menu, such as garlic and black-truffle soup, grilled beef tenderloin in a red-wine sauce, and panna cotta for dessert. The menu changes seasonally, but you can always order the eatery's simple signature: spaghetti and meatballs.
Area IV: Lavender-Honey Duck for Two
Salts
|
798 Main Street
What's more romantic than a bistro run by a husband and wife? Perhaps that husband and wife's most popular dish: a whole roasted boneless duck kissed with a lavender-honey glaze for two. Order the meal in advance, and enjoy it with one of their carefully selected small-production wines from France, Spain, or Uruguay.
Ward Two: Intimate Spanish Tapas
Dali Restaurant & Tapas Bar
|
415 Washington Street
Flickering candlelight illuminates colorful Spanish decor and low tin ceilings at Dali, but there are plenty of dark corners for canoodling. Each small plate of baked goat cheese, cured Spanish ham, and saffron-battered shrimp is meant to be shared and enjoyed with housemade sangria.
Beacon Hill: James Beard Award-Winning Wine Program
No. 9 Park
|
9 Park Street
Win over your beloved via Chef Barbara Lynch's seven-course tasting menu, three-course prix fixe menu, or à la carte dishes. Whichever you choose, you'll encounter elegant Italian- and French-inspired cuisine made from local ingredients, from prune-stuffed gnocchi to berkshire pork loin. As for the wine, the James Beard Foundation approves of the sommelier's small-batch European picks.
BY: Editors' Picks
Editors' Picks
Deal or no deal, our editors strongly recommend these businesses based on their reputation, popularity, and quality of service.