Bottles and Cans Owners Play the Brewlywed Game
BY: Shannon Jewitt |
Sep 26, 2013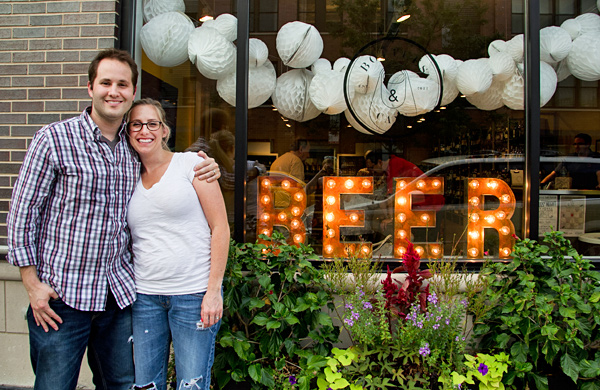 Earlier this summer, when
Bottles and Cans
(4109 N. Lincoln Ave.) owners Joe and Carly Katz's daughter Audrey was born, they received plenty of baby gifts—many from their customers. "We had customers come in not to buy anything," Joe said. "They wanted to see if the baby was here because they wanted to congratulate us." Those relationships are what make the not yet 1-year-old Bottles and Cans different, and it's what makes their customers frequent visitors. "I'd say 75% are regulars," Carly said. "Neighborhood people or beer-world people. We have a wonderful neighbor, who, he used to live in the neighborhood, moved to Wicker Park, and still comes here once a week. It's awesome." The relationships alone don't set Bottles and Cans apart. The shop also allows customers to mix and match their own six-packs with any beers in the store. If it isn't on the shelf of individual bottles, they can grab one off the other shelves. "Usually by the end of the weekend, we've got about 20 or 30 of half-picked-over six-packs in the corner," Joe said.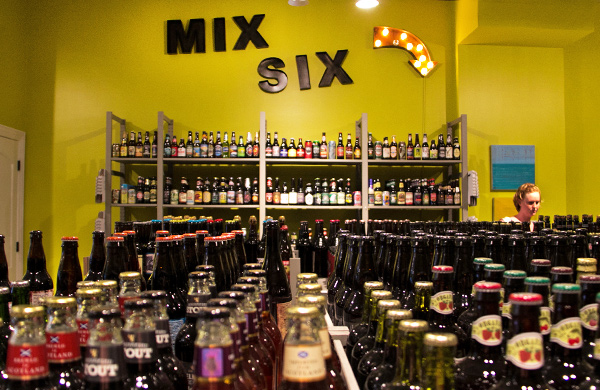 So when I stopped in, instead of bringing baby gifts, I brought a challenge. Would they be willing to play the Brewlywed Game? Armed with all of the store's craft beer, Joe and Carly would pick their own mix-and-match six-pack and then guess the other's choices. The couple agreed to play, though the game was more difficult than they imagined. It didn't help that they were busy greeting every customer that came in or that they were selecting beers while holding their 3-week-old baby. Carly figured she'd have an advantage over Joe. Because of her pregnancy, she hadn't really been drinking for nine months, so she'd had all that time to examine Joe's beer choices. So, after passing out her afternoon snack of Twizzlers, she went first.
CARLY'S PICKS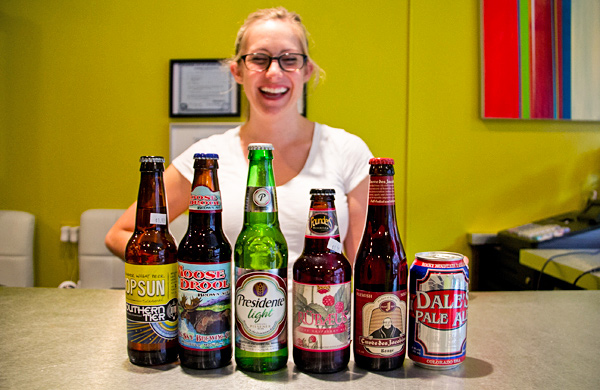 1. Rübæus from
Founders Brewing Co.
"It was one of the first ones I had after my pregnancy, so it's actually now become one of my favorites." 2. Moose Drool from
Big Sky Brewing Company
3. Presidente "The reason we actually bring it in: it's what we drank on our honeymoon, and it's also delicious. And we're finding that the rest of the world also really enjoys it. And it's really hard to get, because most people don't bring it in. It's just like a really easy lager. There's nothing fancy or special about it. It's just good." 4. Cuvée des Jacobin from
Brasserie de Bockor
"[This] is a sour that both he and I really really like." 5. Hop Sun from
Southern Tier Brewing Company
6. Dale's Pale Ale from
Oskar Blues Brewery
"We need to have another IPA in here, because they are delicious...You know what, actually, I'm going to pick the Dale's Pale Ale because it does have quite a bit of hop to it. But again, it's just another kind of easy drinking. I feel like I'm really into that lately. Lately, as in the last three weeks."
JOE'S PICKS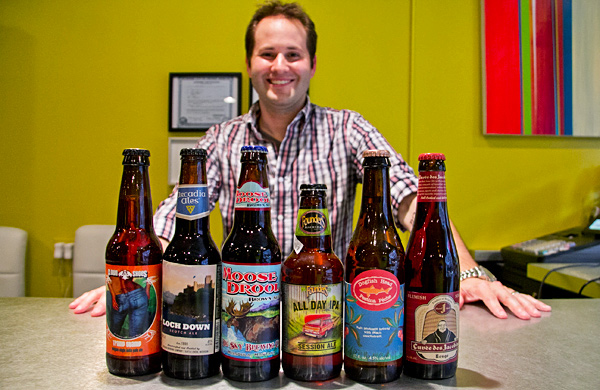 1. Moose Drool from Big Sky Brewing Company "Just about the best American brown that I've ever had. It's medium bodied, it's not super heavy, but it's got the roastiness, the chocolate, the caramel, almost like a tobacco note to it, but it's so drinkable." 2. All-Day IPA from Founders Brewing Co. "It's just quickly become my favorite style right now. This hoppy, light, sessionable beer. It's just delicious. For a while there, it was seasonal from Founders, but they just announced recently that it's gonna be year-round availability. So, no more stockpiling during the summer." 3. Cuvée des Jacobin from Brasserie de Bockor Joe called this the quintessential sour. "Almost like wet horse blanket type of thing, but in a really enjoyable sort of way, otherwise, why the hell would anybody drink it?" 4. Festina Pèche from
Dogfish Head
"It's just the perfect combination of tart but not overly sour, but still light and refreshing, being a wheat malt." 5. Tramp Stamp from
Clown Shoes
"Carly and I have both been lucky enough to meet the brewer at Clown Shoes, and he's a wonderful guy. But his Tramp Stamp is just about the most delicious Belgian-style IPA I've ever had." 6. Loch Down scotch ale from
Arcadia Ales
"And now it's always time for the dark horse. I always like to suggest to people to try something completely different, if you can't think of one more that you really want to throw in there. Malty, smooth, toffee and caramel flavors. Again, you get some tobacco flavor going with it. But no bitterness. It's just such a nice deviation from what every other freaking brewery is focusing on, which is IPAs and pales. I gotta tell you, it's hard on a day like today, but I can't wait for it to get cold, so people will start drinking porters and stouts."
THE GUESSES
Carly's guesses for Joe's picks:
1. Cuvée des Jacobin 2. Moose Drool 3. Anti-Hero IPA from
Revolution Brewing
4. Farm Hand from
Brewery Vivant
5. Milk Stout Nitro from
Left Hand Brewing Company
6. Sculpin IPA from
Ballast Point Brewing and Spirits
("Are the Sculpin bottles up here? You know what, even if it isn't, I say Sculpin.")
Joe's guesses for Carly's picks:
1. Anti-Hero IPA from Revolution Brewing 2. West Coast IPA from
Green Flash
3. Sidekick extra-pale ale from
Two Brothers
4. Inversion from
Deschutes Brewery
5. Tweason'ale from Dogfish Head 6. Moose Drool ("I don't think she likes to admit it, but I think she loves that beer.")
THE RESULTS
"Hey, we got a 33%! You know what that is?" Joe asked. "Failure." "Man, this is way harder than I thought it would be!" Carly said. "Do we divorce? Like, what's the next step?" "We'll go for some counseling, I'm sure," Joe said. "I know," Carly said. "Let's talk to someone."
Photo: © Stephanie Anderson, Groupon
BY: Shannon Jewitt
Resident Beer Stalker Shannon has an insatiable thirst for craft beer. Despite being a vegetarian, she always makes an exception for fries cooked in duck fat.