Boutique Boosterism: The Chicago Flag as Fashion Statement
BY: Scott Hirsch |
May 15, 2013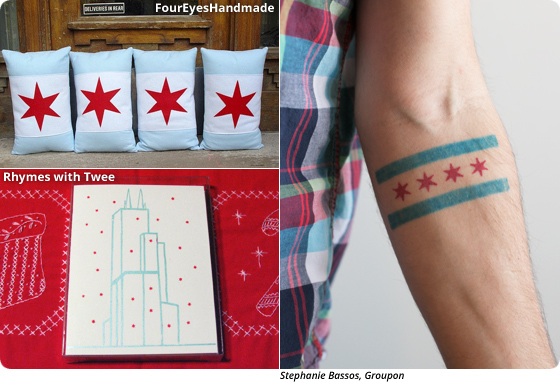 The Chicago flag has descended from the flagpole. Its iconic design is showing up everywhere these days, including "T-shirts, messenger bags, soaps, stickers, greeting cards, [and] baby onesies," says Leigh Kelsey, the Chicago-based artist behind
Rhymes with Twee
.
But what accounts for the flag's popularity as a design element nearly a century after its debut? It might be due in part to the flag's clean, geometric design: four red stars floating between horizontal blue and white stripes. "Chicago's flag was made for the 21st century design aesthetic," says Beth Cummings, the Ravenswood-based handcrafter behind FourEyes Handmade. To put it in perspective, she points to other municipal flags, most of which bear formalized "crests or some such nonsense." Kelsey cites the flag's symmetry and "unique colorway" as reasons for its widespread appeal.
But its allure might go deeper than that. Designed in 1917 by Wallace Rice, an author and lifelong Chicagoan, the flag illustrates the city's sense of history and place. The two blue stripes, for instance, symbolize the North and South branches of the Chicago River. The three white stripes represent Chicago's three "sides"—north, south, and west. Each of the four stars, and every one of their 24 points, represents a chapter in or facet of Chicago's past.
Indeed, as an accessory, the flag lets you wear your hometown loyalty on your sleeve—or hat or belt buckle. As Kelsey says, "[The flag] is in your face and will not back down, much like Chicago itself." Whether you're trying to rep your city or stylishly accessorize, these locally made goods combine fashion with a healthy dose of civic pride.
FourEyes Handmade: Chicago Flag Pillow ($30 for one; $100 for set of four)
"Chicago winters make everyone proud of their city … or perhaps their ability to survive their city," says maker Beth Cummings. These plush Chicago flag pillows might make survival a little more comfortable. Cummings constructs the 14"x22" pillows from eco-felt, which itself is made from 100% recycled bottles, and applies hand-cut red stars to make each product one-of-a-kind.
Rhymes with Twee: Seasons Greetings Chicago Flag Greeting Cards ($15 for set of five)
Artist Leigh Kelsey reimagines the Chicago flag as a winterscape, where a flurry of red stars fall like snowflakes around a blue likeness of the tower formerly known as Sears. The drawings are hand-printed, and the inside inscription, "Greetings from Chillycago," is sure to warm the heart of a homesick expat.
Ethically Engineered: Chicago Flag Bar Vegan Soaps ($7.95)
Carl Sandburg may have dubbed Chicago "The Hog Butcher for the World," but these 100% vegan and sustainable soaps eschew rendered animal fat for an exact rendering of the flag made with chemical-free dyes.
Sink or Swim: Chicago Flag Purses ($120)
"Chicago Made. Chicago Proud." reads Sink or Swim's website. Their retro-style purses are made of vinyl with a glittery wraparound flag design. Each bag represents a specific neighborhood, such as Logan Square or Pilsen, distinguished by a unique color scheme.
CircaCeramics: The Urban Set Chicago Flag Bowls ($65 for set of three)
Made-to-order, fired, and glazed in a Chicago ceramics studio, these lead-free bowls are screenprinted with a sky-blue glaze and a single red star in the middle. Stack them one on top of another and you have a vertical interpretation of the Chicago flag.
Deluxe Tattoo: Chicago Flag Tattoos (prices vary; standard Chicago flag with color starts around $150)
Of course, there's no bolder way to show your Chicago civic pride than with a flag tattoo. Andy Hefner, a tattoo artist at Deluxe Tattoo, has inked countless flags over the years and says, "a lot of the time, it's people who are moving away, or people that have spent significant time here." The standard flag is a popular choice, but the artist has also done variations with bicycles in place of the usual stars, or an ingrained city skyline.
BY: Scott Hirsch
Scott Hirsch is a published poet, an amateur boxer, and a devout reader and writer of fiction. He dedicates his accomplishments to the memory of his mother and attributes his many failures to colorblindness.