Bowling Leagues 101
BY: Emily Wachowiak |
May 14, 2013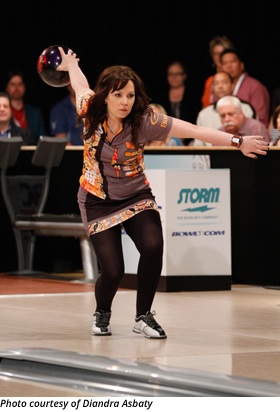 Pro bowler Diandra Asbaty is usually too busy traveling the world to take part in a local league. Still, she took the time during our interview to explain that what really makes a league is the bowling center itself. Are the lanes oiled regularly? Is the staff friendly? Are the prices fair? We've used her tips to hone in on three Chicagoland alleys with leagues that cater to bowlers of all ages and skill levels.
Major-League Casual: Diversey River Bowl | Bucktown
Diversey River Bowl is where Asbaty preps for her international tournaments, but the center also caters to recreational bowlers with short 12-week
leagues
. "There's something for everyone," says Asbaty, "and it doesn't matter what level you are or what you average." Take, for example, the Pizza and Cocktails league, in which every four-person team receives a large two-topping pizza from the center's
notorious restaurant
, plus two cocktails per player. Though the competition can get a bit tipsy, the league levels the playing field with handicap scoring based on each player's average.
(Monday at 7 p.m. starting May 20; $25 per player per week)
.
Kids Can Roll, Too: Waveland Bowl | Northcenter
Asbaty has a simple philosophy when it comes to youth bowling: "If they can walk, they can bowl." Her 2-year-old son began bowling at 11 months and hasn't stopped since. Waveland Bowl caters to bowlers as young as 5 with a range of child-centric leagues, including a non-competitive adult-child league in which bumpers are allowed. "Bumpers are for the [absolute] beginners," Asbaty explains. "Once they build up the strength to be able to get their ball down the lane, they should take the bumpers away."
(Thursday at 6:30 p.m. starting May 23; $10 per player per week)
. Confident kids can join Waveland's bumper-free youth league. This league allows young players to hone their skills, which might just lead to big things in the future. "Bowling can take you around the world, pay for college, and give your children an experience no other sport can give them," Asbaty claims. Even if your child's career doesn't include a PBA Championship, keep in mind that bowling is a lifelong sport. "They can truly do it forever," says Asbaty.
(Saturday at 10 a.m. starting May 18; $10 per week)
.
Bowl Like a Pro: Fox Bowl | Wheaton
Having a 200+ average doesn't necessarily mean you can bowl with the pros. Fox Bowl's mixed-gender
PBA Experience Ultimate League
gives bowlers the chance to roll on the same
PBA oil patterns
as champions like Asbaty. "Bowling a sport league will give you a better and more clear measure of your talent," she explains. "There is so much less room for error bowling on a tougher pattern." Luckily, Fox Bowl eases the transition with free practice and coaching for 30 minutes before each league session.
(Wednesday at 7 p.m. starting May 8; $17 per week, plus a $20 team registration fee)
. Though the league uses handicap scoring, games on patterns such as Chameleon, Scorpion, and Shark can get pretty competitive. Still, players might want to think twice before talking trash to other teams. "I think the best trash talking is quiet confidence," says Asbaty. "If [players are] yelling things, that doesn't get to me. But if they just have this air about them that's really confident, I think that speaks volumes."