Breaking Down Boulevard's Best-Selling Beer
BY: Shannon Jewitt |
Apr 4, 2014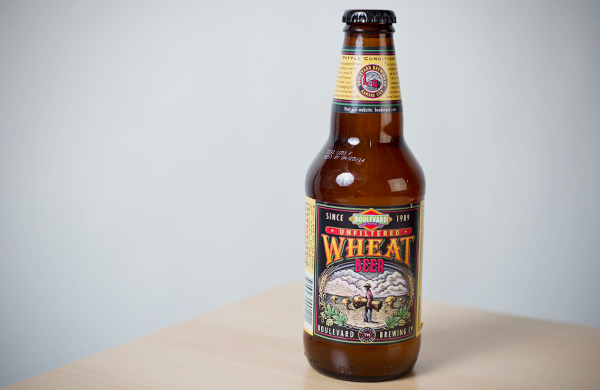 There are almost 3,000 craft breweries in the United States. In this edition of Beer Stalker, we investigate Missouri-grown wheat, goofy comedies, and why Boulevard Brewing Co.s Unfiltered Wheat Beer remains the brewery's most popular beer.
The beer:
Boulevard Brewing Co.
's Unfiltered Wheat Beer
Style:
American-style wheat ale
Malts:
Pale Malt, Unmalted Wheat, Malted Wheat
Hops:
Bravo, Zeus, Summit
Color:
The color of the wheat field on a postcard from the Midwest
Why it's the most popular of Boulevard's beers:
"I think
Unfiltered Wheat Beer
is just super-approachable," said Jeremy Danner, the ambassador brewer at Boulevard Brewing Co. in Kansas City, Missouri. To those first getting into craft beer, the light, golden color isn't as scary as a dark beer. "It's good when you're thirsty but also happen to want a beer," he said.
Does this beer have family around here?
Founder John McDonald wanted to brew a beer using locally sourced ingredients. The beer is composed of 35% wheat, some of which is raw and some of which is malted. The raw wheat is still sourced from Mid-State Seed in nearby Marshall, Missouri.
What does this beer have in common with a goofy comedy?
Even though Danner studied theater in college, he "can still go back and watch a stupid comedy and appreciate it," he pointed out. "And I think wheat beer holds up as well. I wouldn't say wheat beer is a stupid comedy, but it's the same. It's that comfort beer you can go back to."
If I like this, what other wheat beers should I try?
Danner is a fan of Boulevard's seasonal belgian wit,
ZŌN
. He also recommended
New Belgium Brewing Company
's Snapshot wheat beer, which has a good tartness, along with
Avery Brewing Co.
's White Rascal, brewed with orange peel and coriander. And, if you find yourself in the Waldo neighborhood of Kansas City, you can not only visit Danner but also check out
Kansas City Bier Company
's German-style hefeweizen.
Where to find it in Chicago:
Lincoln Station
(Lincoln Park | 2432 N. Lincoln Ave.) Superior Liquors (River North | 750 N. Clark St.)
Norse Bar
(Edgewater | 6334 N. Clark St.)
BY: Shannon Jewitt
Resident Beer Stalker Shannon has an insatiable thirst for craft beer. Despite being a vegetarian, she always makes an exception for fries cooked in duck fat.