Buffalo Bills Fans Find Unlikely Asylum in Punk-Rock Stronghold Delilah's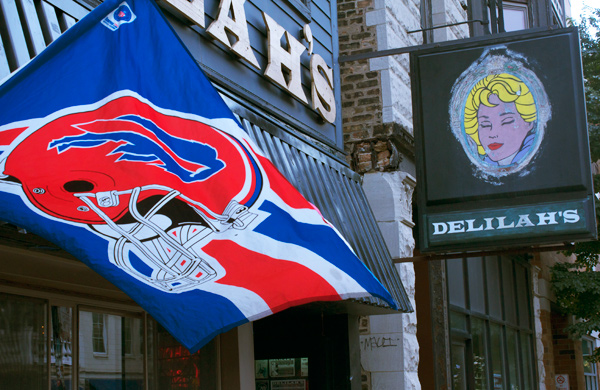 The city of Buffalo has a history of disappointments. As in the Rust Belt's other once-great metropolises—Cleveland, Detroit, Cincinnati—the downturn of manufacturing foreshadowed another painful reality: the decline of a once-dominant football team. To be a
Buffalo Bills
fan, as I am, is to embrace masochism—to cheer for slight disappointments instead of humiliating disasters. Living in Chicago, home of the Bears' "Super Bowl Shuffle" and the Blackhawks' most recent Stanley Cup, Buffalo natives can start to feel nostalgic for the constant misery of home.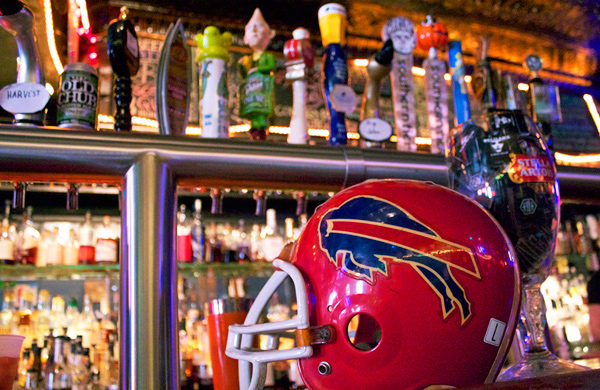 If You Build It, They Will Come
Luckily, there's
Delilah's
(2771 N. Lincoln Ave.). Nestled among the brunch spots and day spas of Lincoln Park, the bar—with its hand-painted walls and beer-soaked floors—is an enclave for punk rockers and other bands of outsiders. It seems only appropriate that, on every Sunday of the NFL season, Delilah's welcomes Bills fans into its fold. I headed there last weekend to root for the Bills and revisit my roots. They were playing the Miami Dolphins.
Good
, I thought.
I hate the Dolphins
. So does Mike Miller, the owner of Delilah's and a lifelong Bills fan. Before the game, Miller pulled out a prized possession—a novelty barbecue fork that plays the final call for the Bills' epic 1993 comeback win against the Oilers—and yelled, "We're gonna fry some fish!" He let me hold the fork, with a caveat: "Don't press the button before the game. It's bad luck." Sporting a perpetual smile behind his salt-and-pepper beard, Miller is as gregarious as he is ambitious. Buffalo is a wonderful town, as pure and honest as any city in America, but people who want to make a bigger mark in the world can't stay there. Miller moved away from Buffalo for graduate school, never intending to open a bar. (He now runs two, Delilah's and the
Bottom Lounge
in Fulton Market.) Twenty-three years ago, when Miller arrived in Chicago, the Bills began their historic run to four consecutive AFC championships. It was poor timing for a recent transplant to hop on the team's bandwagon. Back then, the only way to watch games was to go to a big sports bar, where people might be rooting for any of a dozen different teams. At Delilah's, Miller wanted to cater to people like him—folks who just wanted to watch the game with a core group of supporters. At the beginning, he started inviting people to his bar individually. A decade later, Buffalo fans from all over Chicago pack both floors to the brim.
The Natives' Tribe
Indeed, as kickoff approached, Delilah's seemed to transform into a colony of the Buffalonian Empire. Clad in jerseys emblazoned with blue bisons, fans cemented their allegiance with $3 cans of Labatt Blue and takeout containers of buffalo wings. I heard the familiar names of Buffalo and Rochester suburbs peppered in every conversation until, midway through the third quarter, everyone joined together in song:
Take me out to Delilah's
Take me out to get plowed
Buy me a Blue and a shot or two
This is the home of the Buffalo Crew
For it's drink, drink, drink at Delilah's
A Super Bowl win is not far
For it's one—two—three shots you're drunk
At Mike Miller's bar!
Those lyrics are the magnum opus of Mike Watts, the undisputed leader of Chicago's so-called Buffalo Crew. "He's the mayor," his wife, Donna, told me. Mayor Watts seemed to me a mythical figure, elusive yet omnipresent, always wandering the bar to swap play-calling strategies with his fellow acolytes. He beamed with dorky pride whenever someone noticed his hat, adorned with a Bills logo that lit up with alternating red and blue LEDs.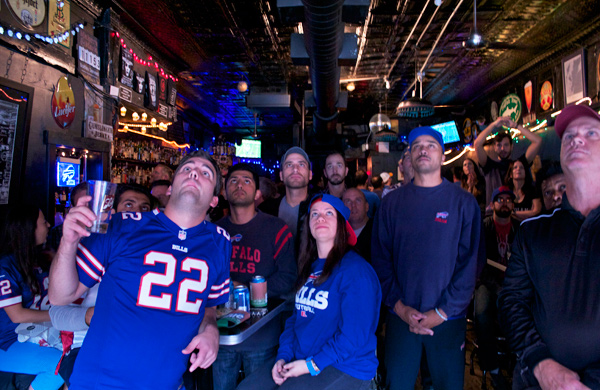 Keeping the Hope Alive 
If Watts is the mayor of New Buffalo, Miller is the town crier. Behind the microphone, Miller holds court like an uncle in an armchair, cracking jokes and shouting "Focus!" to the players during key moments. When the referees slapped the Dolphins with a crucial penalty, he bellowed, "It's a new era—we get the calls!" Miller also works his tail off at the bar, juggling the taps and queuing up the sound system. At commercial breaks, he switches the audio over to homebrewed Buffalo fight songs. My favorite is a punk-rock anthem with an infectious chorus—"
Hey, ho, let's go, Buffalo!
"—that reflects Miller's unrelenting optimism. "We treat every single game as the Super Bowl," he explained. "And if we win, we won the Super Bowl." As a lifelong Bills fan used to heartbreak, I couldn't help but find the cynical angle to this. Aren't we only fooling ourselves if we celebrate every meaningless win? "The team was pretty hopeless for a while," admits Scott Kincaid, who's been coming to Delilah's for almost five years. "But it's worth watching for the times they do something remarkable." What's more, "Seeing the same guys grow up and watching them play and watching it with the same people every week—" He interrupted himself to lead a chant on a third down. Stevie Johnson caught the pass but came up short. "Eh," he said, easing back into the booth. "It happens."
A Parting Shot
The Bills pulled out a tense victory, 23–21, and after the game, Watts bought everyone kamikaze shots to celebrate. Miller poured them into special "Bills Backers" glasses and handed them out, but with a warning: the week before, 20 of them were stolen by anonymous thieves. The music died down and Miller, usually a man of many words, yielded the floor to Mayor Watts. "If you wanna be 12–4, you gotta have four losses," Watts began. "We're halfway home!" The crowd cheered, and he continued. "In typical Bills fashion, I already drank my shot 'cause it took so long." Suddenly, his tone turned sentimental. "We've got a small core here today. We don't have pretenders. We have—what's that?" Someone had passed him a new shot. He chuckled, remembering another thing: "And who would steal a f*cking shot glass from Buffalo?" Who would, anyway? Certainly none of us. We're the Buffalo Crew.
Catch the Bills at Delilah's as they take on the New Orleans Saints this Sunday, October 27, at noon. Game-day specials include $3 pints of Genesee Cream Ale and $3 G&W Bourbon.
Photo: © Zack Mast, Groupon