I Built My Own Black Dog Gelato Donut Sandwich
BY: Nathalie Lagerfeld |
Sep 3, 2013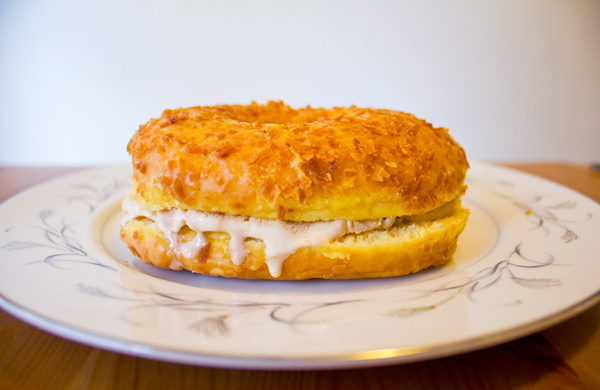 Whenever I'm standing in a line, I start to question my reasons for being in it. This past Thursday, I was stuck in a particularly long and questionable one. At roughly 7 p.m., it snaked down the block outside the Ukrainian Village outpost of
Black Dog Gelato
(859 N. Damen Ave.), which was serving its
much-hyped
gelato-donut
sandwiches
for a few hours that day—and only that day. The treats, a collaboration with donut shop
Glazed & Infused
, did look great in photographs. Creamy, melty gelato an inch thick oozed from between halved donuts in four different flavors. There was an enormous apple fritter and a caramel donut topped with crunchy
Terry's Toffee
. I had my eye on the Nutella-pretzel gelato paired with a chocolate cake confection. Since I had missed the preorder deadline, my acquisition of this treasure was far from assured. But imagining the collision of chocolate glaze with crunchy pretzel was enough to convince me to wait in line just a little longer. As minute after hungry minute slid by, it continued to bug me that I was queueing up for a dish I could have easily made myself. "If they sell out, we should just grab some gelato and then go get our own donuts," I suggested to my companions. No one was a fan of that idea. Waiting in line—attending an
event
—was part of the point. One girl was there even though she hadn't realized the sandwiches were a one-day-only thing. "I just thought, it's the first day!" she said. "Of course I had to be there." Ten minutes later, the donuts sold out. By then, we'd moved tantalizingly close to the front of the line—close enough to see one of the more foresighted patrons emerge, showing off his preordered prize. It was the very nutella-pretzel confection I'd spent the afternoon dreaming about. "Mm, this is
so good
!" he exclaimed, purposefully taunting the disappointed donut seekers outside. Time for Plan B. But making that DIY donut-wich turned out to be harder than I thought. The Wicker Park
Glazed & Infused
(1576 N. Milwaukee Ave.) was sold out of appropriate donuts every time I went. On my final attempt—10:45 a.m. on Labor Day—I watched the last toffee and the last lemon donut get snatched up by rival pastry fiends. I finally resigned myself to passionfruit, a potentially awkward flavor match for the salted-peanut gelato I'd bought earlier from Black Dog. When I got home, I discovered a second snag. Gelato is served at a high temperature relative to, say, ice cream. That's how it keeps its smooth, spreadable texture. After an overnight stay in my freezer, my salted-peanut gelato was too hard to layer elegantly onto the donut. I had to carve it into slabs, like some kind of strange dessert cheese. I bit into my makeshift donut-wich in the privacy of my own kitchen. The passionfruit glaze wasn't as fruit-punch-y as I'd feared; it reminded me a little of the slightly sour blood orange that is my favorite fancy donut flavor. It didn't clash with the gelato, either. The chewy passionfruit zest on top of the donut made for an unpleasant texture, however, and I doubt this flavor combination will be on Black Dog's menu anytime soon. From now on, I'm going to trust that the gelato pros know something I don't about how to pair their creative flavors with strange pieces of fried dough. Next time Black Dog rolls out new donut-wiches, I won't be late joining the line.
Photo: © Nathalie Lagerfeld, Groupon
BY: Nathalie Lagerfeld
Guide Staff Writer
Nathalie is a writer and editor on the Guide's food team. Originally from Virginia, she now lives in Chicago, where she regularly indulges her love of tortas, bibimbap, and Cheez-Its. Follow her on Twitter @maviswillsaveus.