Bust Through Fitness Boredom: Fresh Ways to Work Out
BY: Michelle Algeo |
Jul 26, 2013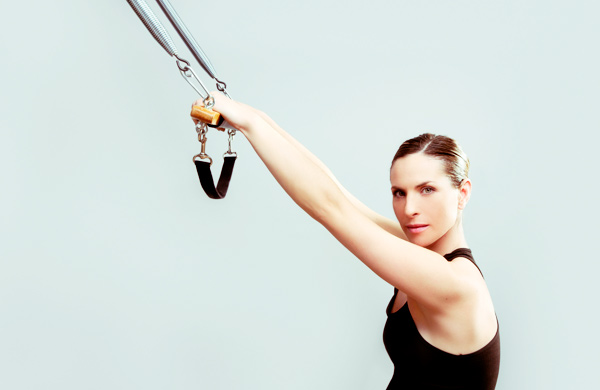 When the thought of another jog along the lake or circuit around the weight room threatens to break your resolve, try one of these unusual exercise classes to add some spice back into your fitness regime.
Spin Class at Flywheel | Multiple Locations
Competitive juices power cyclists through Flywheel's spin classes. Those who opt in can flaunt their stats on the studio's Torqboards, adding a new element of friendly competition to a traditionally independent workout. The soundtrack squashes any spin-class stereotypes, as well—an in-house DJ carefully selects the adrenaline-boosting beats. The music keeps students pumped for the entirety of every challenging 45- to 60-minute class, which also includes strength training for the upper body, thanks to weighted bars.
SUPilates at Chicago SUP | North Avenue Beach
Standup paddleboarding is famous for its core-strengthening effects, but the SUPilates class—which debuted this summer—adds a new element to the exercise. Instructors and pupils paddle out onto ebbing waves in the early morning to power through a series of traditional mat Pilates moves, made all the more difficult by the unsteady water. Because of the additional challenge, students should have prior experience with standup paddleboarding and feel totally at ease atop the board before attending class.
Dance Fitness Classes at WERQ | Multiple Locations
The thumping bass of a popular club beat is all it takes to signify that WERQ is about to begin. Scattered throughout Chicago (and across the country),
WERQ instructors
follow some principles that might seem to parallel those of Zumba—namely, that dance and fitness go hand in hand. But instead of a saucy Latin soundtrack, the fun, fast-paced classes are set to top-40 pop, hip-hop, and rock music.
Flying Trapeze Classes at TSNY Chicago | Belmont Harbor
Whizzing through the fresh air over Belmont Harbor may be an activity usually reserved for birds, but Trapeze School New York's Chicago branch welcomes slaves of gravity to give it a go. Its flying trapeze classes by the lake teach beginners how to swing and soar safely—a fun, exhilarating experience that builds strength with nary a push-up on the itinerary.
Ballerina Fight Club at MaZi Dance Fitness Centre | Multiple Locations
Despite its name, you won't see any ballet slippers at Ballerina Fight Club. After all, it would be pretty tough to find stable footing in anything but sneakers—and with the class's powerful boxing combinations, you'll need a sturdy foundation. Mixed with toning exercises inspired by ballet, the mashup of cardio and strength training works out virtually every muscle in the body.
Aerial Yoga at the Tai Chi Center of Chicago | 4043 N. Ravenswood Ave., Suite 228
Dancer Tracy Von Kaenel cut her teeth in the aerial arts at the Ameba Acrobatic and Aerial Dance Company, where she performed for five seasons. She incorporates the techniques she learned there into aerial yoga classes, where she adapts standard yoga poses for students perched in slings that hang from the ceiling. The practice boasts all the restorative benefits of traditional yoga, but since its participants are suspended, it eradicates the pressure that typically falls on the head, shoulders, and spine.