Cancel Your Trip to Italy If You're Only in It for the Spoons
BY: Michelle Schuman |
Feb 4, 2014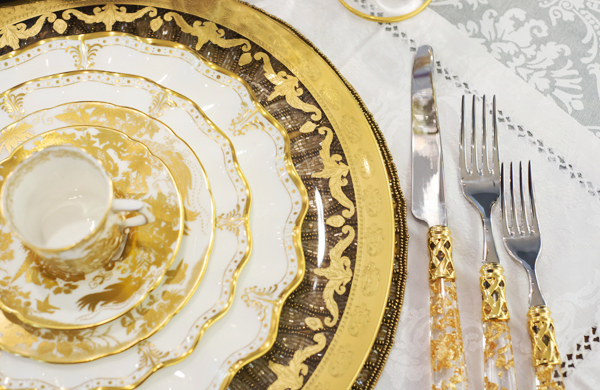 At Tabula Tua, you can buy fine china from European artisans right in Lincoln Park. We highlight four dish sets, including one by a Kentucky artist who sometimes paints for Queen Elizabeth II.
When most people hop a flight to Europe, a beautiful fork is probably the last thing on their mind. But for the buyers at popular Lincoln Park home-goods shop
Tabula Tua
, there's no better time or place to find flatware than Paris in January. The staff is all business when they trot the globe in search of eclectic, high-quality housewares—and they know exactly what they're looking for. "We just try to find really unique dishes and things you don't find anywhere else," says general manager Jennifer Sterna about the display of artisan talent in front of us. Beyond discoveries from markets all over the world, some products are even exclusive to the store: Guerlain sends its luxurious scented candles to its flagship store in Paris, to Tabula Tua, and nowhere else.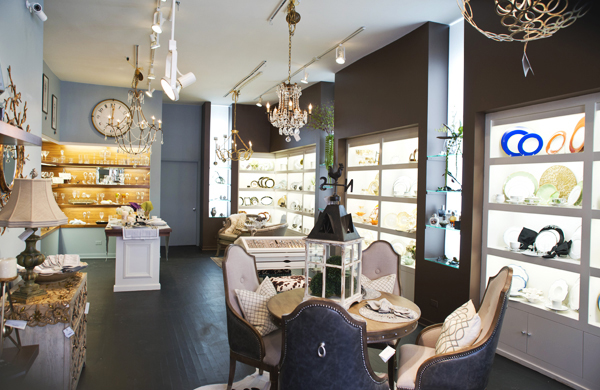 Upon entering the boutique, I can almost feel the worldliness of these well-traveled items—the threshold is practically a portal to provincial France. (I'm pretty sure the dinner plates and tea saucers have all seen more of the world than I have.) The store's open floor plan is flooded with natural light, which dances across elegant bric-a-brac such as vases, drinking glasses, and cake stands. Anything in the store can be styled into a mockup setting in one of its model dining rooms, whose stately chairs and natural hardwood tables are provided by parent interior-design company
Linly Designs
, which acquired the shop on January 21. If you don't have time to jet off to Italy or if Guerlain won't return your calls, Jennifer recommends these table settings from Tabula Tua's collection: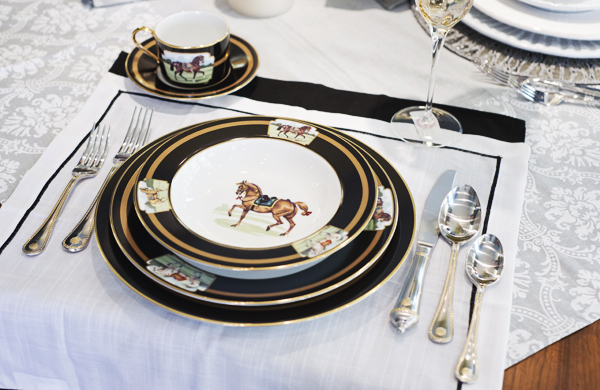 1. Equestrian Tableware from Julie Wear 
Julie Wear is perhaps most famous for her equestrian artwork: one of her paintings hangs in Buckingham Palace, and she has been commissioned to create original paintings for Queen Elizabeth II. The Kentucky artist also repurposes her signature equine motif for this regal yet casual collection of pottery. Jennifer suggests this setting for a farmhouse or traditional English design scheme.
Components
Pottery:
Julie Wear (Kentucky): teacup and saucer ($92), soup bowl ($68), dinner plate ($96), charger ($108)
Flatware:
Juliska (Hungary): five-piece place setting ($145)
Glassware:
Vietri (Italy): amber wineglass ($22)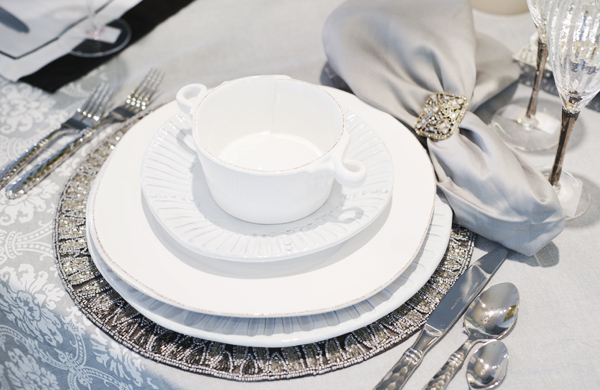 2. Rustic Tableware from Vietri
All of Vietri's pottery is handmade and hand-painted in Italy by talented artisans. As such, each piece is unique in its imperfections. Jennifer believes this table setting would be most at home in a rustic cottage or European country home.
Components
Pottery:
Vietri (Italy): soup bowl ($53), salad plate ($43), dinner plate ($42), charger ($84)
Flatware:
Vietri (Italy): five-piece setting ($84)
Glassware:
Smyers (California): wineglass ($85), water glass ($89)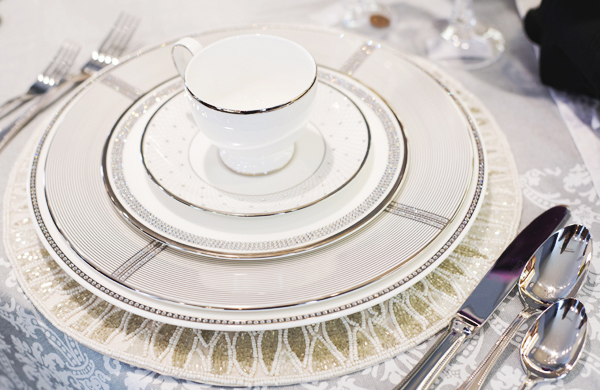 3. Sparkling Tableware from Prouna
Prouna's greatest claim to fame is the hand-laid Swarovski crystals embedded in its china, which is made from 50% animal bone for durability. More importantly, though, the dishes are dishwasher-safe for up to 800 washes, and the crystals won't fall off should guests happen to enjoy cutting their food with a knife. These dishes ooze old-Hollywood glamour, and Jennifer suggests a brightly colored, eclectic room to complement such dishes.
Components
Pottery:
Prouna (Italy): teacup and saucer ($235), salad plate ($749), dinner plate ($252), charger ($455)
Flatware:
Couzon (France): five-piece place setting ($75)
Glassware:
Varga Crystal (Hungary): wineglass ($118), water glass ($118)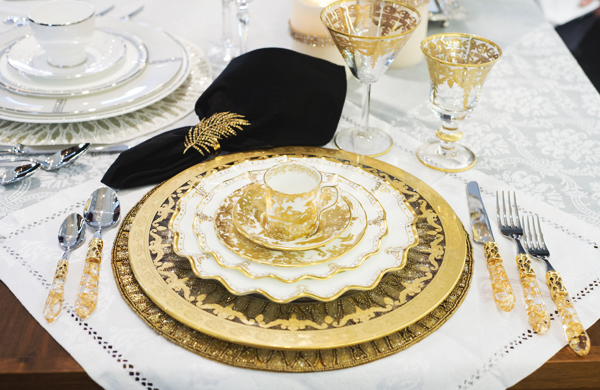 4. Old-World tableware from Royal Crown Derby and Anna Weatherly
Unlike the other table settings seen here, this one features dishes from two fine-china companies: Royal Crown Derby and Anna Weatherley. The thoroughly English Royal Crown Derby has crafted china since the 1750s, and although Anna Weatherley only got started in the 1990s, both companies adhere to an aesthetic of traditional luxury. This collection of hand-painted china, ideal for Old-World European decor, is no exception.
Components
Pottery:
1. Royal Crown Derby (England): coffee saucer ($80), coffee cup ($110), bread plate ($105) 2. Anna Weatherley (Hungary): salad plate ($140), dinner plate ($160) 3. Arte Italica (New York): charger ($169)
Flatware:
Vietri (Italy): five-piece flatware place setting ($270)
Glassware:
Arte Italica (New York): wineglass ($95), martini glass ($97)
All napkins and accessories seen here are available for sale at Tabula Tua.
Photos: Timothy Burkhart
BY: Michelle Schuman
Michelle is a freelance fashion designer and dancer from Detroit. She has traveled the US extensively (and loves it!), but her biggest goal is to travel abroad.