Groupon GUIDE TO NEW YORK CITY
Candy Shops for Children of All Ages (and Nationalities)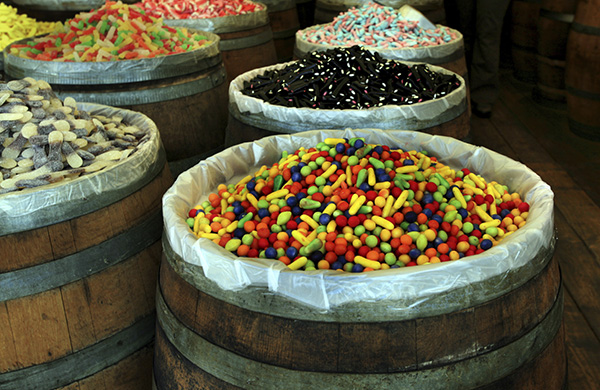 Ah, candy. It's the universal childhood reward for being good, for completing a job well done, or sometimes just because. For people aged eight to eighty, nothing offers quite the same positive reinforcement as a piece of candy.
The good news for any homesick expatriates or weary world travelers with a layover in New York City is this town's abundance of candy shops, many of which serve international treats that can be hard to find outside of their country of origin.
First a bit of classic American nostalgia, courtesy of Economy Candy on the Lower East Side. Established in 1937, it is one of New York City's oldest candy stores, and after seven decades it has amassed quite a collection of candy brands, including rare local brands thought to be no longer made. The cramped aisles are packed with assorted sweets and confections from New York City and throughout the world.
From Haribo gummy bears to cola bottles and rare brand gums and candies, there is something for every sweet tooth at Economy Candy. Mixed nuts, chocolates, dried fruit and loose candy assortments can be bought by the pound. Just expect to fight for space in the overwhelming storefront on weekends, thanks to a large influx of late morning Lower East Side brunchers.
At Aji Ichiban on Mott Street in Chinatown, candy lovers maneuver around rows of tidy transparent bins full of Chinese, Japanese and other East Asian candies, plus dried fruits and random chocolates. Preserved plums (an acquired taste for some), kumquats and kiwis are just a few of the typical traditional Chinese candies that can be found here. For Western-style candy lovers, there is the ubiquitous gummy selection: soft, colorful and fruity bears, fried eggs (they taste like vanilla orange cream), alligators and others. But it's not all about sweets here; a selection of savory Asian snacks from dried seaweed crackers to wasabi rice crisps give customers an opportunity to try some Asian-style alternatives to popcorn and potato chips.
At Sockerbit on Christopher Street in The West Village, the clean storefront is stuffed with a wide variety of Scandinavian smågodis, or little candies. Selections like marshmallows, licorice and hard candies will look and taste nostalgic even to non-Scandinavians, thanks to lots of natural ingredients in the candies themselves. Here, candy lovers can mix and match, and come out with a colorful bag of cheery, interesting goodies.
BY: Gayot
Gayot
GAYOT.com serves as a leading worldwide authority on the good life. Millions of readers turn to Gayot's savvy, professional reviews on dining, travel and lifestyle. From "Best of" lists and travel guides, to a searchable restaurant and hotel database, Gayot provides dependable coverage while keeping up with the latest trends and news.