Celebrate Valentine's Day by Rubbing Chocolate All Over Your Body (Sort Of)
BY: Favin the Maven |
Jan 22, 2014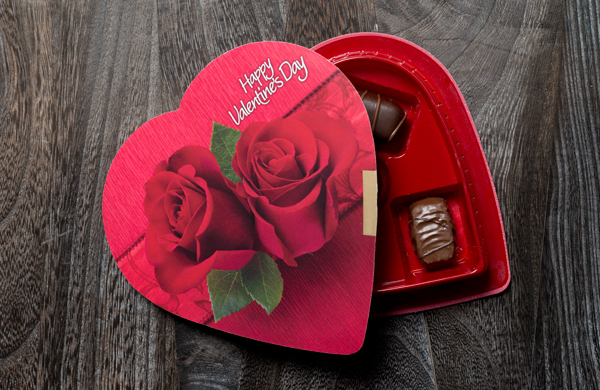 On my worst Valentine's Day ever, the guy I was dating showed up on my doorstep with a teddy bear, a card, and a heart-shaped box of chocolates. Sounds sweet, right?
I had some concerns, though. The teddy bear was secondhand. In the card, there was another girl's name crossed out next to mine. And the heart-shaped box had space for five chocolates … but only three were left.
Overall, it's probably best we didn't hang out again.
But the real moral of the story is that even my worst Valentine's Day wasn't all bad—I still got three (free!) chocolates.
Chocolate is clearly the best part of this much-loved and much-maligned holiday. But thanks to innovations in the beauty industry, it's not just for eating anymore. Here are five fun ways to get your chocolate fix this Valentine's Day.
By (Scented) Candlelight
Mojo Spa's Coco Martini Soy Candle ($25) turns any room into a candy store (specifically, one located above a florist) thanks to its chocolate-lavender scent. The melted wax doubles as a rich moisturizer, too. Once the candle has been lit for 15 minutes or more, dip your fingers in the wax, then rub it on your hands, feet, and body.
During a Massage
Lush's Nutts Massage Bar ($8.95) melts at body temperature, so it makes a perfect massage oil (or after-shower moisturizer). It's also chock-full of hydrating ingredients like coconut oil, tahini paste, and cocoa butter—and luckily for everyone, it smells more like a dessert than hummus.
On Your Lips
Burt's Bees' Revitalizing Lip Balm with Blueberry and Dark Chocolate ($3.30) nourishes lips with a blend of blueberry-seed oil, cocoa powder, and cocoa butter. It smells great, and there's no trace of that synthetic chocolate-cake-mix scent. Like most Burt's Bees products, it's 100% natural.
The Old-Fashioned Way
There's no need to reinvent the wheel. You can always go out and get your significant other (or yourself) a box of chocolates. Personally, though, I'd prefer a bag of peanut-butter M&Ms. A Costco bag. They're my favorite thing ever. I hope my current boyfriend is taking notes on this post.
BY: Favin the Maven
For me, both beauty and fashion need to be accessible and not intimidating. I love a great deal and a good DIY beauty treatment. I pride myself on trying new trends, being open minded and getting a great treatment without breaking the bank. In the name of beauty I will try anything once.