GROUPON GUIDE TO WASHINGTON-DC
Chef Art Smith Talks High-Brow and Low-Brow Southern Eats
BY: Mae Rice |
Apr 30, 2015
Art Smith is an international ambassador for fried chicken. Or, as he puts it, he might make the "most well-traveled fried chicken in the world." The born-and-raised Southerner has fried drumsticks across the globe at high-profile events like the opening of Oprah's South African school. (That gig was no stroke of luck—before opening his Chicago restaurant, Table Fifty-Two, Smith was Oprah's personal chef.)
And Smith is about to take his fryer to yet another country: Italy. He's running a two-day pop-up restaurant at the Milan World's Fair.
Below are highlights from our chat about Southern cooking with the two-time James Beard Award winner.
The Dos and Don'ts of Fried Chicken
Don't fry at a sky-high temperature.

"You don't fry at as high a heat as you think," Smith said. "We fry ours starting about 275 [degrees Fahrenheit], and then we raise it. Many people will fry it at 400, and it burns and it's not cooked all the way."



Do use high-quality flour.

Smith covers his chicken with "all-purpose Southern flour," for maximum Southern effect.



Do work with great chicken.

Table Fifty-Two's meat is free-range.



The Official Art Smith Stance on Waffle House
Pro. He especially appreciates how much the Southern chain has perfected its namesake food. "I love the simplest [waffles] that they make."
Overall, "they're very affordable, and they're open all different times," Smith said. "It's interesting—there's not even a fryer in those places. It's just basically a grill and a waffle iron."
The Southern Dish the South Deserves More Credit For
Layer cake. "I'm not 100% confident, but I believe the idea of the layer cake, multi-layers of cake, is a Southern [one]."
The Top Four Signs You're Eating Southern Food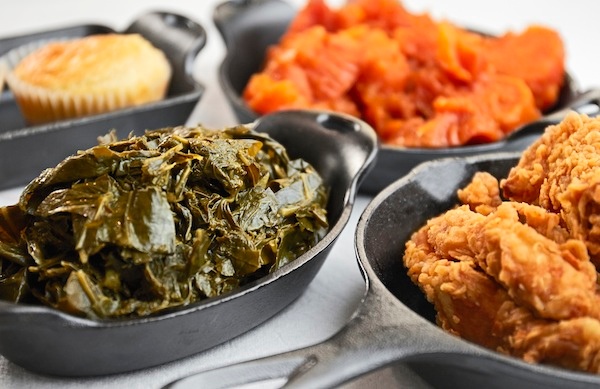 Paragraph
It's a stew or at least stew-like.

"Much of it, in terms of the savory part, tends to be simmered," Smith said. That means a lot of stews and a lot of dishes with sauce or gravy.



It involves fried chicken. Of course.

There's bread on the table.

"Southerners always have some kind of bread, and it's always fresh or homemade—whether it's cornbread, whether it's biscuits, or whether it's a Parker House roll."



It comes with sides. Green sides.

"It's common in Southern food to have a lot of side dishes of vegetable," Smith said. Think collard greens.



A Quick Story on How Smith Converted a Nobel Laureate to Southern Cooking
The laureate would be Dr. Wangari Maathai, a Kenyan professor, environmental activist, and recipient of the Nobel Peace Prize. "Her whole mission was to plant trees," Smith recalled; she hoped to help restore Kenya's ecosystems. A starstruck Smith made brunch for her and Oprah, back when he was Oprah's chef.
Southern brunch always has a sweet dish, so he made a fresh berry cobbler—a dish Maathai had never tried before. "I said, 'Professor, where I'm from, we always have dessert for breakfast.' She says, 'Well, I want to go there.' So that was charming, and I still remember that."
Art Smith photo by Eric Kleinberg, courtesy of Table Fifty-Two