Chef Ryan Scott Needs No Recipe
BY: Melanie Faetz |
Apr 22, 2013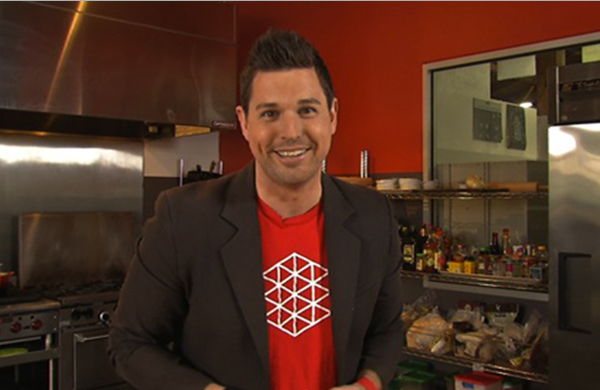 "Cheese and fish are not really harmonious," chef Ryan Scott admitted. "But apparently when you're 11 years old, anything that you can melt between two pieces of bread is pretty spectacular." He was reminiscing about his first "signature" dish, a tuna quesadilla topped with Hormel chili. The young chef and host of the Live Well Network's
Food Rush
has never felt much loyalty to other people's recipes. "Recipes are outlines for creativity," Ryan said. "They should inspire you, photos should inspire you, but you should think outside the box when you see them. " That's easy for a California Culinary Academy graduate with two restaurants, a catering company, a televised cooking show, and a radio show to say. Truth is, many home cooks who think outside the box end up eating from a box—a pizza box. But Ryan insisted that it doesn't have to be that way. Below are Ryan's tips for successfully inventing and modifying dishes:
1. Shop in the produce section first.
Let it dictate what you cook that night by the season. So if it's summer, you'll see strawberries and raspberries, and they should be the inspiration for your night. If you start in the produce section, your decision for the night's meal will be that much easier.
2. Scale it down by a third.
Especially any time you're trying to think up a new dish. Try not to overthink it. If you can't prep, wash, and put away everything in a half-hour, don't do it.
3. You need juxtaposition in food.
Soft
and
crunchy. You gotta think about textures when you're cooking.
4. Master the basic techniques. 
Food is super simple, and everything else will come easily.
5. Change the fruit in a recipe. 
Change the tomato to a tomatillo, the jalapeño to a habanero or fresno chili—that will make it your own and make a whole different dish. Caramelizing the onions when the recipe doesn't call for it and bringing out their natural sugars can also take the dish into a whole new place. Food Rush
airs Sundays at 8 p.m. EDT/7 p.m. CDT on the Live Well Network. If you're in San Francisco, you can also visit Ryan at his casual, seasonally inspired restaurant, Market & Rye, now with two locations.
BY: Melanie Faetz
Guide Staff Writer
Friendly but generally nervous 20-something who prefers to be holding a cold beer so that she can blame her sweaty palms on the condensation.