Chiberia Twitter Roundup
BY: Anna Skorczeski |
Jan 6, 2014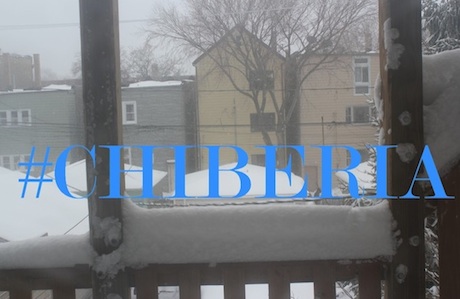 Most Chicagoans stayed inside during the Polar Vortex, working hard to make #chiberia a nationally trending Twitter topic. Here are some highlights.
You may have heard it was really cold yesterday.
This is what happens when you throw a cup of hot coffee up in the air in negative temps. #instafreeze #coffeesnow
http://ow.ly/sjDOf
— Heritage Bicycles (@HeritageBicycle)
January 6, 2014
In times like this, it's crucial to keep certain terminology straight.
Important distinction to keep in mind today: Balaclava is a ski mask; baklava is a tasty pastry. — Lisa Arnett (@lisamarnett)
January 6, 2014
DNA info kept us apprised of where we could still grab a bite.
Curious about what's open (and more likely closed) in your 'hood? We've got links galore in our #chiberia live blog
http://bit.ly/1dJFZ8b
— DNAinfo.com Chicago (@DNAinfoCHI)
January 6, 2014
But the folks at Michelin weren't getting out from under their blankets.
With this wicked weather and so many restaurant closures, those still open can rest assured that we're not dining out today. — Michelin Guide (@MichelinGuideCH)
January 6, 2014
Eater gave us hope that we'd stay fed if we couldn't bring ourselves to leave the house.
Restaurants open for delivery and what to know today
http://eater.cc/1lxtfox
— Eater Chicago (@eaterchicago)
January 6, 2014
And it was the RedEye that spoke the truest of the truths.
If you're getting food delivered today or tomorrow and not tipping appropriately, you're a damn monster. #chiberia — RedEye Chicago ‏(@redeyechicago)
January 5, 2014