Chicago Agenda: Monday, February 17
BY: Tyler Clark |
Feb 17, 2014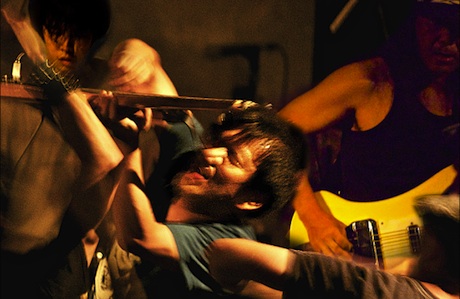 On today's agenda: Japanese punk in Irving Park and a new documentary from the Red Bull Music Academy.
Ultra Bidé
Seminal Japanese punk band returns to America after a years-long absence for a punk rave-up in Irving Park
The punk wave of the late '70s wasn't a strictly Atlantic phenomenon. It also crossed the Pacific to Japan, and the men of
Ultra Bidé
were there to ride it. After 15 years away, the seminal Kyoto punks made a surprise return in 2013 with
DNA vs. DNA-c
, a snarling sonic whirlwind that made you wonder if they'd spent the last decade and a half in suspended animation. Released by Alternative Tentacles Records (their longtime American label and project of rabble-rouser Jello Biafra), the record proves that punk aggression is pretty much the same in any language. A return to the studio also means a return to the stage: tonight, they'll take the stage at
Livewire Lounge (3394 N. Milwaukee Ave.)
for one of the last dates on an expansive (and relatively rare) American tour. This is a makeup date from last month, when visa issues prevented the band from rocking the walls down at
Township
.
(8 p.m. $7; buy tickets here)
"What Difference Does It Make?"
Music titans including Giorgio Moroder, Nile Rodgers, and James Murphy discuss drive and creativity in this new documentary
When they're not
caffeinating the nation's youths
or
ruining Fernando Alonso's day
, the tastemakers at Red Bull have been known to dabble in the world of music. Since its founding in 1998, the annual
Red Bull Music Academy
has paired the ambitions of aspiring producers, beat makers, instrumentalists, and vocalists with the resources that only an Austrian soft-drink giant can provide. Its efforts have paid off—notable past participants range from
Flying Lotus
to
Mr. Hudson
. Tonight,
Lincoln Hall (2424 N. Lincoln Ave.)
hosts the free Chicago premiere of
What Difference Does It Make?
, a documentary examining the industry-reshaping aspirations of yearly workshops through interviews with instructors (and industry titans) including Giorgio Moroder, Nile Rodgers, James Murphy, and more. In addition to the movie, the night also promises an otherworldly set by
Todd Osborn
of
Ghostly International
.
(8 p.m. 21+. Admission is free.)
BY: Tyler Clark
Tyler is a writer, storyteller, and musician from Chicago. His stories have appeared on stage at shows including Mortified, Story Club, and Lethal Poetry.