Chicago Agenda: Monday, February 24
BY: Tyler Clark |
Feb 20, 2014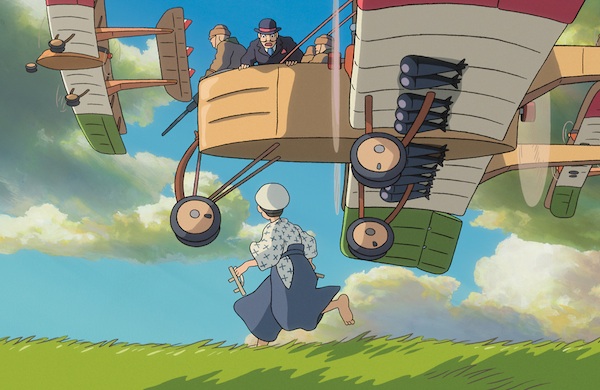 On today's agenda: the final film from Hayao Miyazaki, memories of the Mecca Flats building, and an evening with The Office star B.J. Novak.
"The Wind Rises"
The final film from animation master Hayao Miyazaki brings prewar Japan to life for the tale of fighter-plane engineer Jiro Horikoshi
It's the end of an animation era. Hayao Miyazaki, the creative force behind classic films including
My Neighbor Totoro
,
Princess Mononoke
, and
Spirited Away
, announced his retirement from Studio Ghibli last September. Now that his final film has arrived at the
Landmark Century Centre Cinema (2828 N. Clark St.)
, Chicago audiences have one last chance to take stock of his enviable career.
The Wind Rises
marks a departure from the standard Miyazaki fare: instead of weaving a rich fantasy world, the movie tells the true-ish tale of Jiro Horikoshi, the famed engineer of fighter planes used by Japan during World War II. Despite the shift in setting, the film is vintage Miyazaki, powered by sumptuous visuals (including a heart-gripping depiction of 1924's Great Kanto Earthquake) and a story remembered as much for its small moments as for its major narrative. It's a tale of Japan at a crossroads, a fitting end-of-career metaphor for the man who brought his country's animation into the international spotlight.
(Watch the trailer. $9-$11; find tickets and showtimes here)
"Mecca Flat Blues"
Discover 60 years of Chicago history in the breathtaking architecture and notable residents of the Mecca Flats building
The stately Mecca Flats building met the wrecking ball in 1951, making way for Ludwig Mies van der Rohe's Crown Hall on the campus of IIT. Though it's gone, it still manages to cast a long shadow. In
Mecca Flats Blues
, the latest exhibit at the
Chicago Cultural Center (78 E. Washington St.)
, the building comes back to life in a series of poignant, exquisitely shot black-and-white photographs. They tell the tale of a building that lived many lives: built as a hotel for rich visitors to the 1893 World's Columbian Exposition, the skylighted flats soon became hub for the South Side's burgeoning black middle class (including a young Gwendolyn Brooks). From the ornate art nouveau railings to the Pullman porters who once leaned over them, the building encapsulates a bygone part of Chicago's heritage—one that the Cultural Center has thankfully chosen to preserve.
(9 a.m.–7 p.m. The show runs through Sunday, May 25. Admission is free.)
B.J. Novak
Former star of
The Office
shows off his literary chops with a reading from his new book of short fiction
Fans of
The Office
, sing it with me:
Ryan started the fi-ire
! Try as he might, it's probably going to be a long time before writer and actor B.J. Novak escapes his legacy as the world's least content paper-company employee. Now on a break from television, Novak's dabbling in the literary world. He just released his first book,
One More Thing: Stories and Other Stories
, a collection of what
Booklist
calls "high-concept, hilarious, and disarmingly commiserative fiction." Despite his TV pedigree, Novak's no stranger to the world of letters: in a
recent interview with the Los Angeles Times
, he cites influences including literary heavyweights like George Saunders and Gary Shteyngart. He'll show off some of his fiction chops during a reading tonight at
Up Comedy Club (230 W. North Ave.)
. Also, just because he's such a nice guy, every ticket comes with a copy of the book ready for a postshow signing.
(6 p.m.. Doors open at 5 p.m. $25; buy tickets here)
Photo courtesy of Touchstone Pictures
BY: Tyler Clark
Tyler is a writer, storyteller, and musician from Chicago. His stories have appeared on stage at shows including Mortified, Story Club, and Lethal Poetry.