Chicago Agenda: Monday, March 3
BY: Tyler Clark |
Mar 3, 2014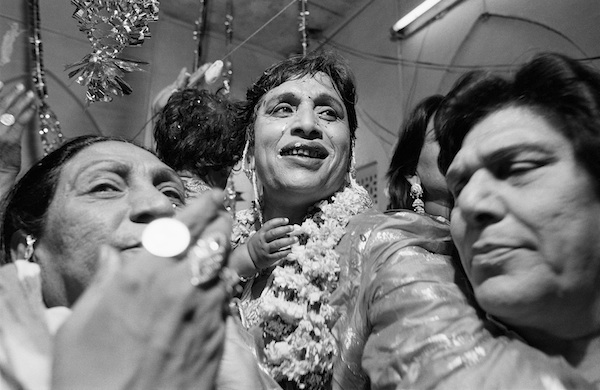 On today's agenda: Dayanita Singh's moving photos of India, FitzGerald's 20th annual jambalaya cook-off, and an all-new, all-different
Anchorman 2.
Dayanita Singh
The story of one of India's outcasts comes to life in the photos of Indian photographer and bookmaker Dayanita Singh
Although photographer and bookbinder Dayanita Singh gained acclaim for her artistic volumes of emotion-filled images, she's not limited to the space between the covers. As of 2013, she's begun displaying her photos in gargantuan, reconfigurable wooden structures that she refers to as "museums." One of them now sits at the
Art Institute of Chicago (111 S. Michigan Ave.)
, where it's paired with one of Singh's earliest (and most moving) photo series.
Myself Mona Ahmed
tells the story of Mona Ahmed, an outcast eunuch adrift in India's caste system. Taken over the course of 13 years, the photos paint a moving portrait of someone trapped forever in a liminal existence. The series connects well with the
Museum of Chance
, which counts among its photos more recent images of Mona Ahmed that forge a connection point between old work and new.
(10:30 a.m.–5 p.m. $17–$23; buy tickets here)
FitzGerald's 20th Annual Jambalaya Cook-Off
FitzGerald's celebrates Mardi Gras as it has for two decades: with 10 cauldrons of bubbling jambalaya 
Mardi Gras celebrations begin in earnest tonight at
FitzGerald's (6615 Roosevelt Rd., Berwyn)
, which kicks off its two-day rager with a little competition and a lot of jambalaya. The 20th edition of its annual jambalaya cook-off is a tournament of champions: each of the 10 competitors has drunk from the stew-covered chalice of victory at one point in the past two decades. While chefs channel their inner Cajuns, bar-goers can boogie along to the Gulf Coast swing of the
Marcia Ball Band
. Between the pints of Abita and the gallons of hurricanes, be sure to eat your fill of the jambalaya—after 20 years as the bar's edible of choice, it will be replaced by gumbo starting next year.
(7:30 p.m. Doors open at 6:30 p.m. $20; buy tickets here)
"Anchorman 2: The Legend Continues: Super-Sized R-Rated Version"
What happens if you replaces every joke in Anchorman 2? Find out with this alternate cut boasting 763 new laugh lines
He did it again. This weekend, Paramount released
Anchorman 2: The Legend Continues: Super-Sized R-Rated Version
, making good on director Adam McKay's boast that
he shot enough improv runs to replace every joke that made it into the actual film
. For the studio, it's a low-risk proposition: the real
Anchorman 2
underwhelmed critics during its holiday run, so giving Will Ferrell and friends a do-over provides both an easy way to gin up some extra dough and a fascinating look into the cast's comedic chemistry. For fans of San Diego's best-coiffed news team, seeing this even more imperative—
McKay recently announced
that
Anchorman 2
would be the final film in the franchise. If that stands, this is Ron Burgundy's true swan song. The alternate cut is in theaters through the end of this week.
(Find showtimes here) 
Dayanita Singh. Myself Mona Ahmed, 1989–2001, printed 2008. The Art Institute of Chicago, Photography Associates and Contemporary Art Discretionary Funds. © Dayanita Singh. Courtesy the artist and Frith Street Gallery, London.
BY: Tyler Clark
Tyler is a writer, storyteller, and musician from Chicago. His stories have appeared on stage at shows including Mortified, Story Club, and Lethal Poetry.