Chicago Agenda: Monday, November 25
BY: Tyler Clark |
Nov 22, 2013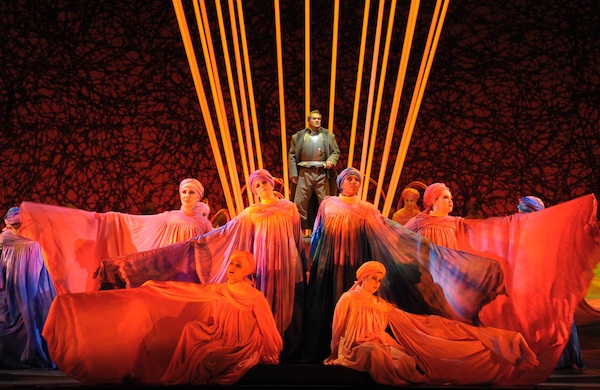 Parsifal
Where:
Civic Opera House | 20 N. Wacker Dr.
When:
6 p.m.
How Much:
$34+;
buy tickets here
The Knights of the Grail were paragons of virtue, but even paragons need to cut loose sometimes. Unfortunately for the paladins of
Parsifal
, these temptations come with some stern (and divinely inspired) consequences. The Lyric Opera's latest take on Richard Wagner's tale of duty, transgression, and redemption ends its November run this week, giving opera-goers one last chance to see a production hailed by the
Chicago Sun-Times
as "gorgeously sung [and] enchanting to look at." It's also long: clocking in at nearly five hours, the show is an artistic investment. However, the extended run time pays dividends, giving audience members ample opportunity to reflect upon the resonant thrum of baritone Thomas Hampson or the orchestra's evocative rendition of Wagner's final score under the command of conductor Sir Andrew Davis.
Do Not Submit: A Storytelling Open Mic
Where:
Powell's Bookstore | 2850 N. Lincoln Ave.
When:
7:30–10 p.m. (open mic sign-up starts at 7 p.m.)
How Much:
Free Thanksgiving's almost here, and along with the turkey and football comes the annual attempt head off the never-ending anecdotes of boring but talkative relatives. Sharpen your conversational skills with a turn behind the microphone at
Do Not Submit
, the monthly storytelling open mic hosted by Moth GrandSlam champion Shannon Cason and guest Dan Terkell. During the brisk seven-minute sets, seasoned storytellers and newcomers alike test out their latest tales in front of a supportive crowd, giving the event a laid-back, workshop-style vibe. If microphones give you the heebie-jeebies, never fear: the event is BYOB, giving you the chance to quaff some liquid courage that tastes remarkably like Green Line and Gumballhead.
The Dinner Party
Where:
City Winery | 1200 W. Randolph St.
When:
7 p.m. (doors open at 6:30 p.m.)
How Much:
$40;
buy tickets here
Elysabeth Alfano is having a party, and we're all invited. With The Dinner Party, the host of
Fear No Art
brings her podcast's intimate interviews with Chicago's cultural figures to a live audience in the welcoming confines of
City Winery
. This month, author Scott Turow,
Sun-Times
columnist and
Sound Opinions
host Jim DeRogatis, and burlesque dancer Michelle L'amour will sit down for an unguarded chat punctuated by audience questions submitted via Twitter. They won't talk on an empty stomach, of course—Chef Heather Terhune of
Sable Kitchen & Bar
will serve a main course of grilled pork belly with a roasted butternut-squash purée and maple gastrique with crispy kale. Tickets include large tastings of appetizers and entrees, along with beverages and treats from the local chocolatiers at
Vosges
. Fashion illustrator Rosemary Fanti will be on hand to sketch the whole event, which will also be streamed live on the
Sun-Times' Splash
.
Photo Courtesy of Lyric Opera
BY: Tyler Clark
Tyler is a writer, storyteller, and musician from Chicago. His stories have appeared on stage at shows including Mortified, Story Club, and Lethal Poetry.