Chicago Agenda: Thursday, December 5
BY: Tyler Clark |
Dec 4, 2013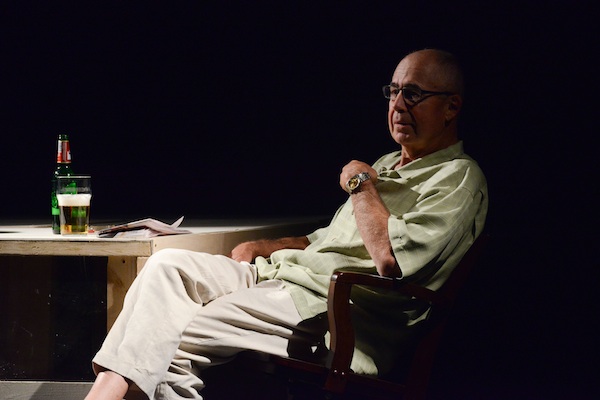 "I Wish to Apologize to the People of Illinois"
Political corruption unfolds on a Wicker Park stage in this play inspired by true events
On this day in 2008, Rod Blagojevich was still governor, contemplating his (wholly imaginary) future in the Obama administration and entertaining entreaties from politicos interested in the state's now-open Senate seat. What a difference five years makes. Blagojevich went down, as did many of the state's most notable ne'er-do-wells, thanks in part to the testimony of Stuart Levine, the disgraced political insider turned FBI informant. In
I Wish to Apologize to the People of Illinois
, Levine's story comes to life on the stage of Collaboraction's Pentagon Theater inside Wicker Park's stately
Flat Iron Arts Building (1579 N. Milwaukee Ave.)
. Writers and directors Andrew Gallant and Tim Touhy mold headlines and courtroom transcripts into a nuanced portrayal of deceit and redemption in this intimate production by
The Agency Theater Collective
. Don't dawdle; the show ends its world-premiere run this weekend.
(7:30 p.m.; $20; buy tickets here)
Quotable Christmas Party & Sale
Save on vintage Christmas gifts during a sale at Edgewater's largest antique store
With the Christmas shopping season in full, frenzied swing, workers at most retail stores have hunkered into a survive-first mentality. However, the shopkeepers at
Broadway Antique Market (6130 N. Broadway)
have taken a different approach. Instead of mentally checking out until the calendar reads 2014, they've decided to honor Christmas commerce with a festive party and sale. Head up to Edgewater this evening for the first night of the 10-day sale, which includes up to a 50% deduction on antiques from more than 75 dealers. After shaking off post-work weariness with a glass of wine and some serious browsing, you can set about the important business of gift-buying. As Edgewater's largest antique store, BAM houses presents big and small, from understated pairs of Bakelite earrings to ostentatious midcentury furniture found on its spacious second floor.
(Party runs from 6 p.m. to 9 p.m.; sale runs until December 15)
Repeal Day Celebration
Toast to a constitutional correction in Lincoln Park with vodka cocktails and rare beers from Revolution Brewing
On December 5, 1933, history was made. Or rather, unmade. On that day, the 21st Amendment ended Prohibition, welcoming liquor back to its rightful place in America's bars, homes, and discreetly hidden hip flasks. Tonight, the barkeeps of Lincoln Park's
Standard Market Grill (444 W. Fullerton Pkwy.)
celebrate the 80th anniversary of Repeal Day with a selection of their favorite drinks from Chicago and abroad. Using
Russian Standard Platinum vodka
, they'll whip up classic cocktails ($7) including daiquiris and moscow mules complete with splashes of
Koval's ginger liqueur
. Attendees can also grab politically minded pints ($4+) from a collection of
Revolution
's rare aged versions of its
Eugene porter
, including Mean Gene (barrel-aged in bourbon casks from Woodford Reserve) and Bean Gene (aged alongside coffee from Ukrainian Village roaster
Dark Matter
).
(Party runs from 7 p.m. to midnight)
Photo by Bill Richert
BY: Tyler Clark
Tyler is a writer, storyteller, and musician from Chicago. His stories have appeared on stage at shows including Mortified, Story Club, and Lethal Poetry.