Chicago Agenda: Thursday, February 20
BY: Tyler Clark |
Feb 19, 2014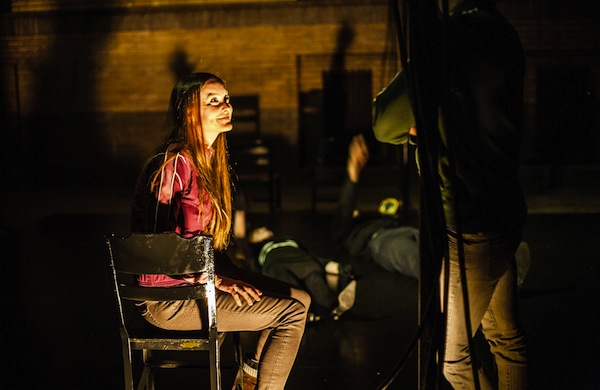 On today's agenda: the closing days of Hamlet Is Dead. No Gravity. at Red Tape Theatre and the regional finals at Poetry Out Loud.
"Hamlet Is Dead. No Gravity."
Abstract staging and all-too-real emotional turmoil come together in this Austrian play making its English-language world premiere
Critic Tony Adler opens his 
review
 of 
Red Tape Theatre
's production of 
Hamlet Is Dead. No Gravity
. with the observation that "when the world starts looking especially bleak, Chicago's artistic directors start programming German-language plays." Making its English-language world premiere, the play fills the stage of 
St. Peter's Episcopal Church (621 W. Belmont Ave.)
 with an unmistakable Germanic dread that's only heightened by abstract staging. An unexpected tragedy and an unplanned meeting brings four former friends into a reunion destined to upset everything that's come before (and especially after). It's a blend of brooding emotion and cerebral calculation, not unlike the titular Prince of Denmark himself. The company's final show at St. Peter's closes this weekend, but head over tonight; during the theater's weekly pay-what-you-can night, patrons can snag tickets for as little as $5. 
(8 p.m. $5–$25; buy tickets here)
Poetry Out Loud
Chicagoland's high-school orators vie for a spot at the state finals of this long-running poetry recitation competition
Though many ENG 101 courses would have you believe otherwise, poetry is only at full strength when it's being performed aloud. It's a message that the kids of Poetry Out Loud have internalized at a young age. This morning, performers from around Chicagoland will gather at the Poetry Foundation (61 W. Superior St.) for the regional finals of the long-running recitation contest. Writing fans will likely recognize the source material; competitors add their own bit of life to pieces chosen from the national organization's database of 650 poems. Today's winners move on to the state finals on March 14; a win there would book them passage to the national contest at George Washington University on April 30. (10 a.m. to 1 p.m. Admission is free.)
Photo by Austin D. Oie
BY: Tyler Clark
Tyler is a writer, storyteller, and musician from Chicago. His stories have appeared on stage at shows including Mortified, Story Club, and Lethal Poetry.