Chicago Agenda: Thursday, March 6
BY: Tyler Clark |
Mar 5, 2014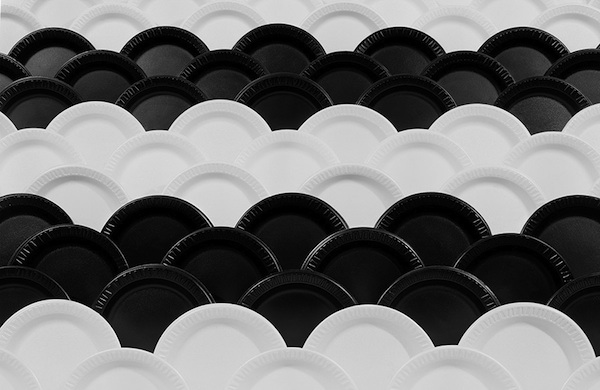 On today's agenda: the art of everyday items with Nick Albertson, a celebration of the late musician Mark Linkous, and Salonathon's late-night show at Steppenwolf.
"Single Use"
Plastic plates, paper cups, and everyday detritus gets an artistic makeover courtesy of photographer Nick Albertson
Artist Nick Albertson doesn't believe in wasting materials, no matter how mundane or disposable. In
Single Use
, which closes tomorrow at
Aspect/Ratio (119 N. Peoria St., Unit 3D)
, the photographer draws out the beauty in mass production through photos of artfully arranged, endlessly repeating household items. By pausing the one-and-done lives of everything from plastic dinner plates to the cone-shaped paper cups found at most water coolers, Albertson also slows down our judgment of them. Given all the time in the world to stare at these pictures, you've got to admit: we throw away some pretty elegant stuff.
(Noon to 5 p.m. The show runs through Friday, March 7. Admission is free.)
An Evening Dedicated to Sparklehorse
Four years after Mark Linkous's suicide, Sparklehorse fans gather to remember his music and raise money for mental health awareness
We thought we'd drained our "sobbing about music" reservoirs during January's tribute to the late Jason Molina at the Hideout. As another sad anniversary approaches, it looks like we were wrong. It's been four years since the suicide of Mark Linkous, the haunted songwriter best known for his work as
Sparklehorse
. His death robbed the indie world of one of its most wry, emotionally precise singers and left behind a body of work ready for reevaluation. Tonight, the
Tonic Room (2447 N. Halsted Ave.)
hosts An Evening Dedicated to Sparklehorse, a celebration of Linkous's life combined with a retrospective of his work. A crew of Chicago musicians including Brian Morrissey of
The Dirty Pigeons
and Chris Anderson of
Old Fashioned War
will share their  best-loved Sparklehorse tunes, with all proceeds benefiting Box of Stars, "a non-profit organization that promotes mental health awareness through music."
(8 p.m. $7; buy tickets here)
Salonathon at Steppenwolf
Salonathon ventures out of Beauty Bar's cozy confines for a late-night show at The Garage at Steppenwolf
As
Steppenwolf Theatre Company
's black-box incubator,
The Garage (1624 N. Halsted Ave.)
is known for hosting boundary-pushing, expectation-challenging theater. As Chicago's hippest weekly cabaret, Salonathon is known for filling Beauty Bar with genre-bending performances by Chicago's avant-garde artists. Thus, it's fitting that the two will meet tonight, during the kickoff of The Garage's annual spring
Late Night at Garage Rep
series. Curated by Salonaton founder and impresaria Jane Beachy around the theme of "Say My Name,"
tonight's gig
includes laugh with the
Puterbaugh Sisters
, enthralling movements by Erik Strebig and Erin Long, and a performance by Steppenwolf's own
Ike Holter
.
(11 p.m. $5; buy tickets here)
Photo provided by Aspect/Ratio
BY: Tyler Clark
Tyler is a writer, storyteller, and musician from Chicago. His stories have appeared on stage at shows including Mortified, Story Club, and Lethal Poetry.