Chicago Agenda: Tuesday, February 25
BY: Tyler Clark |
Feb 25, 2014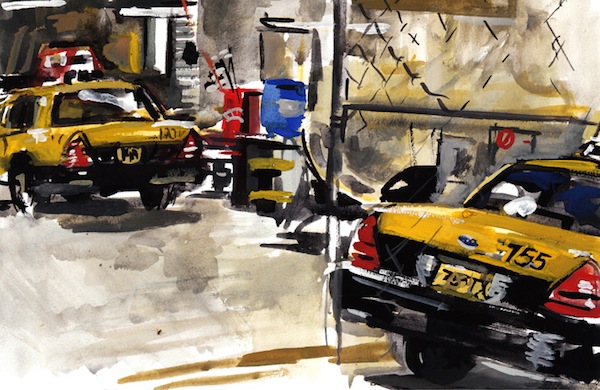 On today's agenda: an artist talk with Dmitry Samarov, a new show from the Chicago Gay Men's Chorus, and Hot Bagels' record-release show.
Dmitry Samarov
The multifaceted artist (and seasoned cabbie) shares insights into his creative process during the Lillstreet Lecture Series
Painter
.
Author
.
Cab driver
. Russian-born artist
Dmitry Samarov
has a story unlike most, and thankfully, he isn't shy about sharing it. Tonight, at the Lillstreet Art Center's monthly Lillstreet Lecture Series, he'll share the inside scoop on his own creative process, as well as the impetus behind the works in his latest show,
Living In Chicago
(which closes this weekend at
LivingRoom Gallery
). Before taking your seat inside the recently completed
Lillstreet Loft (4437 N. Ravenswood Ave.)
, pop down the street to the main building for a quick bite at
First Slice Pie Café
. The whole
menu
is delicious, but take it from me: their apple pie might change your life.
(7 p.m. Admission is free.)
Chicago Gay Men's Chorus Winter Cabaret
For its opening show of 2014, the Chicago Gay Men's Chorus honors the catalogs of Cole Porter, Elton John, and Stephen Schwartz
Fresh off its 30th anniversary year, the Chicago Gay Men's Chorus kicks off its 2014 schedule tonight with the power that only comes from three decades of showmanship. For
Let's Do It!
, their 2014 winter cabaret, the company celebrates three perennial favorites from its songbook: Cole Porter, Elton John, and Stephen Schwartz. In addition to busting through the winter blahs, the show also serves as something of a warm-up: numbers from
Pippen
,
Wicked
, and
Kiss Me Kate
foreshadow the agenda for the chorus's Broadway-themed spring show opening in April. If you can't make tonight's performance at
The Laugh Factory (3175 N. Broadway)
, fear not;
Let's Do It!
also runs at the
Mayslake Peabody Estate
in Oak Brook on Saturday, March 8.
(8 p.m. $35–$50; buy tickets here)
Hot Bagels
Lo-fi gems from recent Chicago arrival Craig Woods turn the air scratchy at Township during Hot Bagels' record-release show
In 1994, lo-fi meant recording your songs directly into the half-blown mic of a creaking tape recorder. In 2014, it means screaming your vocals into your iPhone's Voice Memos app as you drive aimlessly around your new city. At least, that's Craig Woods's definition. The newly minted Chicagoan blipped onto our radar in January with the release of
Toasted
, a cassette of dirty, sun-baked tunes that makes
Bee Thousand
sound like a Todd Rundgren record. Since then, he's assembled a live band, which plays just its third gig tonight during a record-release show at
Township (2200 N. California Ave.)
. Also on the bill: slowcore devotees Laforge, the riffmasters of Fitness, and Pink Eyes, the Chicago punks making their very own hometown debut.
(8 p.m. 21+.)
Photo courtesy of Dmitry Samarov
BY: Tyler Clark
Tyler is a writer, storyteller, and musician from Chicago. His stories have appeared on stage at shows including Mortified, Story Club, and Lethal Poetry.