Chicago Agenda: Tuesday, January 14
BY: Tyler Clark |
Jan 13, 2014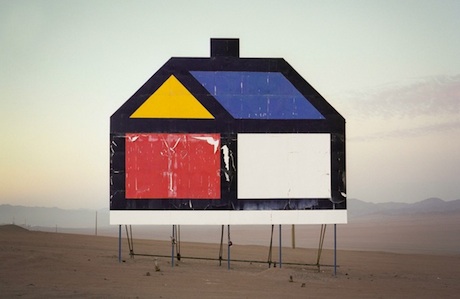 "Vacancy" and "Distant Suns"
Photographers Lynn Saville and Reuben Wu offer contrasting landscape photos in two shows at Schneider Gallery
The phrase "landscape photography" packs a lot of negative connotations into just two words, calling to mind the screensaver-friendly beaches and personality-free cityscapes that populate the average Ikea's art section. Photographers
Lynn Saville
and
Reuben Wu
are out to change that perception, one shutter snap at a time. Their shows at
Schneider Gallery (230 W. Superior St.)
both draw inspiration from scenic locales, with the difference lying in their definitions of "scenic." In
Vacancy
, Saville ruminates on the empty storefronts, lonely warehouses, and seedy diners that linger like mushrooms in areas of economic malaise. Wu's
Distant Suns
opts for a more fantastical approach, with locations in Norway, Russia, and South America serving as the backdrop for photos that rest "somewhere between 1970s concept album art, expeditionary imagery, and Surrealist painting."
(10:30 a.m.–5 p.m.; shows run through Saturday, March 1. Admission is free.)
103 Tattoos for 103 Years of a Legend
Celebrate the life and art of Norman "Sailor Jerry" Collins and maybe grab a free tattoo while you're at it
So, turns out Sailor Jerry isn't just a corporate mascot designed to shill affordable rum. Born Norman Collins on January 14, 1911, the real Sailor Jerry was a seaman and tattoo artist known for popularizing now-iconic ink symbols including roaring wildcats and the (cheekily NSFW) "aloha" monkey. Although Collins died in 1973, the rum company that shares his name invades
Emporium Arcade Bar (1366 N. Milwaukee Ave.)
for a 103rd birthday party celebrating the accomplishments of its no-nonsense namesake. How does one go about honoring a master of his renown? Free tattoos, of course. The first 103 attendees at tonight's party will walk away with a
Sailor Jerry swallow
 etched somewhere on their bodies courtesy of
Great Lakes Tattoo
. Even if you don't get inked, you can still partake in a feast that includes
ManBQue
's smoked pork, bacon-jalapeño cornbread, and apple crumble. Oh, there are also specials on Sailor Jerry cocktails all night, including the steamy Hot Jerry Cider.
(6 p.m.)
"12 Years a Slave" and "American Hustle"
Prep for an Academy Award showdown by catching the winners of the Golden Globes' top film honors
Another Golden Globes ceremony is in the books
, with the Hollywood Foreign Press Association once again bestowing its prestigious trophies on the year's finest TV shows and films. The winners of the Best Motion Picture awards both examine questions of the American experience inspired by true events, but that's where the similarities end. The smirking
American Hustle
pairs David O. Russell's snappy dialogue with the wide lapels, tinted glasses, and colorful con men employed by the FBI during the Abscam sting operations of the 1970s. At the other end of the gravitas spectrum,
12 Years a Slave
provides a heart-wrenching adaptation of the memoirs of Solomon Northup, a New York violinist and carpenter kidnapped by slave traders in 1841. Check them out this week, then be prepared to offer your own hot takes when the two square off in a likely Best Picture showdown at next month's Academy Awards.
(Now playing everywhere. Showtimes and tickets:
American Hustle
and
12 Years a Slave
. Trailers:
AH
and
12YAS
.)
Photo by Reuben Wu
BY: Tyler Clark
Tyler is a writer, storyteller, and musician from Chicago. His stories have appeared on stage at shows including Mortified, Story Club, and Lethal Poetry.