Chicago Agenda: Tuesday, January 7
BY: Tyler Clark |
Jan 6, 2014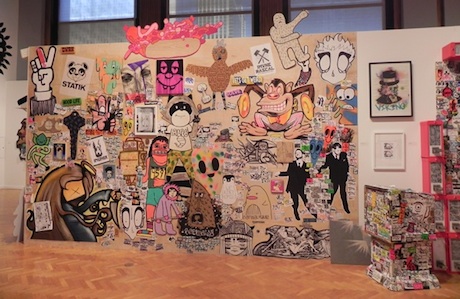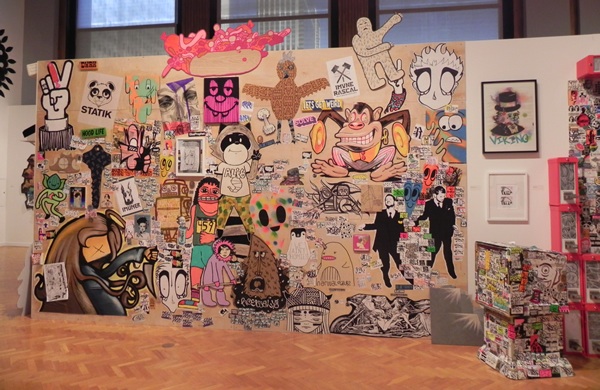 "Paint, Paste, and Sticker: Chicago Street Art"
The Chicago Cultural Center brings the outside in with this exhibition of Chicago's most notable street artists
The polar vortex continues to squat, humorlessly, over a frozen Chicago, making all but the most essential outdoor activity completely inadvisable. On a brighter note, that means that the
Chicago Cultural Center (78 E. Washington St.)
chose the most opportune moment possible to bring the city's street-art scene inside.
Paint, Paste, and Sticker: Chicago Street Art
, which closes this weekend, recreates the walls of Wicker Park, Pilsen, and Logan Square with installations from more than two dozen artists. Instantly recognizable works by
Mosher
,
Don't Fret
, and
Hebru Brantley
will remind you of warmer days, when you could search for new art on your daily walk without worrying that the weather was trying to kill you. Even better: the Cultural Center is accessible via the Pedway.
(9 a.m. to 7 p.m.; show runs through January 12. Admission is free.)
Michael Zerang & The Blue Lights
Local jazz heavyweights unite for a month of weekly shows under the guidance of percussionist Michael Zerang
Despite the weather, not everyplace in the city will be cold tonight. In fact, the owners of
Bar DeVille (701 N. Damen Ave.)
might want to get the air conditioner started now. You see, legendary Chicago percussionist Michael Zerang and his new ensemble The Blue Lights begin their month-long stand at the West Town club tonight, and chances are they'll be bringing some serious fire. Formed in 2013 to give life to Zerang's first new compositions in nearly a decade, The Blue Lights bring together the massive talents of local jazz heavyweights such as saxophonists
Mars Williams
and
Dave Rempis
, cornetist
Josh Berman
, and bassist
Kent Kessler
. If their firsts shows from last year are any indication, expect a stomping mix of pealing brass and trench-deep grooves held down by the veteran rhythm section. If that doesn't tell you enough,
check out this clip from the group's appearance at The Hideout
.
(10 p.m.; every Tuesday through January. Admission is free.)
Put 'Em Up
New and unproduced screenplays come to life at the Public House Theatre's weekly staged reading and discussion series
For every screenplay that makes it to television or cinema, there are three more that languish unseen in our notebooks and Dropbox accounts. The folks at
Put 'Em Up
are changing all that, one Tuesday night at a time. During their weekly reading at Lakeview's
Public House Theatre (3914 N. Clark St.)
, they place a new or unproduced script into the hands of talented actors chosen by the writers themselves. After a staged reading, actors, writers, and audience members gather for an honest post-mortem about the work's strengths and weaknesses. It's collaborative, it's engaging, and it's the one way you can convince someone to finally write that
Perfect Strangers/Full House
crossover you've been dreaming about.
(7:30 p.m. Tickets: $7; purchase here.)
Photo courtesy of the Chicago Cultural Center
BY: Tyler Clark
Tyler is a writer, storyteller, and musician from Chicago. His stories have appeared on stage at shows including Mortified, Story Club, and Lethal Poetry.