Chicago Agenda: Tuesday, March 4
BY: Tyler Clark |
Mar 3, 2014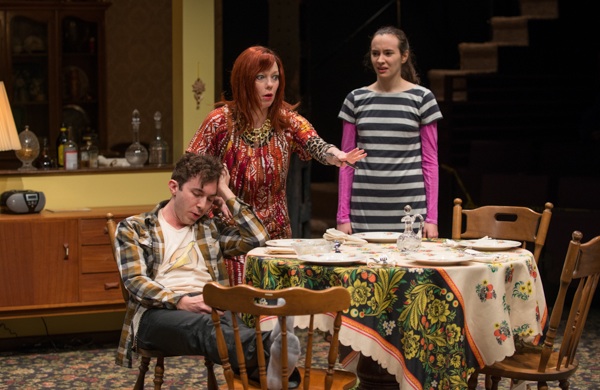 On today's agenda: a modern tale of Russian woe at Steppenwolf, Two Cookie Minimum's annual zine reading, and flamenco superstar Estrella Morente.
"Russian Transport"
New-World comfort crashes headlong into Old-World scheming in Erika Sheffer's gripping tale of one Russian American family
Between the triumph of the Winter Olympics in Sochi and the escalating conflict along the Crimean Peninsula, Russia has dominated international headlines in recent weeks. It's a state of affairs not lost on the players at the
Steppenwolf Theatre Company (1650 N. Halsted St.)
, whose production of Erika Sheffer's Russian Transport calls to light the conflicting allegiances in one Russian family living in Brooklyn. Parents Misha and Diana emigrated after the fall of the Soviet Union, left disillusioned by the unfulfilled promises of the Yeltsin years. The past returns in the form of Boris, Diana's brother, who interjects Old-World secrets (and criminality) into the family's version of the American dream. Gripping and darkly funny, the family's threatened downfall offers a wry commentary on immigration and the problems that follow people across oceans and borders.
(7:30 p.m. $55; buy tickets here)
Two Cookie Minimum
Annual reading kicks off the countdown to the Chicago Zine Fest with local DIY publishers and free cookies
DIY-publishing nerds, rejoice: this year's
Chicago Zine Fest
kicks off in just 10 days. If you can't wait that long to get your mitts on Chicago's latest hand-printed missives, head over to 
Hungry Brain (2319 W. Belmont Ave.)
around 9 p.m. this evening. There, you'll find Johnny Misfit and Two Cookie Minimum, the annual pre-festival reading series made for and by Chicago's zine community. Now in its third year, the series will showcase the oratorical talents of readers including Elizabeth S. Tieri, comic artist Matt Davis, and memoirist Dave Roche. Oh, before you ask: yes, there will be cookies. Free, delicious cookies. Yep, we're powerless, too.
(9 p.m. $5 suggested donation)
Estrella Morente
Celebrated Spanish flamenco singer conjures the emotions of the dance during her latest American tour 
Although she was in her late 20s when she made her American debut at New York's
Town Hall
in 2007, Spanish flamenco singer Estrella Morente already had the experience of a seasoned
cantora
. The daughter of iconic flamenco virtuoso Enrique Morente, she grew up fully immersed in the art form's ancient traditions and her father's sometimes-controversial modernizations. Seven years later, Estrella has earned her place among international divas, forging her own career while carrying on her father's legacy since his death in 2010. Tonight, she'll dazzle audiences at Chicago's
Symphony Center (220 S. Michigan Ave.)
with a program of flamenco and traditional Spanish songs that make full use of her smoky, passion-filled voice.
(8 p.m. $25–$65; buy tickets here)
Photo by Michael Brosilow
BY: Tyler Clark
Tyler is a writer, storyteller, and musician from Chicago. His stories have appeared on stage at shows including Mortified, Story Club, and Lethal Poetry.