Chicago Agenda: Tuesday, November 26
BY: Tyler Clark |
Nov 25, 2013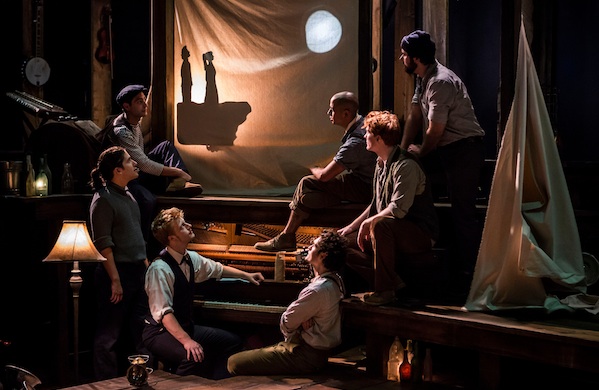 The Old Man and The Old Moon
Where:
Writers Theatre | 325 Tudor Ct., Glencoe
When:
7:30 p.m.; the show runs through December 1
How Much:
$50+;
buy tickets here
In the land of the endless full moon, an old man devotes his life to replenishing the light that leaks out every night. When that same old man finds himself called, unwillingly, to adventure, what becomes of the moon? What becomes of him? These are the questions asked (and entertainingly answered) in
The Old Man and The Old Moon
, the debut full-length production from New York's
PigPen Theatre Co.
The seven lads in the cast weave together a swashbuckling myth that's as grand in scope as it is intimate in execution. With the help of imaginative physical theater, captivating puppetry, and catchy folk tunes that wouldn't be out of place at the Old Town School, they take audiences from bustling ports to desolate ruins to find the recipe for making love and duty coexist.
Daley Plaza Christmas Tree Lighting Ceremony
Where:
Daley Plaza | 50 W. Washington St.
When:
5 p.m.; tree lighting at 6 p.m.
How Much:
Free For 100 Decembers in a row, the city of Chicago has ushered in the holiday season with a flip of the switch and a dazzle of light. 2013 is no different: tonight, city officials will illuminate the city's official Christmas tree, a
towering 57-foot colorado blue spruce
grown by the Moore family of South Holland. The lighting comes with a musical prelude; girl-group legend Darlene Love will recapture the magic of 1963's
A Christmas Gift to You from Phil Spector
, and casts from the Joffrey Academy of Dance,
Elf: The Musical
, and
Rudolph The Red-Nosed Reindeer: The Musical
will warm hearts of kids and adults alike with selections from their respective shows. The event's spirit of family togetherness even extends to the hosts, with NBC newsman Lester Holt joining his son, NBC 5 morning anchor Stefan Holt, for some father-son emceeing.
Lupe Fiasco
Where:
House of Blues | 329 N. Dearborn St.
When:
8 p.m. (doors open at 6 p.m.)
How Much:
$40+;
buy tickets here
According to
his October interview
with
Rolling Stone
,
Lupe Fiasco
is done with politics. After grabbing headlines in January for
the less-than-stellar end to his set at StartUp RockOn's inauguration party
, the Chicago-born rapper holed up in the studio for most of 2013. He's back on the road now, previewing a new album (2014's
Tetsuo & Youth
) that promises to channel the music-first spirit of 2006's
Lupe Fiasco's Food & Liquor
. For a sample of the new-old Lupe, consider preview single
"Old School Love."
As British hitmaker Ed Sheeran croons out a soulful chorus, Fiasco trades activism for advice, offering his younger self (and, by extension, his younger fans) guidance partially inspired by his youth in the West Side's Madison Terrace housing project. Though the song exudes catchy sentimentality, it might not be entirely representative of Lupe's latest sound.
In a chat with the Sun-Times
, he claimed that the album will contain "eight or nine songs that went in the opposite direction: more visceral, more graphic, more hard musically." If you don't want to wait until next year to find out how that sounds, tonight's show at the House of Blues might be your last, best chance for a sneak peek.
Photo: Liz Lauren
BY: Tyler Clark
Tyler is a writer, storyteller, and musician from Chicago. His stories have appeared on stage at shows including Mortified, Story Club, and Lethal Poetry.