Chicago Agenda: Wednesday, January 8
BY: Tyler Clark |
Jan 7, 2014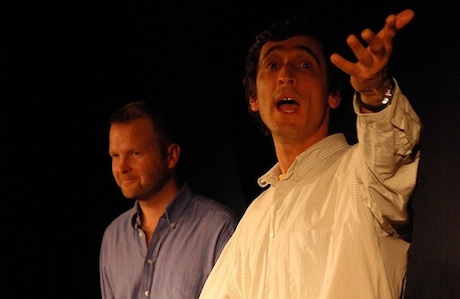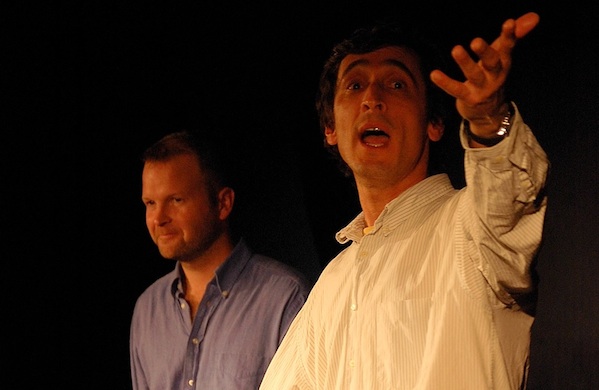 TJ and Dave
Celebrated improv duo puts on a master's course in long-form improvisation during their weekly late-night show
Tonight, while most of Wrigleyville slumbers (39 days until pitchers and catchers!), the Cabaret at
iO Theater (3541 N Clark St.)
will welcome back two of the neighborhood's favorite funnymen. After a two-month winter break, masters of long-form improv T.J. Jagodowski and Dave Pasquesi kick off 2014 with the return of their celebrated Wednesday-night show.
Over the course of 60 minutes, the pair pulls together a fully realized (and fully made-up) play, populating the stage with characters both howlingly funny and bittersweet. Presale tickets for this one are long gone, but we suggest braving the cold for a spot on the waitlist. Best case? You get in. Worst case? You call an audible and catch the 10:30 show in the Del Close Theater upstairs. Either way, that's a pretty good pair of cases.
(11 p.m.; waitlist opens at 10:20 p.m. Tickets: $5. Call 773-880-0199 for more information.)
Elvis Fest
Celebrate Elvis's 79th birthday and enduring musical legacy with radio legend Dick Biondi
Today would've been Elvis Presley's 79th birthday, and radio legend
Dick Biondi
isn't going to let a little thing like Presley's death in 1977 ruin the celebration. For the 14th year in a row, the National Radio Hall of Famer oversees Elvis Fest, a birthday bash honoring the King's enduring accomplishments and legacy. Biondi will broadcast live from
The Original Mother's (26 W. Division St.)
, spinning tunes from the King's catalog as guests bop along with Elvis impersonators or blow New Year's diets with bites of Presley's signature peanut-butter and banana sandwiches. The impersonation isn't restricted to the pros, though—you can also enter the Elvis look-alike contest for a shot at a trip for two to Las Vegas.
(7 p.m.–11 p.m. $5 suggested donation.)
Doctor Who Trivia
Test your knowledge of the BBC's long-running sci-fi series during this trivia night benefiting Project 891 Theatre Company
Between
David Tennant's return
, Matt Smith's farewell, and
Peter Capaldi's official debut
, it's been an eventful winter for fans of
Doctor Who
. Tonight, put your knowledge of the long-running British sci-fi favorite to good use during Doctor Who Trivia at
The Atlantic Bar & Grill (5062 N. Lincoln Ave.)
. Run by and benefiting the fellow Whovians of Project 891 Theatre Company, the contest welcomes solo or team participation and promises a prize for the victors. After wracking your brain trying to remember the exact length of the Fourth Doctor's scarf, you can also refuel with curry fries, shepherd's pie, and more from The Atlantic's
Ireland-approved menu
.
(7:30 p.m. Entry is $5.)
Photo courtesy of iO Theater.
BY: Tyler Clark
Tyler is a writer, storyteller, and musician from Chicago. His stories have appeared on stage at shows including Mortified, Story Club, and Lethal Poetry.