Chicago Agenda: Wednesday, March 12
BY: Tyler Clark |
Mar 11, 2014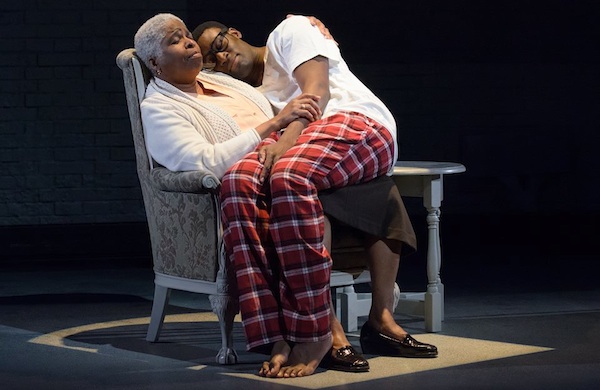 On today's agenda: Victory Gardens' world-premiere drama explores Chicago gun violence, author Susan O'Connor Davis talks Hyde Park, and Twilight goes gallery. 
"The Gospel of Lovingkindness"
Chicago's gun-violence epidemic comes to vivid, elegiac life in this poetic drama at Victory Gardens Theater
An exploration of Chicago's gun violence festers at the heart of
The Gospel of Lovingkindness
, the latest drama from playwright Marcus Gardley playing now at
Victory Gardens Theater (2433 N. Lincoln Ave.)
. Over the course of 90 minutes, audiences see not just the devastating repercussions of another senseless killing but also the precipitating events that turn an average kid into a teenage killer. There's even an appearance by Ida B. Wells, who the
Chicago Tribune
's Chris Jones
cites
as "ageless moral conscience" in a play that's as much an elegy as it is a call to action. The play's small ensemble also gets a boost from a Chicago theater legend: Jones notes that the play lured much-lauded Chicago actor
Ernest Perry Jr
. out of retirement for the chance to tell the story.
(7:30 p.m. The show runs through Sunday, March 30. $46; buy tickets here)
"Chicago's Historic Hyde Park" Book Chat
Neighborhood expert and scholar Susan O'Connor Davis holds a lunchtime chat about Hyde Park's storied history
From its coming-out party during the 1893 World's Columbian Exposition to its recent headlines as the neighborhood of President Barack Obama, Hyde Park has been the home of Chicago's cultural elite for more than 100 years. The stately home of the University of Chicago gets a full, and sumptuous, biography in
Chicago's Historic Hyde Park
by neighborhood historian and frequent
Hyde Park Herald contributor
Susan O'Connor Davis. During a lunchtime book chat at the
Woman's Athletic Club (626 N. Michigan Ave.)
, O'Connor Davis will share stories that stretch back to Hyde Park's founding in the 1850s and discuss her own motivation for chronicling the neighborhood's past
. (Noon. Admission is free.)
"Teen Paranormal Romance"
The tropes of
Twilight
and
The Hunger Games
undergo artistic examination during this group show at The Renaissance Society 
The heyday of
Twilight
may be a thing of the past, but the market for brooding supernatural teen fiction that it created still thrives at bookstores, newsstands, and Tumblr accounts across the country. At
Teen Paranormal Romance
, the latest group show at Hyde Park contempo gallery
The Renaissance Society (5811 S. Ellis Ave.)
, the genre gets a full artistic and sociocultural examination. Crediting the phenomenon to everything from "the panoply of Obama-era ideological positions from revanchist religious, economic, and sexual politics to Libertarian fever-dream apocalypticism," artists recast the stories' major themes in visual art pieces ranging from garments to pseudo-primitive sculpture. Stop by this evening for a guided walk-through with associate curator Hamza Walker.
(10 a.m.–5 p.m. Gallery walk-through at 6 p.m. The show runs through Sunday, April 13. Admission is free.) 
Photo by Michael Courier
BY: Tyler Clark
Tyler is a writer, storyteller, and musician from Chicago. His stories have appeared on stage at shows including Mortified, Story Club, and Lethal Poetry.