Chicago Agenda: Wednesday, November 27
BY: Tyler Clark |
Nov 26, 2013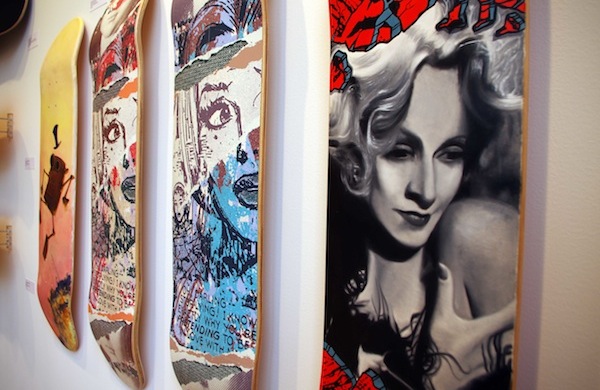 Deck The Halls
Where:
Vertical Gallery | 1016 N. Western Ave.
When:
11 a.m. to 6 p.m.; the show runs through December 21
How Much:
Free Boughs of holly? Take a powder. At this holiday-themed group show from the folks at Vertical Gallery and Uprise Skate Shop, stuffy decorations are out and garishly painted skateboards are in. More than 80 of them, in fact, from an international cohort of more than 50 artists including Chicago street-art stalwarts such as
Don't Fret
,
Left Handed Wave
, and
JC Rivera
. Each deck is available for sale, with 20% of the proceeds benefitting
The Simple Good
, a Chicago-based nonprofit that boosts civic positivity through art and engagement.
After-Work Cocktails at Miller's Pub
Where:
Miller's Pub | 134 S. Wabash Ave.
When:
11 a.m. to 4 a.m.
How Much:
$8+ If you're like us, the urge to escape downtown and start the holiday a little early is very real and very powerful. Before catching the last Metra out of Dodge, though, you should relish the relative quiet of a pre-vacation Loop with a quick stop at Miller's Pub. There, in the midst of dark wood and warm light, a crew of yeoman bartenders pours negronis, sazeracs, and other cocktails plucked from the annals of cocktail history. Our recommendation? One of the city's most delicious winter warmers: the Tom and Jerry. Served here for more than half a century, the steamy mixture of brandy, rum, eggs, and spices tastes less cloyingly sweet than eggnog and comes with its own cinnamon stick as a garnish. Suddenly, facing that cold train ride home doesn't seem so bad.
The Frankie Knuckles Thanksgiving Eve Bash
Where:
Smart Bar | 3730 N. Clark St.
When:
10 p.m.
How Much:
$15;
buy tickets here
From his early days at the
Warehouse
to his groundbreaking four-year run as the founder and principal DJ of the Power Plant,
Frankie Knuckles
almost single-handedly forced Chicago house to the forefront of the club world's collective consciousness. At his annual pre-Thanksgiving party, the seasoned turntablist will command the dance floor at Smart Bar, temporarily summoning the spirit of his old clubs with the help of his precision spinning skills and an encyclopedic crate of old-school bangers. He'll have backup, too; Queen! regulars Garrett David and Michael Serafini will each contribute beat-filled sets normally reserved for their standing Sunday night shows.
BY: Tyler Clark
Tyler is a writer, storyteller, and musician from Chicago. His stories have appeared on stage at shows including Mortified, Story Club, and Lethal Poetry.