Chicago Comics' Favorite Non-Marvel Superheroes
BY: Sarah Gorr |
Jul 28, 2014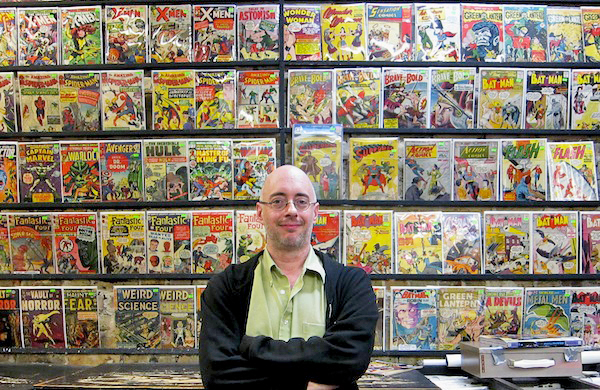 The Avengers. Captain America. X-Men. The Amazing Spider-Man. Marvel Comics has been dominating the box office with a slew of summer blockbusters in recent years. So, in the name of anyone feeling burned out on Marvel, we asked Eric Thornton, chief executive operating officer of Chicago Comics, to pick his favorite non-Marvel superheroes.
Robotman
Publisher: DC Comics
Powers: Superhuman strength and speed, flight, shape-shifting
Brief history: After he was severely injured in a car accident, Cliff Steele's brain was inserted into a robotic body. He uses his powers for good as one of the founding members of weirdo superhero team the Doom Patrol.
What makes him cool: "He's just one of the characters that I've always loved," Eric said. "In the DC Universe, everyone's so clean-cut, and he's just so cranky." He also loves that the character frequently "deals with existential problems" due to being a man in a robot's body.
Brainiac 5
Publisher: DC Comics
Power: 12th-level intellect
Brief history: An alien from the planet Colu, Brainiac 5 is a descendant of Brainiac, one of Superman's original and most deadly enemies, who chose to atone for his ancestor's crimes by fighting with the Legion of Super-Heroes.
What makes him cool: Unlike some of his more classically good companions, Brainiac 5 is "just this kinda crazy, supersmart asshole who thinks he's better than everyone else." But he's not without his charms. "He's got a crush on Supergirl … which is adorable."
Dick Grayson
Publisher: DC Comics
Powers (or, more appropriately, abilities): peak athlete, master martial artist, acrobat, detective
Brief history: Most people know Grayson as Batman's original Robin, but what they might not know is that little Dick grew up to become Nightwing and even took over the cowl of the Dark Knight himself for a time.
What makes him cool: For Eric, Grayson stands out among other heroes for his maturity. "He's just gone through so many iterations—he's one of the few characters to have really evolved. They've actually allowed him to grow up."
The Tick
Publisher: New England Comics Press
Powers: superhuman strength and agility, "drama power" (the power to become stronger as situations become more dramatic)
Brief history: The Tick has little to no memory of his past and is known for his overzealous sense of duty, bizarre inspirational speeches, and dim, childlike nature.
What makes him cool: "There was a short-lived show on Fox in the late '90s, but everyone should know the Tick! He's hilarious!" Eric said. And with a battle-cry of "Spoon!" and an odd host of companions such as Batmanuel, Sewer Urchin, and, of course, his moth-suited sidekick Arthur, who's to argue?
Animal Man
Publisher: DC Comics
Power: the ability to harness the power of any animal that has ever existed
Brief history: Caught in the blast of an alien spacecraft, Buddy Baker gains his phenomenal powers and uses them to fight crime with the Justice League.
What makes him cool: "He's a guy who used to be kind of a joke of a character for like 30 years until Grant Morrison reinvented him," Eric noted. "He's a unique superhero with these crazy, dumb powers."
All of these characters can be found at Chicago Comics (3244 N. Clark St.) or anywhere else comics are sold. Check Groupon for great deals on movies in Chicago.