Chicago Filmmaker Chooses the Midwest (and the Internet) Over Hollywood
BY: Collin Brennan |
Jan 22, 2014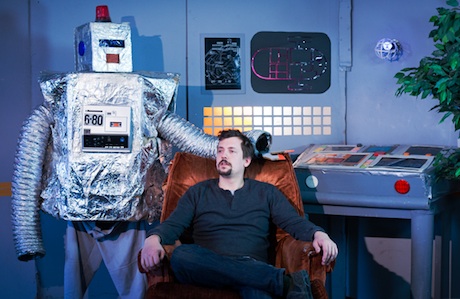 Local filmmaker Ryan Wolff lives thousands of miles from the bright lights of Hollywood, but he has a robot and a legion of superheroes to keep him company.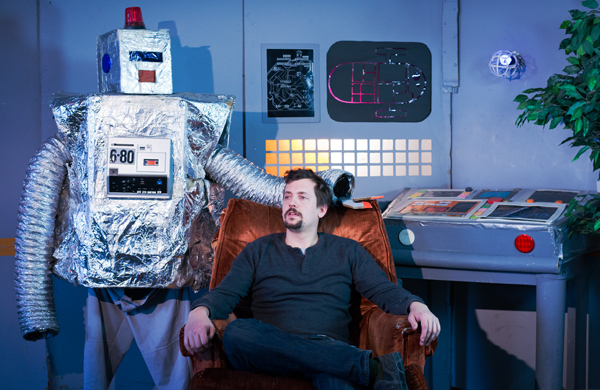 Ryan Wolff lives inside a spaceship. Well, he actually lives inside a fourth-story loft in Chicago's Pilsen neighborhood, but what kind of loft has a control deck built into its wall, or a porthole that looks out on a twinkling starfield? These futuristic furnishings are Ryan's own creations, built several years ago as part of the set for his first web series, a cheeky sci-fi comedy called
F*cked! In Space!
Viewable online via YouTube, the show has reached the computer screens of more than 50,000 viewers, many of whom continue to wait with bated breath for the final episodes to air. Some of the more dedicated fans flood Ryan's inbox and the show's message boards with impatient pleas for updates, and the filmmaker does his best to answer them in earnest. But between writing the scripts for
F*cked! In Space!
and filming newer web series
Platoon of Power Squadron
and
The Good Stuff
, he barely has time for the basic things in life. So much is apparent from the look of his spaceship/apartment, which shows enough signs of disrepair to render it unfit to launch. Ribbons of duct tape are peeling from the video console mounted on the wall, the spaceship's resident robot is missing some aluminum foil—hell, even the radiator is leaking water. Such is the life of an independent filmmaker who's trying to get by on a steady stream of freelance video work while he writes scripts, schedules shoots, and tinkers for hours on the tiniest of special effects. "It can be difficult," Ryan admits, but it's what he signed up for. "My degree was actually in computer engineering, which I thought was more practical. But after graduating, I thought to myself, 'F*ck that, I want to make movies.'"
Catching on with the Online Community
Ryan's creative projects are as diverse as his freelance work, which has included everything from commercial work for local businesses to a stint on the Super Bowl pregame show. Whereas
F*cked! In Space!
pays tongue-in-cheek homage to 1970s B-movies,
Platoon of Power Squadron
follows the lives of four modern Chicagoans who suddenly discover they have super powers. The brainchild of Ryan's friend and fellow filmmaker Jake Jarvi,
Platoon of Power Squadron
(or
PoPs
, as it's more commonly called), aspires to top-level storytelling and special effects. "
PoPs
became much more than we thought it would be when we started making it," Ryan admits. "I think the first episode we shot over a weekend, and now each episode takes months to shoot." Part of the reason the show has matured so much is its fans, who have pushed Jarvi and the crew to dream big and helped boost the production values via a crowdsourcing campaign on
Indiegogo
. The difference between the show's first and fifth episode is stark. It shows not only what an influx in money can do, but how a group of filmmakers can mature as storytellers on the fly.
Two Homes: Chicago and YouTube
Though he lives with a giant robot, there's another elephant in Ryan's room. It's his decision to stay in Chicago, rather than pursue his dream in the more film-friendly cities of New York and Los Angeles. "I've just been kind of stubborn about living in Chicago," he says. "Jake lived in LA for a few years when he was trying to make it as an actor, and he absolutely hated it." Whereas this decision might have made his life much more difficult 10 or so years ago, Ryan says that the internet has changed everything. "That's the reason I can justify staying here. With the kinds of projects I'm working on now, it doesn't really matter where you live anymore because you can get an audience anywhere." Of course, Ryan is old enough to remember a time before YouTube, when in his eyes you had to make feature-length films to be taken seriously as a filmmaker. But when one of his friends—Craig Benzine, a.k.a.
Wheezy Waiter
—started to make a living off the daily videos he posted online, Ryan naturally gravitated toward the new medium. "The amazing thing about it is that you can do whatever you want," he explains. "There's no production company you have to work for, no producer you have to answer to…as long as your content is interesting and entertaining, people will watch it." Since founding their own production company (
Harmony Joyride
) and posting their first web episode, Ryan and his close-knit crew have relentlessly focused on building an audience. "As filmmakers," he explains, "that's how we see the future for us in terms of making a living and getting our work out there." All of this bodes well for Chicago, which is fast becoming a more attractive city for independent filmmakers in the age of the internet.
Keep up with Ryan's work via the websites for
F*cked! In Space!
and
Platoon of Power Squadron
, where episodes are available for streaming. His latest project,
The Good Stuff
, is a playlist of short videos that revolve around a weekly theme.
Photo by Andrew Nawrocki.
BY: Collin Brennan
Guide Staff Writer
Collin is a senior editor and a staff writer for Consequence of Sound. He self-publishes zines and moderates writing workshops for The Chicago Publishers Resource Center (CHI PRC).