"Chicago Fire" Actor John Hoogenakker Wants the Windy City to be as Big as Hollywood
BY: Stephanie McDaniel |
Mar 31, 2014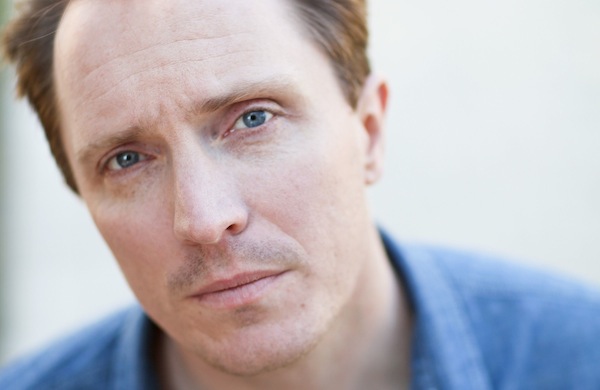 When actor John Hoogenakker came to the vaunted theater department of Chicago's DePaul University, he walked into a program where dedication was rewarded and half-measures were dealt with swiftly. "At that point it had a pretty intense system," Hoogenakker says. "They would cut half the students after the first year, and then they did that again after the second year." Hoogenakker survived, leaving with the ability to tackle dark, unhinged, and complex personalities that landed him on stage at Chicago's
Goodman
,
Steppenwolf
, and
Writers Theatre
. The North Carolina native also left with a deep love for the City of Big Shoulders, one that he put on display for the entire country during a recent stint on NBC's
Chicago Fire
. DePaul's trial by fire prepared him for acting, but had it prepared him for
actual
fire?
Working Side by Side with Chicago Firefighters
During his five-episode stint as firehouse snitch Lt. Spellman, Hoogenakker earned the ire of department regulars, animosity which culminated in a heated confrontation between Hoogenakker and…well, everyone else. Despite the on-screen tension, he says the cast and crew—from the principal actors to the extras—are like one big family. And about those "extras"—they're actually real members of the Chicago Fire Department. "There's a wonderful sort of camaraderie that's been formed with actual firefighters in Chicago who have been stepping into these roles from time to time," Hoogenakker says. Firefighters such as
Tony Ferraris
(a show regular and squad member in his firehouse) and
Steve Chikerotis
(who is an icon in local firefighter lore) work on the show to advise actors on what they would actually do when confronted with certain situations. Working with them allowed Hoogenakker to "develop an even more profound respect for the sacrifices that firefighters make every day without even thinking about it. No hesitation whatsoever." That closeness also translated into invitations to fight fires in real life. Hoogenakker says
Jesse Rangel
from the firehouse near his home was always excited to have him come by: "These guys were like, 'Anytime you want to go out, man, anytime, just swing by the firehouse.'"
Fighting a Fire on Screen
Hoogenakker declined, but even without real-world experience, he still got a taste of the rigors of firefighting. On his first day on the set, Hoogenakker, loaded down with 40 pounds of bunker gear, found himself gripping a fire hose inside a burn room, a structure used to simulate real fire conditions. When the director called action, they "[turned] up the dial and flames [started] pouring out of the wall." He explains that he "was shooting a line of water down a hallway that was lit up like the Fourth of July." As a newbie on the show, he didn't want to be the guy who caused problems, so he kept going even though the heat was starting to get to him. Luckily, "there was an actual fireman behind me who kept trying to pull me back because he saw that I was standing in flames." He and the entire crew got a break to cool off, but his brush with firefighters' focus on realism and safety made it "humbling to watch those guys work." "It was fun," he says. "And they were kind enough to say to me as I was leaving, 'Hey, we didn't kill you,' so at least I've got that going for me."
Digging Deep for Untapped Emotions
Even though it doesn't involve fighting fires, working in Chicago theater also puts actors through their paces. In his latest play, Conor McPherson's
Port Authority
, Hoogenakker played Dermot, a "raging alcoholic with clearly a lot of anger issues." Dermot's barely contained hostility often boiled over in the audience's direction, with Hoogenakker shouting from the edge of the stage and letting a range of almost terrifying emotions play across his face as he struggled to maintain his grip on a changing life situation. Hoogenakker says that one of the best notes he got during rehearsals was from director Bill Brown, who said, "Don't be afraid to be ugly in this role…and really live in that darkness." By exploring the truthfulness of his darker characters, he helped audience members tap into the shadowy corners of their own psyches.
Making Chicago a Center for Film and TV
Though some would argue these skills should take him to Hollywood or Broadway, Hoogenakker sees himself primarily as a Chicago actor. He credits the city's communal atmosphere as the biggest thing separating it from New York and LA. "After about five, six, seven years or so, you kind of have gotten to know pretty much everybody…when you go from theater to theater, it just feels like you're moving in with this part of your family or going to visit these folks," he says. If Hoogenakker had his way, there would be "a slight paradigm shift with shows and movies originating in Chicago with production dollars coming from Chicagoans who want to see that happen." In his world, the great work being done in his adopted city's playhouses would continue to fuel the surge of locally filmed TV shows like
Boss
,
Sirens
,
Chicago Fire
, and
Chicago PD
. "All these shows are a testament to the strength of the acting community here, and I think the more that we can get in town, the better."
You can relive John Hoogenakker's appearances on NBC's
Chicago Fire
, Starz's
Boss
, and ABC's
Mind Games
, or catch him in the Goodman Theatre's revival of
The Iceman Cometh
in New York in 2015.
Photo courtesy of John Hoogenakker