Chicago Ink: Custom Tattoos and the Artists Behind Them
BY: Mae Rice |
Mar 17, 2016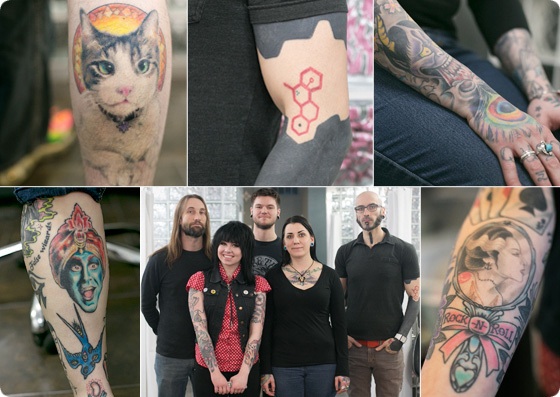 Insight's employees show off their own tattoos and the inspiration behind the ink. Clockwise from top left: The tattoo on Bob Jones's calf immortalizes his cat Indy. // Each hexagon in the honeycomb tattoo on Thomas Sinnamond's upper left arm represents one year he and his fiancée have been together. // Peacock feathers with flowers and a horned skull on Cassandra Knox's forearm. // "I always wanted a portrait of the bride of Frankenstein," explains Taylor Peterson. // The crew, from left to right: Bob Jones, Taylor Peterson, James Eastwood, Cassandra Knox, and Thomas Sinnamond. // Cassandra's leg tattoo depicts Jambi, the disembodied genie head from Pee-wee's Playhouse.
When I get to Noble Square's Insight Studios, Thomas Sinnamond is in the back room, contemplating a digital photo of a frog. He's in the process of designing a complex, crest-inspired tattoo, and the frog is one of the many reference images he's using.
Insight Studios' artists specialize in this kind of custom work, sketching by hand and working with design software to create designs tailored to each client. The drafting process can take anywhere from an afternoon to a month or even longer. "If you're working on a painting, even if it's just 5"x5", you can take a year and a half and make it perfect," says fellow Insight tattoo artist James Eastwood. In his eyes, tattooing doesn't just require creativity—it takes efficiency.
Eastwood was originally hired as an apprentice, a position he held for a year before graduating to a full-fledged staffer. The transition was basically imperceptible—at most studios, diplomas are beside the point.
"Nobody cares where you went to college, or if you went to art school," Eastwood says. "If you come in with a really great tattoo portfolio and you didn't even graduate eighth grade but you're just a cool person…you'll get hired."
Being cool actually matters quite a bit in the incredibly social tattoo industry. As Sinnamond points out, "You're never alone when you're tattooing." The tattoos themselves can chronicle social life, too, documenting the bond between a man and his fiancée...or cat.
BY: Mae Rice
Guide Staff Writer
Mae Rice is a staff writer who writes about eyelash extensions, French food, what "business casual" even means, and other style and food topics.