Chicago's Favorite Breweries
BY: Arin Agase |
Jan 30, 2015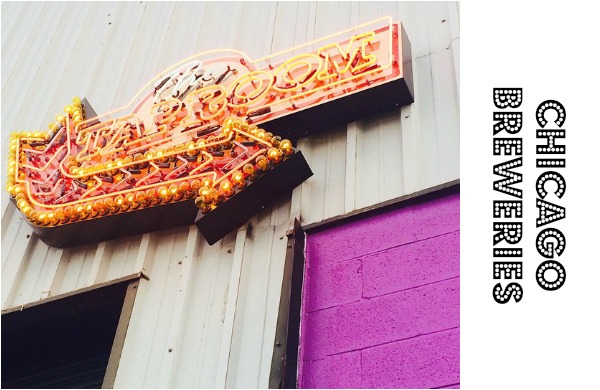 Chicago is making headlines (and this time, for all the right reasons). If there's one thing Chicagoans can agree on, it's the love of the beer! (See what I did there?) With over 2,500 breweries city-wide, the drinks are flowin' and us city-folks are getting through the cold stuff one sip at a time. Most breweries offer free brewery-tours, sips and lessons — which make for a great company party, or casual night out with friends (just ask my hangover). I'm sharing my top 5 with ya'll, but feel free to chime in with your favorites, too!
Lagunitas: (2607 West 17th St.) Lagunitas is the popular 'new kid' in town (opening last year) and making waves throughout Chicago. Located in an old steel distribution plant in Douglas Park, Lagunitas is the biggest brewery in Chicago. The tasting tour lasted over an hour, but I can't be too sure since we got the samples well before the actual tour! The staff let us play in 'adult daycare' which included a piano, life-size jenga, arcade games, oh — and beer samples, plenty of beer samples! Don't forget to stop by the taproom where you can enjoy pretzels, sandwiches and the most rad staff ever. The best part? The tour/samples are free! Make sure to check the website, and arrive early! (First come, first serve)
Revolution Brewery: (3340 N. Kedzie Ave) Another Chicago favorite — Revolution facilitates a 60-barrel brewhouse. Learn how brewers mash, boil, and brew (while enjoying a cold one, or five) Fun fact: Revolution is the second biggest brewing production facility in Illinois; filling kegs, cans, and bottles for distribution across home sweet home, Chi. Who knows, you may look at those bottles a tad differently after this one! Oh, and a sample of beer is provided for free! (Cuz ain't nobody got time to pay…)
Haymarket: (737 W Randolph) The former Rock Bottom brewmaster is cookin' up some fun for us Chicagoans. A great place to catch up with friends, grab dinner and stay awhile — a long while. Enjoy a brewery tour with some free sips, of course — and prepare to learn a new thing or two about Chicago's history, and the stuff you're sippin' on! Make sure to check-out the menu, there's a lot to study!
Half Acre Brewery: (4257 N. Lincoln) We just love a feel good story, and this brewery- tour shares Half Acre's humble beginnings, to sweet, sweet success. Tip: Get there early! It's a hoppin' place, and took a couple tries to get in the tour. There's a lot to see, too — from brewing equipment, and fermenters, you'll definitely earn some bragging rights to share at the office. They take great care of you here, with several pours of your choice. Check-out the beer menu before you go!
Goose Island Clybourn: (1800 N Clybourne) Think of Goose Island as the poster child of Chicago (Too far?) — See where it all began in 1988 with a behind-the-scenes historic look into brewing, 6 fresh samples of beer selections and your very own Goose Island pint glass to cherish the memories! Ask a lot of questions, these guys are knowledgeable, and up for a discussion session post tour. Reservations are required (which is awesome, so you're not spending half the night in line) — Cheers, Chicago!
Cheers, Chicago! Use hashtag #ChicagoBrew and show Groupon some of those sips!
BY: Arin Agase
Hello! My name is Arin – Blogger behind HeartOfChic.com. I blend fashion, inspiration and all other glamorous things in life! I created this digital-abode as a safe-haven for my creative spirit. A few things I love: Chicago food (we have the best!), bubble-baths, fresh flowers, brunching & the Chicago Skyline. I hope you follow along with me! Instagram|Twitter|Facebook: @HeartOfChic