Chocolatier Finds a Home Among East Pilsen's Art Galleries
BY: Collin Brennan |
Jan 24, 2014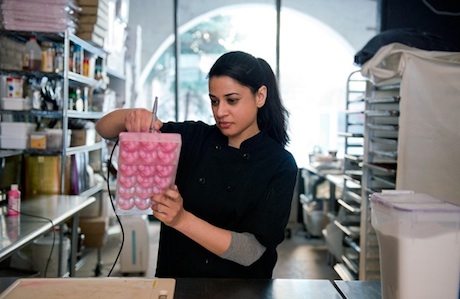 Among the East Pilsen galleries that participate in the 2nd Friday Art Walk, one stands out. We talk with chocolatier Uzma Sharif about where her candies fit into the city's art scene.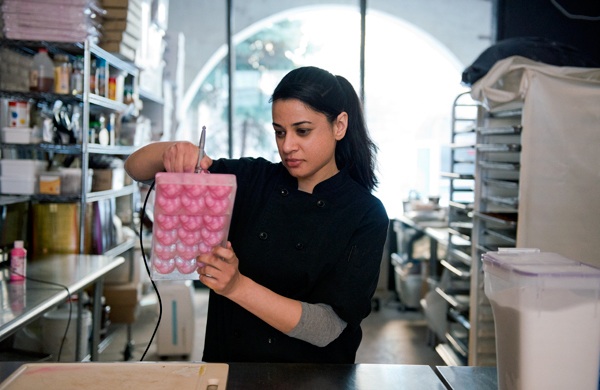 Uzma Sharif is freezing. One of her hands shivers as I reach out to shake it; the other maintains its firm grip around a mug of Irish breakfast tea. It's a bitterly cold afternoon in the
Chicago Arts District
, the East Pilsen corridor that's home to dozens of art studios, a handful of storefront galleries, and exactly one chocolate boutique.
Chocolat Uzma Sharif
(1823 S. Halsted St.) hasn't seen many customers today on account of the weather, so Uzma has had a lot of time to dream of new candies she'd like to make. "Maybe something with cinnamon and chilies to warm up the body," she reflects. After a short pause, she's nailed down the combination. "Yeah, saigon cinnamon with some cayenne."
Making Art Edible (and Accessible)
There's no doubt that Uzma has a vivid imagination. Visit her shop on a random day, and you're likely to walk out with truffles flavored like kashmiri chai, rose-water caramel, and hazelnut coriander praline. She inherited this creative streak from her grandfather, a renowned pastry chef in Pakistan and the reason she strives to incorporate South Asian influences in everything she does, from her branding to the chocolates themselves. "Culinary training is basically French," she explains, "but I'm South Asian, so I try to use that heritage." This means frequent trips to her favorite ethnic markets on Devon Avenue and lots of experimentation with spices with names she has to Google. She pulls out a truffle for me to try. Its coating is a deep burgundy—not unlike the color of a chipotle pepper. "This one's Indian chili caramel," she says. I don't notice the spice up front, but then it hits and there's a pleasant tingling on the back of my tongue. Talking to Uzma about chocolate is like talking to an abstract artist who paints landscapes to make ends meet. There's a constant tension between making what she wants and making what her customers want to buy. "I'm not selling it to myself" has become one of her mantras in the kitchen. "People tend to just want the basics," she explains, "but I kind of try to take it to the next level." She points out a couple of successful examples: matcha green-tea marshmallows, a tropical chocolate bar made with coconut and lime nougatine.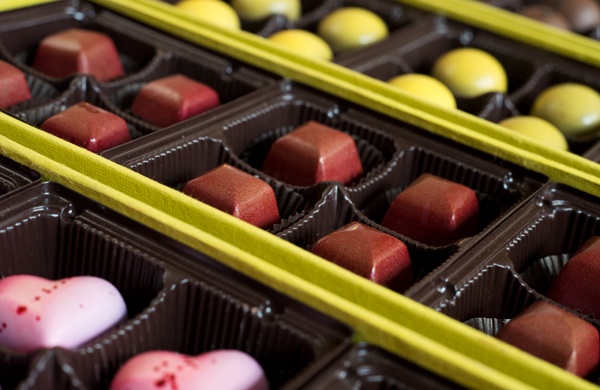 The Sweetest Stop on the Art Walk
The artist comparison makes even more sense when you consider that Uzma was once the pastry chef for the
Museum of Contemporary Art
. Over the course of her time there, the line between what she was making in the kitchen and what hung on the gallery walls became increasingly blurred. By the time she was ready to open her own chocolate shop, Uzma felt comfortable enough picking a neighborhood known more for its art spaces than its bakeries. Like any artist who hopes to carve out a living, Uzma has a deeply practical streak. She lists three things about East Pilsen that attracted her to the area: the gallery spaces, the proximity to her clients downtown, and the free parking. There's also the neighborhood's popular
2nd Friday Gallery Night
, which attracts crowds from across the city to Uzma's little shop on Halsted. To bring those crowds in, "we do this really cool interactive chocolate art station," Uzma explains. Past stations have included a DIY sipping chocolate bar and a s'mores station where guests can choose their own toppings. "I think the public is a little scared at first, but once we show them what they can do with the chocolate, they really like to get their hands dirty." Looking around at the pink paisley packaging and the bow-tied truffle boxes, I find it hard to believe that anyone could stay scared for long in such a place. Even while she prepares a Valentine's Day theme for the next 2nd Friday art station, Uzma has been fielding requests from clients who want to draw on her artistic talents as much as her culinary prowess. One of her clients installs custom furniture, and she's currently working on creating an edible silhouette of their most popular item. If you were to walk by the shop and catch a glimpse of Uzma working on the piece with airbrush in hand, you might think that she was just another artist hard at work in the studio. But then you'd catch a whiff of cocoa butter, and know better.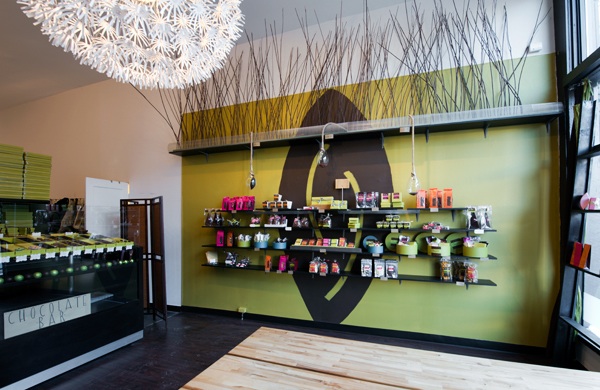 Chocolat Uzma Sharif is open during regular hours and from 8 a.m. to 10 p.m. during the monthly 2nd Friday Gallery Night. Uzma also takes custom orders and hosts group chocolate-making classes in her shop.
Photos by Andrew Nawrocki
BY: Collin Brennan
Guide Staff Writer
Collin is a senior editor and a staff writer for Consequence of Sound. He self-publishes zines and moderates writing workshops for The Chicago Publishers Resource Center (CHI PRC).