Choosing a Summer Perfume
BY: Teresa Doyle Kovich |
Aug 12, 2015
For everything there is a season—even fragrance. When you transition from parkas to polo shirts and boots to bikinis, your scent of choice should change as well. Set aside the staid floral fragrances and the base-heavy colognes and use this chance to explore bold, exciting scent notes in your next summer perfume.
Seasonal fragrances are pretty intuitive. A scent laden with cinnamon and ginger pairs with your autumnal pumpkin-spice latte, whereas pine needles and cashmere woods warm us during the winter. In summer, look for fun, laid-back notes that evoke sensory outdoor activities, whether eating cotton candy at the fair or strolling along the beach.
Picking a Summer Perfume for Women
In general, women's summer scents lean towards sweet and fruity notes. Energetic, esoteric scents feel natural in summer: it's the time to go bold. Daytime favorites include bright notes like berries, pineapple, and spun sugar, while smoother, deeper notes of caramel, dark chocolate, and black cherries are suited for the warm evenings.
Often, shopping for a similar scent to your signature fragrance is a good place to start. For instance, if you wear Kate Spade's floral-dominated Walk on Air to the office in the cool months, consider a summer switch to Kate Spade Twirl, which retains the magnolia note but pairs it with refreshing watermelon, red currant, and blackberries.
Likewise, you might trade in your go-to evening scent, like the base-note-heavy Flowerbomb Extreme by Viktor and Rolf, for a lighter, sweeter fragrance: Juicy Couture's Viva La Juicy Noir has the same vanilla and jasmine notes but piles berries and caramel atop them.
Picking a Summer Cologne for Men
Fruit notes are universally popular summer scents, but many men's fragrances also gravitate toward freshness, especially sporty scents with prominent aquatic and citrus notes. The scents men choose in summer tend to be lighter than the other seasons, with less of a focus on the base notes.
For example, the men's 2015 edition of Calvin Klein's Eternity Summer features invigorating sea notes, including juniper berries, driftwood, and lemon. Esquire recommends John Varvatos's Artisan Acqua, writing that its blend of tangelo, fir resin, and the lemongrass palmarosa "will wear well to your summer music festivals."
A time for bolder fragrances, summer is an opportunity for men to experiment with floral notes, especially jasmine, iris, and magnolia. Atkinsons 24 Old Bond Street takes a sharply masculine whiskey note and blends it with rose and black tea for a unique daytime scent.
Scents for Special Occasions
If you want your fragrance to pair with a specific event, you might look for certain complementary scent notes:
For days at the beach or pool: salt, seawater, coconut, or musk




For a party on the patio: incense, black cherry, or ivy




For a camping trip or intimate bonfire: leather, dark woods, or marshmallow




For a cruise or tropical vacation: mango, pineapple, orchid, or frangipani




For music festivals: mint, patchouli, green apple, or rum




For a romp on the boardwalk: cotton candy, lemon, or tequila




For the parade of summer weddings: jasmine, green tea, or white musk



Fragrance-Wearing Tips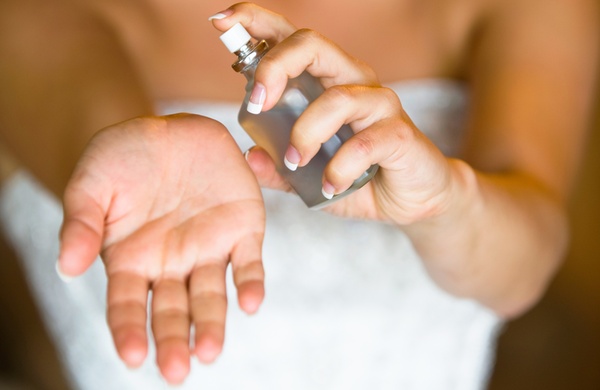 Be aware: summer heat can change a scent. Increased skin temperature can make some notes stronger, and sweat can make sweet smell sickly or fresh smell muddy. Give the fragrance a test run on a hot day before using it at the main event.
Fragrances should be applied to clean skin for the purest scent. After bathing, use unscented body-care products, including sunscreen and tanning lotions, to avoid competing aromas.
The Takeaway
Summer offers a lot of options, but everything boils down to a simple principle: step out of your comfort zone. Set aside the fragrances described as "subtle" or "suitable for any occasion" and pick out something that you couldn't get away with during any other season.
BY: Teresa Doyle Kovich
Guide Staff Writer
Teresa frequently plans elaborate vacations she will never take. In real life, she writes fantasy novels and visits any restaurant that caters to people who are allergic to everything.