Chowing Down Before Race Day: A Nutritionist's Guide to Marathon Training
BY: Michelle Algeo |
Sep 10, 2015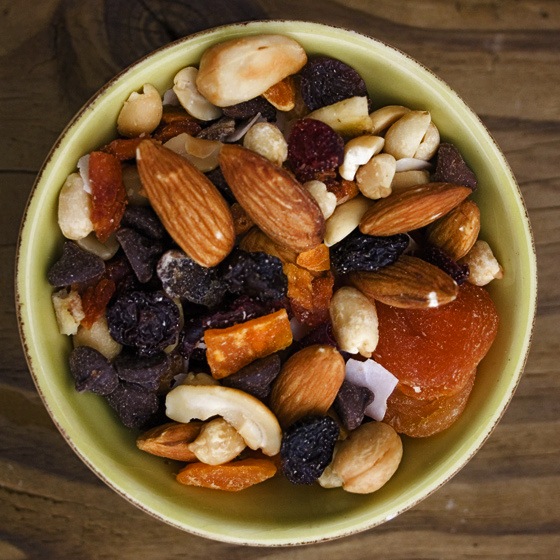 Though I've completed three half-marathons since 2011, I still consider myself a relatively new runner. (From about 2000 to 2010, I didn't run so much as a full mile.) So when I registered for the Chicago Marathon this year, I felt a mixture of excitement and overwhelming apprehension. Sure, I'd settled into a pretty comfortable training schedule, but I still had no clue how to eat as an athlete. Enter Jenny Maloney, a registered dietitian and personal trainer at Chicago Endurance Sports.
As a college athlete, Jenny found herself naturally drawn to the world of nutrition. After becoming a registered dietitian, she also pursued a certification as a personal trainer. Now she's a sports nutritionist, which lets her combine both passions to help athletes fuel their bodies for races, lose weight, or add lean muscle.
Here's what Jenny had to say about diet during marathon training for first-timers (like me) and seasoned marathoners alike.
Training
Before Your Run
"You always want to have something at least two or three hours before you exercise. But not six hours, because then it doesn't give you the energy you need," Jenny says. And despite an emphasis on carbo-loading within the running community, Jenny says snacks before a long run should be a well-rounded mix of carbohydrates, protein, and fat. Some of her pre-run snack suggestions include whole-wheat toast with peanut butter and berries, oatmeal with walnuts and half a banana, and greek yogurt with fruit and a homemade trail mix (containing fuel-filled ingredients such as almonds and raisins).
After Your Run
"Recovery—that's probably one of the more important things that people don't really think about. It's important to feel good after your race," says Jenny, who recommends eating 30–60 minutes after a long run. "Your body wants to pull from carbohydrates or glycogen stores, and if it doesn't have that, it's going to pull from your protein stores in your muscles. So you want to have something right after [the run], even if it's just a power drink."
Race Weekend
The Night Before
Again, Jenny emphasizes the nutritional trifecta—carbs, protein, and fat—but says to go a little heavier on the carbs the night before race day. "You do want to have more carbs, but you don't want to overdo it because you don't want to feel like you're eating out of your comfort zone. Everything should be gradual." And pre-race dinners don't necessarily have to be pasta. Jenny's go-to meal the night before a race is a bowl of quinoa and veggies with an egg on top. "You want to have carbohydrates for sure, but then the protein and fat will help satisfy you and sustain your energy."
Race Day
Jenny recommends eating something about 30 minutes before the big race. For easy absorption, try a GU, Gatorade, or another electrolyte-rich product. When the race gets going, you should refuel every 60 minutes or so. But the real key to keeping a steady pace is drinking water every 15–20 minutes, according to Jenny. "If you don't have water in your system, and enough water, then you're not going to absorb the nutrients from the food that you're eating, from the GUs, from the drinks. It's kind of like a reservoir for absorption."
And as with any long run, Jenny says refueling right after crossing the finish line is vital. She recommends raiding the tables of bananas, bagels, and the other goodies that await runners to avoid post-race discomfort and injury.
BY: Michelle Algeo
Guide Staff Writer
Michelle studied English at Penn State. She has run two half-marathons (very slowly) and plans to someday run/walk/crawl the Chicago Marathon.