Chris Carrabba of Dashboard Confessional and Twin Forks Picks His Favorite Soundtrack Songs
BY: Dan Caffrey |
May 9, 2014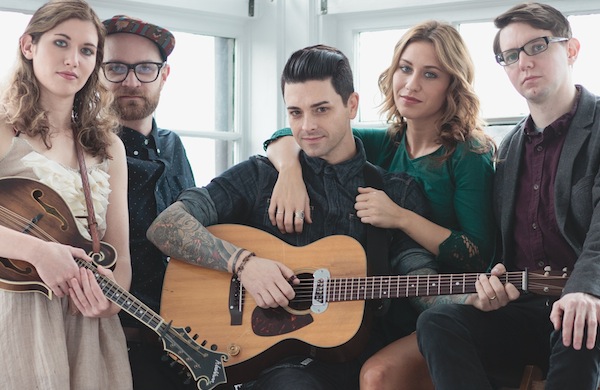 Back in 2004, Chris Carrabba already had a sizable following as the frontman of emo stalwarts
Dashboard Confessional
. But writing "
Vindicated
" for the
Spider-Man 2
soundtrack took his fan base to a whole new level. Ten years later, Spidey and Carrabba have both moved on: the former has a freshly rebooted film series, while the latter has a new band in
Twin Forks
. In celebration of the alt-folk outfit's
tour
, we asked Carrabba to create a playlist of his favorite songs on movie soundtracks.
The Cure – "Just Like Heaven" from Adventureland (2009)
CHRIS CARRABBA: To me, it's almost like a campfire song that you pass down to the next generation of [kids in their] late teens and early 20s. It's Robert Smith, so it has to be sad, but it's such a powerfully positive and major-key-sounding song with some of the most haunting lyrics you'll ever come across in your life.
The Soggy Bottom Boys – "I Am a Man of Constant Sorrow" from O Brother, Where Art Thou? (2000)
CC: You could pick any song from that [soundtrack], but I'll pick the one that everybody would pick. So it's the Soggy Bottom Boys, but rumor has it that they were actually Alison Krauss's band. The guitarist is just completely incredible—I actually bought some of his videos to learn how to be a better player.
Michael Andrews feat. Gary Jules – "Mad World" from Donnie Darko (2001)
CC: I'm a massive Tears for Fears fan, so sometimes I'm predisposed to be standoffish about a cover of [one of their songs] before I've heard it. But [this] is a good reinterpretation of a song that is so lush and incredible. [Michael Andrews's version] is so haunting, which I think is his strong suit.
Jon Parr – "St. Elmo's Fire (Man in Motion)" from St. Elmo's Fire (1985)
CC: It's a pretty heavy movie. It's like the Brat Pack growing up and being adults. But the song is really an anthem. … I just remember thinking, "I want to be like [Rob Lowe]." He's playing saxophone in an open window with his shirt blowing in the wind at some point. I think in elementary school, I had the dream of having my shirt open in a window. I used to open my shirt up. Is there any chest hair? Full disclosure: there's still no chest hair.
The Replacements – "Can't Hardly Wait" from Can't Hardly Wait (1998)
CC: I remember dating a girl, and [there] was a movie she wanted to go see. But it was called
Can't Hardly Wait
, so I knew there was going to be something in it for me. And that was the payoff at the end—that song. And that's a song I play constantly. If I'm at a party, I'll play that song.
Prince – "When Doves Cry" from Purple Rain (1984)
CC: That movie's somewhere between absolute sheer brilliance and godawful. And I cannot tell you which one it is. One time we were playing this awards show, [and] I went over to an empty aisle seat because Prince was about to perform. He came out in the middle of the aisle, right next to me. He was playing guitar. He looked me right in the eye, and I swear he said to me, "Yeah. Yeah, I know. I am this good. I'm better than you ever dreamed." I bowed to him.
Jon Bon Jovi – "Blaze of Glory" from Young Guns II (1990)
CC: "Shot down in a blaze of glory!" So glorious, man, even if it's incongruous with the kind of movie it is.
Alexi Murdoch – "All My Days" from Away We Go (2009)
CC: It's got a really long intro with a drop-D drone. It's right up my alley. If I was at my very best, I would write a song like that. Sometimes there's a moment that can inspire a whole record. And it's like, "Well, I'll never be that good." But
trying
to be that good can take me somewhere special.
Eminem – "Lose Yourself" from 8 Mile (2002)
CC: That atonal guitar part is really foreboding. I think that's where Eminem started going from his first style of voice, which I liked a lot, to his second style—that fierce, spitting anger. … I guess that's the only Eminem now. And I happen to be a fan of both. I kind of miss the nasal thing. There was some giddiness in what he was doing. But this is the first time I remember him having that spitfire, hellfire kind of thing.
Chris Cornell – "Seasons" from Singles (1992)
CC: He's a bastard. How can he do it all? [His voice] is insane, but he also plays this open-tuned guitar that is so beautiful and haunting. I didn't start Dashboard for another 10 years [after this film], but I think, subconsciously, that song had a lot of influence on what Dashboard was going to be: just one dude with one open-tuned guitar. Honestly, I haven't seen the movie in years. I don't remember how [the song] is used. I don't know if the movie holds up. I just know that, looking back, a seed was planted for me.

Photo courtesy of Reybee Productions and Tristan Casey
BY: Dan Caffrey
Guide Staff Writer
Outside of Work, Dan is a playwright, Senior Staff Writer for Consequence of Sound, and contributor to The A.V. Club.