Christkindlmarket's Exotic Foods and Finds
BY: Will Landon |
Dec 17, 2013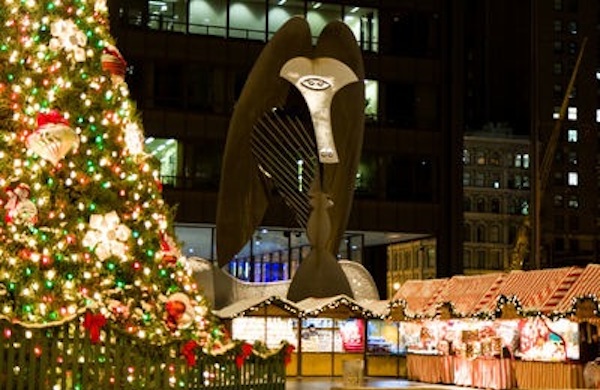 The annual Christkindlmarket fills Daley Plaza (50 W. Washington St.) with food, drink, and toys that range from glorious to kitschy. On a chilly, snow-fallen night, the The Guide paid a visit to hunt down the best of the fest. 
The market is open daily from 11 a.m. to 8 p.m. (and 9 p.m. on Friday and Saturday). It runs until 4 p.m. on Christmas Eve.
Brunkow Cheese's cheeses
The internet is obsessed with bacon, but people forget that Germany has been unnecessarily adding pork to everything for centuries. Internet, meet bacon-flavored smoked cheese. –
Cody Braun
Tastes exactly like deep-dish pizza, but without the crust or disparaging comments from Jon Stewart. –
Halley Lawrence
Potato pancakes with salmon sour cream
If you're in it for the salmon then I think you'll be disappointed. But if you're in it for the herbed sour cream and golden-brown pancakes with a touch of salmon flavor? Bingo! –
Courtney
Leberkäse
This is no time for half-measures; either get this one loaded with kraut and mustard, or seriously rethink your commitment to this whole "having fun" thing. –
Tyler
I'd previously only had mushy, unfortunate leberkäse. Fried to a pleasant crispness and tucked beneath a bed of sauerkraut, though, it's what the perfect hot dog would be if it got backed over by a steamroller. –
Cody
Glühwein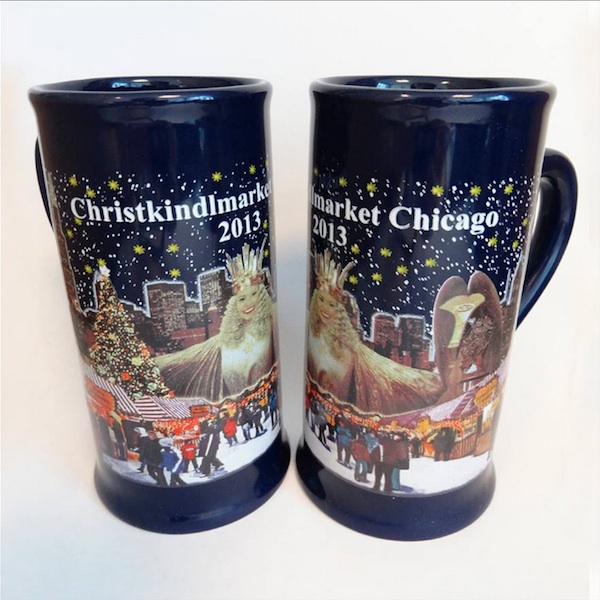 I may be the only person not bemoaning the lack of a boot mug to hold this year's wine. Maybe that's because the wine delivers: bracing and dry with a pleasant mix of spices, it's about the only thing [here] that makes me forget that I'm numb from the waist down. – 
Tyler Clark
Anything hot tasted good at this point, and the mug was indeed adorable, but not a boot! – 
Courtney Ryan
Currywurst
I never thought someone could get me to like what is, essentially, slices of hot dog in a bowl of curry-seasoned ketchup. But those wily Europeans have done it again! A crusty roll provided a nice contrasting texture. –
Will Landon
Strudel!
The flaky pastry could barely contain the thick layer of creamy filling and the dollop of cherries, which burst out with every bite. –
Jasmine Feldmann
Weird Christmas ornaments
A Santa cellphone. I think I'm getting to be the age where arbitrary things make me mad at teens and this is one of them. –
Cody
Buck-naked Santa Claus ornaments at Glaskugelhaus, kept relatively chaste by an extra-long beard. –
Halley
Gifts!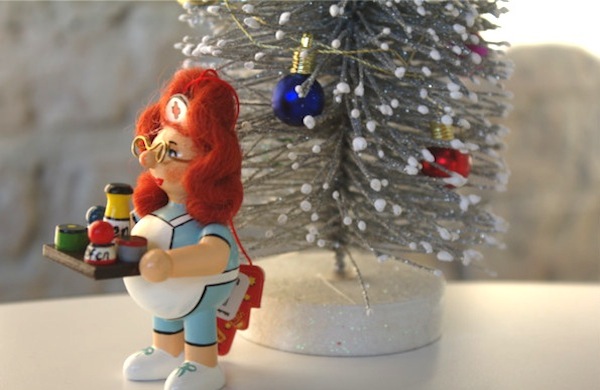 I bought a delightful wooden ornament for my mother. It's a very fat nurse with wild red hair who is carrying around a tray of drugs. Not sure if my mom will appreciate the aesthetic they've assigned to her profession, but it's the thought that counts, right? –
Courtney
The mountain-goat-wool jackets at Himalayan Chai are proof that you can't read a book by its cover. On their surface, the jackets look… a little scratchy. Inside, though, they're lined with soft, fuzzy fabric that made me feel more like a child at naptime than a mountain trekker. –
Halley
Friendliest vendor or passerby
A gentleman in front of me at a wurst stand
really
did not want sauerkraut. When he left, the jovial German-accented cashier informed me that no man worth his salt refuses sauerkraut and piled extra on my leberkäse. –
Cody
The pigeon huddled around the eternal flame really moved me. I also appreciated the fellow shopper who asked her friend if she "enjoyed Kris Kringle Market." –
Courtney
Photo of Daley Plaza courtesy of German American Services, Inc; photo of mug courtesy of Christkindlmarket; photo of nurse ornament, John Flaherty, Groupon
BY: Will Landon
Will Landon is a Chicago-based writer who sings punk rock songs with the Blue Ribbon Glee Club and occasionally works for free as an assistant stage director.