Christmas Movies Come to Life: "A Christmas Story"
BY: Emily Wachowiak |
Dec 17, 2013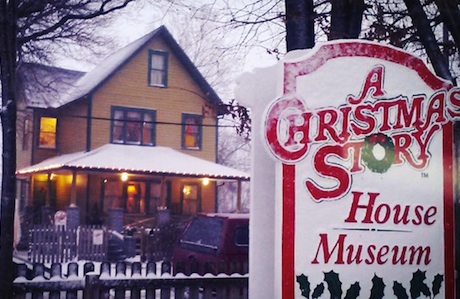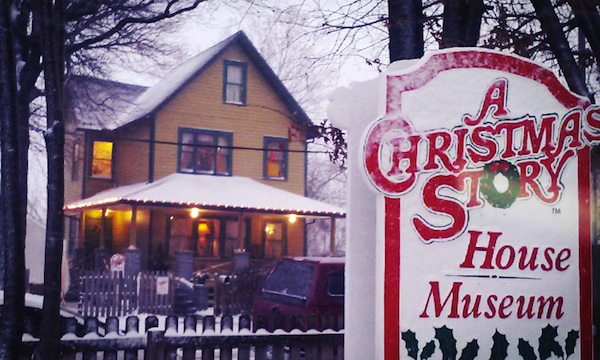 A Christmas Story
takes place in northern Indiana, but the 1983 film's nostalgic depiction of Midwestern family life never fails to strike a chord in the hearts of Chicagoans. Even if you can't make it to the actual
A Christmas Story House & Museum
in Cleveland, you can still bundle up in your Randy-esque snowsuit or Ralphie-style bunny pajamas and celebrate the film a bit closer to home. See how many of these themed activities you can complete before catching the film at
The Logan Theatre (2646 N. Milwaukee Ave.)
on December 21 or 22.
Find This Year's Red Ryder in the Macy's Holiday Windows
Since taking over the iconic Marshall Field and Company building in 2006,
Macy's (111 N. State St.)
has kept up the 140-year tradition of holiday window displays. This year, kids can press their noses against the glass to glimpse a fantastical take on the Frango chocolate factory or a scene of children mailing letters to Santa. There's even a vintage living room complete with an antiquated television set and a tinsel-covered tree that would fit right in at Ralphie's childhood home. Stop by Macy's Santaland to knock out two scenes in one visit, though this Santa isn't likely to say
you'll shoot your eye out
with an Xbox One.
Visit Flick at the Flagpole
In October, the city of Hammond, Indiana, immortalized one of
A Christmas Story
's most iconic scenes with a bronze statue of young Flick with his tongue frozen to a flagpole. You can see the tragic results of this
triple-dog dare
at the
Indiana Welcome Center (7770 Corinne Dr., Hammond)
, located right off the Kennedy exit of 80/94. Here, in Jean Shepherd's hometown, you'll find an entire
Christmas Story exhibit
that features a recreation of the Higbee's Santa Village. There's also a gift shop where you can find a leg lamp to call your own.
Win a Major Award
"What was the name of The Lone Ranger's nephew's horse?"
Fans of the film will remember that it was Ralphie's mom who supplied the Old Man with the correct answer to this famous trivia question. This, in turn, won the Old Man his most prized possession:
a sensuous leg lamp
. You, too, could take home a major award at 
Christmas Bingo: It's a Ho-Ho-Holy Night
 at 
The Royal George Theatre (1641 N. Halsted St.)
. A stern yet mirthful former nun runs the event, dispensing Christmas trivia and Catholic-school punishments in a manner that Ralphie's teacher, Miss Shields, would surely approve.
Play with the Bumpus Hounds
It's impossible to play fetch with the same dogs that ruined Ralphie's Christmas turkey, but you can still show your affection for those loveable hounds by supporting local rescue dogs. On Saturday, December 21, three shelters are running open adoption events: Alive Rescue is hosting one at
The Little Barn (2227 W. Belmont Ave.)
from 11 a.m. to 2 p.m.; One Tail at a Time is hosting one at
Kriser's Bucktown (1658 N. Milwaukee Ave.)
from noon to 3 p.m.; and New Leash on Life is hosting one at
Ruff Haus Pets (4652 N. Rockwell St.)
from noon to 3 p.m.
Feast on a Chinese Turkey
After the unfortunate incident with the Bumpus hounds, Ralphie's family enjoys "Chinese turkey" at the only open restaurant in town. The dish they actually eat is peking duck, and it just so happens that Uptown's
Sun Wah BBQ (5039 N. Broadway)
prepares a delectable version of its own. Sun Wah's Beijing Duck Feast is a
three-course meal
whose focal point is a whole duck carved right beside the table. Though you'll see the ducks hanging in Sun Wah's front window, the neckless bird that arrives at your table will not, as the Old Man says, be "smiling" at you.
Photo courtesy of 
A Christmas Story
House & Museum, Cleveland, OH
BY: Emily Wachowiak
Guide Staff Writer
Emily Wachowiak is a Chicago-based writer and editor.