Christmas Movies Come to Life: "National Lampoon's Christmas Vacation"
BY: Tyler Clark |
Dec 18, 2013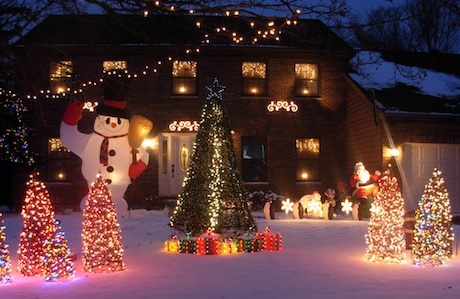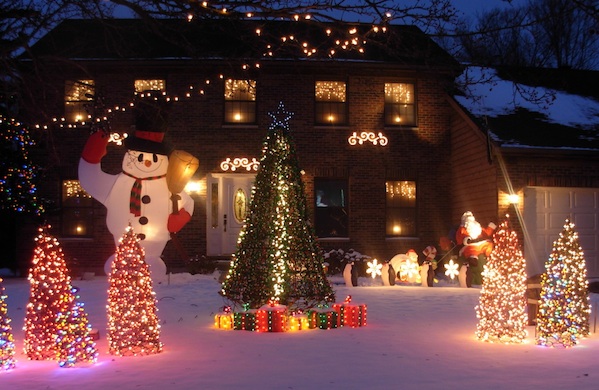 If you had to live in a Christmas movie, which one would you pick?
A Christmas Story
? Sure, if you enjoy the Depression.
Home Alone
? If home invasion is your idea of a good time, have at it. No, the only Christmas movie worth living through is the one that best captures the frazzled, funny moments that arise at even the most staid family Christmases:
National Lampoon's Christmas Vacation
. In the following guide, you'll find six easy steps for inviting a little bit of the Clark Griswold spirit into your holiday celebrations.
Cut Down the Griswold Family Christmas Tree
To kick off a
fun, old-fashioned Griswold family Christmas
, you're going to need a tree. However, if you're anything like Chevy Chase, you are not going to accept some scrawny balsam that's spent all week loitering in an abandoned gas-station parking lot. No, you're going to spend your Saturday driving out to
Abbey Farms (850 Butterfield Rd., Aurora)
, a Christmas-tree farm run by the monks of
Marmion Abbey
. After strolling through rows of
firs, spruces, and pines
, you can cut down the tree of your dreams with nothing but a keen blade and the power of Christmas spirit (they also sell pre-cut trees, if you must). In addition to tending their trees, the monks also oversee a farm store filled with seasonal trimming including
wreaths
, garlands, and
fresh winter pies and donuts
.
(9 a.m. to 7.pm., through December 23)
Stay Warm on the Roof with Blackhawks Gear
It's not too late to drape the house in 25,000 imported Italian twinkle lights, but you're going to need some warm clothes while you're out there. Instead of a boring sweatshirt, head to the
Blackhawks Store (333. N. Michigan Ave.)
and pick up
an official away jersey
like the one Clark wears when things get chilly. If Rusty (or someone like him) volunteers to help, the shop also carries
youth sweatshirts
in the home red favored by Johnny Galecki. You can also peruse the shop's extensive
championship collection
, which celebrates the Stanley Cup victory the Griswolds always wanted.
(10 a.m. to 6 p.m. Monday–Saturday, noon to 5 p.m. Sunday)
Check Out Excessive Suburban Christmas Lights
Okay.
Your lights don't work
. It's probably a bad bulb, but don't waste your night checking every one by hand. Instead, pile into the Family Truckster for a trip to Geneva, where the
Parcell Family (813 Cheever Ave., Geneva)
stages a light display that puts even the Griswolds' to shame. Covered in 50,000 lights synchronized to classic holiday tunes broadcast from a low-power FM transmitter, their house acts as a beacon of good cheer throughout the month of December. Speaking of holiday spirit: the Parcell house is also an official
Toys For Tots
drop-off location, so be sure to bring some kiddie-size gifts when you go.
(5 p.m. to 10 p.m., through December 31)
Set a New Amateur Recreational Saucer-Sled Land-Speed Record
Even if you don't have a new non-caloric silicone-based kitchen lubricant to
add that extra speed
, you should still take the time to hit one of Chicago's iconic sledding hills. If snow starts falling, hills at
Montrose Harbor (601 W. Montrose Dr.)
,
Warren Park (6601 N. Western Ave.)
, and
Humboldt Park (1400 N. Humboldt Dr.)
turn into picturesque courses ready for downhill jaunts. If Christmas isn't white, head to
Soldier Field (425 E. McFetridge)
, where a gargantuan 33-foot hill stays powder-packed all winter with the help of artificial snow. There's even a tow rope to help you on your way to another run.
Replace the Christmas Pyramid Wrecked by Cousin Eddie
Your cousin-in-law means well, but let's face it: the guy's an oaf. Just look at how he
mangled your delicate Christmas pyramid
. Those things are heirlooms, and the best ones are only found at German Christmas markets. Fortunately, Chicago's expanded its holiday shopping options since the Griswolds hosted Christmas in 1989. Head to
Daley Plaza (50 W. Washington St.)
, where, since moving from Pioneer Court in 1997, the
Christkindlmarket
has been bringing Bavarian tradition to the heart of the Loop. You'll find your pyramids in the
Käthe Wohlfahrt of America
cottage, spinning in varying degrees of size and opulence. While you're here, grab some gluhwein in a commemorative mug (sadly, not moose-shaped) and brace yourself for the return home.
(through December 24; see the full schedule)
Create Your Own Jelly of the Month Club
So. Bad news. Your
no-good, four-flushing boss
decided to nix Christmas bonuses this year. What's worse, the rat didn't even have the decency to enroll you in the Jelly of the Month Club. Salvage your dignity (and the dignity of your toast) with a trip to
Eataly (43 E. Ohio St.)
, where
Albergian's Ramasin plum compote
and
Niasca Portofino's apricot jam
await to ease the sting of this year's Christmas anti-miracle. As you munch, try to look on the bright side; after all, if jelly is the gift that keeps on giving for the whole year, then Mario Batali–approved jams must be worth at least twice as much.
(10 a.m. to 11 p.m., daily)
Photo courtesy of the Parcell Family.
BY: Tyler Clark
Tyler is a writer, storyteller, and musician from Chicago. His stories have appeared on stage at shows including Mortified, Story Club, and Lethal Poetry.