GROUPON GUIDE TO WASHINGTON-DC
Christmas Music: The Good, the Bad, and the Unlistenable from 2014
BY: Groupon Guide |
Dec 16, 2014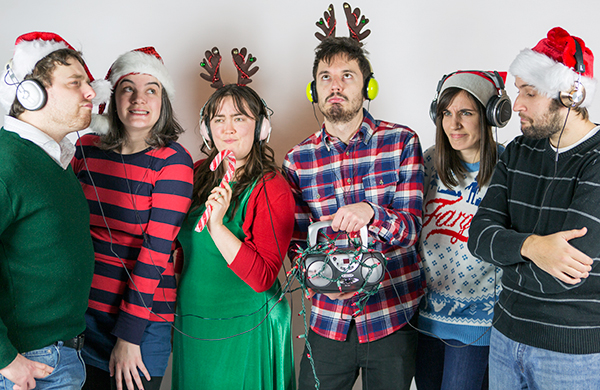 We recently locked ourselves inside a conference room with the objective of ranking ten of the most popular Christmas songs for 2014. We emerged stuffed with seasonal cookies, emotionally scarred, and ready to answer the hard questions about the latest crop of holiday hits. – Collin Brennan
Band Aid 30 – "Do They Know It's Christmas?"
The charity supergroup Band Aid returns with a new cast of celebrities and a new cause: the ebola crisis.
Dan: Obviously Ebola is a problem, and I'm sympathetic, but to me it would make more sense to have a general message of harmony … [Ebola] just seems like a really specific cause to have a Christmas song about. There are lot of problems in the world—why are we picking this one to focus on?

Sarah: A lot of well-meaning artists didn't put a lot of thought into signing on to this. It's like, "Yeah, we want to help, so we'll sing this terrible song!"

Collin: This song matters to me because it's the first time I've understood why people hate Bono so much.

Randall: Wait, are they all singing together now? That's kind of nice.

GRADE: F
The Both – "Nothing Left to Do (Let's Make This Christmas Blue)"
Indie-rock demigods Ted Leo and Aimee Mann team up for a ballad that captures the subtler aspects of seasonal depression.
Dan: If you heard this song on the radio, you wouldn't necessarily think it was a Christmas song if you didn't listen to the lyrics.

Collin: But there's definitely something traditional about it.

Randall: Yeah, the melodies feel very traditional. Aimee Mann's voice goes to a higher register than she typically goes to, which makes it feel kind of festive.

Allison: It would be a great song to listen to while you cry and eat Chinese food.

GRADE: A–
Ariana Grande – "Santa Tell Me"
The pop powerhouse and former teen idol asks Santa all the tough questions about Christmas, possibly mistaking him for a relationship columnist.
Randall: This is a mall song. I'm picturing a montage of a harried woman carrying a bunch of bags and accidentally going down the wrong escalator.

Sarah: I am saying this 100% un-ironically: this is so cute. I'll probably listen to this a lot and not tell anyone. It's got the poppiness of Mariah Carey's Christmas songs … which I also maybe listen to a lot.

Stephanie: It sounds like she wants to sit by the fire with Santa.

Collin: Actually, I think she's asking Santa to give her relationship advice.

Dan: It's an unconventional way to incorporate Santa, and I appreciate that.

GRADE: C+
Straight No Chaser with Kristen Bell – "Text Me Merry Christmas"
Veronica Mars lends her pipes to this extremely topical, soon-to-be-dated song about texting on Christmas.
Dan: I have to say, I do appreciate how unabashedly timely this is. It will probably sound really dated in a while.

Collin: But all Christmas songs sound kind of dated after a while, right? This one is just acknowledging that fact and embracing it.

Stephanie: The beat is kind of catchy, too, with that a cappella group in the background.

Randall: Anybody who uses LOL in all caps should probably not be dating … I really wish this song would take itself more seriously.

GRADE: C–
Flaming Lips with Yoko Ono – "Happy Xmas (War is Over)"
"Happy Xmas (War is Over)" comes on the heels of the Flaming Lips' Sgt. Pepper's tribute album from earlier this year. It's a snoozefest that doesn't live up to the wild experimentations both artists are known for.
Stephanie: This seems like it would fit really well on a movie soundtrack.

Randall: It's a very triumphant song. It feels like they're singing in the middle of a blizzard.

Dan: I'm kind of predisposed to not like this, because I hate the original so much … maybe I'm just against "serious message" Christmas songs. I'd rather be reminded of shopping for presents and having fun.

Sarah: I hate the original, too. I turn it off every time it's on. I love the Flaming Lips, and I even actually kind of like Yoko Ono. They're both so weird when they do their own stuff, and I'm kind of bummed that this isn't the weirdest Christmas song I've ever heard.

GRADE: D+
Earth Wind & Fire – "Winter Wonderland"
We truly loved this funkified version of "Winter Wonderland," which sounds like pretty much everything else Earth Wind & Fire have ever done (that's a good thing).
Allison: Oh, this works for me.

Randall: Wait, this came out this year?

Dan: I love this, because it's really just them putting their sound on a Christmas song, and it pays off. You know exactly what it is right when you hear it.

Randall: There's really not enough funky Christmas music.

GRADE: B+
Idina Menzel & Michael Bublé – "Baby It's Cold Outside"
The Frozen star teams up with Michael Bublé for yet another cover of this surprisingly inappropriate song. To their credit, they changed the words a bit.
Randall: This song is so constantly covered. It feels like there's five new versions every year.

Collin: It's one of those weird songs that's always sounded really inappropriate but somehow still gets played everywhere. It's like the sport of football. As the years go on, we get more uncomfortable with it culturally, and yet it remains popular.

Allison: Well, they did change the part about "What's in this drink?"

Dan: Context aside, how do you guys feel about what's going on sonically?

Stephanie: I like their voices together, because she's got a much lower alto-ish voice, and his deep baritone matches really well.

Randall: This is a song meant for people who appreciate really good singers. That's the thing with these guys—they don't need to write a new song, because people will listen to this and say, "Wow, their voices are so good!"

GRADE: C
Darius Rucker – "What God Wants for Christmas"
Rucker has spent the past several years reinventing himself as a heartfelt country songwriter. Too bad he throws that all away with this heavy-handed dud.
Collin: This whole theme of getting back to what Christmas really means—it just feels overplayed at this point.

Sarah: The problem is that you're saying "Let's get back to what Christmas really means" while you make a highly commercialized Christmas song that you're intending to make a bunch of money off.

Randall: I wish this one had more of a sense of humor. When he's singing about what God wants for Christmas, you already know it's going to be world peace. But what if it's just, like, a toy train?

Dan: Or a Ferrari. A sky Ferrari.

GRADE: D–
Jessie James Decker – "Baby! It's Christmas"
Decker's voice is buoyant enough to distract from the empty lyrics, which simply list all the normal reasons people like Christmas.
Collin: She's literally just listing stuff that happens on Christmas.

Randall: Everybody's always singing about the same thing. It's always sitting by the fire, drinking cider and eggnog, wearing cozy sweaters. Give us something new. What else happens on Christmas?

Allison: Getting drunk with your relatives. I want that Christmas song.

Sarah: Well, she did rhyme "sweater" with "cider." That's kind of impressive.

GRADE: C–
Dum Dum Girls – "On Christmas"
Dum Dum Girls have created an icy, wintry single that doesn't have a one-year expiration date. A new-wave gem and the toast of the group.
Sarah: It's like Christmas in Twin Peaks.

Stephanie: I hear some sort of brass, so at least the bell noise is there to make it sound more like a Christmas song.

Collin: I tend to like Christmas songs that use their own narrative as opposed to borrowing tropes from every other song in existence.

Randall: When you present something as a Christmas song, you're already summoning all the feelings and archetypes and iconic words that come with Christmas. So you can build your own narrative around it.

Dan: This is very much their own thing. It's not just jingle bells and french horns and whatever thing makes the horse hoof noises. What's that called again?

GRADE: A