CLLAW's Lady Arm Wrestlers Go Way Over the Top
BY: Amelia Buzzell |
Oct 30, 2013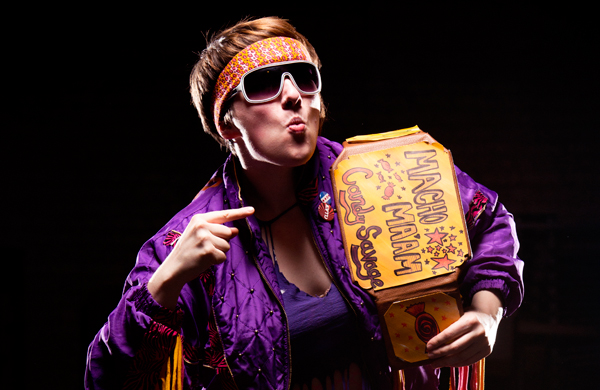 Macho Ma'am Candy Savage on talking trash in hot-pink spandex at CLLAW's upcoming match in Logan Square Auditorium.
Beneath a tiny yet hot spotlight, a small platform will be set up in the center of
Logan Square Auditorium
(2539 N. Kedzie Blvd.) on March 8 to welcome opponents in the
Chicago League of Lady Arm Wrestlers
. The stark stage will showcase more than 14 lady arm wrestlers as they lock arms in pairs to battle for the CLLAW's coveted trophy: a pair of glittery boxing gloves. The arm wrestling the crowds see here is very, very real, as are the occasional physical challenges, such as chug-offs and hula-hoop-offs. But that doesn't stop the ladies from having fun: each wrestler is encouraged to assume an over-the-top, WWE-style persona, complete with a wild, inventive costume that would make Ric Flair hang his head in shame. To get an idea of what other wrestlers put into their larger-than-life wrestling personas—full disclosure: I wrestle as the fictional NPR on-air personality Gorrison Killer—I spoke to wrestler Macho Ma'am Candy Savage to talk about her biceps, her best insults, and her fierce fashions.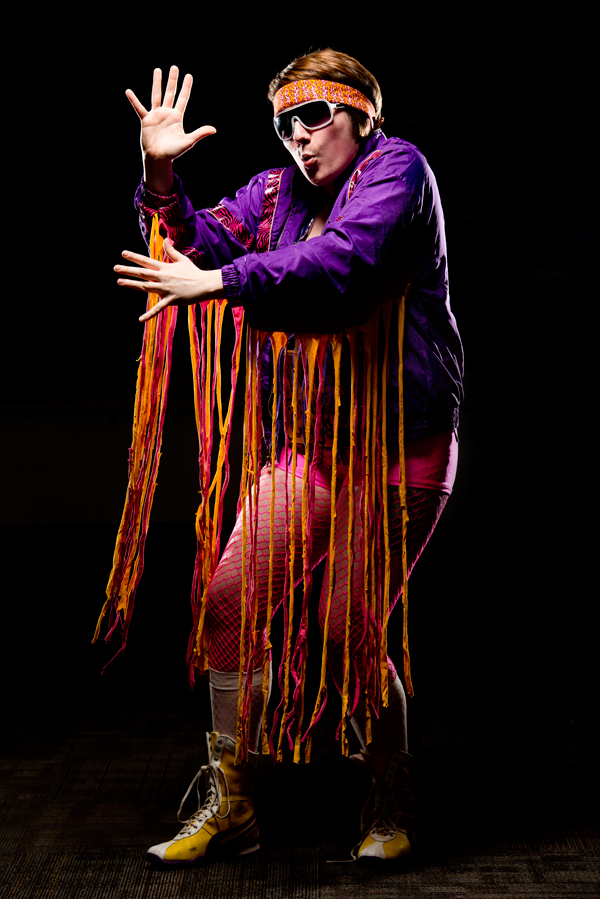 Macho Ma'am Candy Savage (alias: Kaye Straub)
GROUPON: How did you get your name?
KAYE STRAUB: Once upon a time, more specifically the late '80s/early '90s, a great man changed the world of professional wrestling and the meat-snack-stick industry forever. That man was Macho Man Randy Savage. OOOH YEAH!
G: Describe your manager and entourage, real quick. 
KS: Macho Ma'am is managed by none other than Slim Jim, the greasiest slab of man meat
the world has ever seen.
G: Please describe your character's wrestling ensemble in great detail.
KS: OOOH, where does the Macho Ma'am begin? AT THE TOP, BECAUSE THE MACHO MA'AM IS THE CREAM AND THE CREAM RISES TO THE TOP, YEAH! Pink and yellow leopard headband, hot-pink star earrings, the most amazing '80s sunglasses you've ever seen, purple tasseled halter top with white stars on the lady parts, ... hot-pink spandex shorts with three white stars on the front and "Macho Ma'am" written on the back, ... yellow wrestling boots, purple windbreaker jacket with hot-pink zebra trim ... and "Macho Ma'am Candy Savage" written on the back. And of course, the Gender-Continental Lightweight Championship Belt.
G: How did you pick your ensemble?
KS: I basically tried to recreate everything an early-era Macho Man would wear if he was a foxy lady. He has a very iconic look, especially the pink trunks and yellow boots, so I had to do the big man justice.
G: What article of clothing would your wrestler never be caught dead wearing?
KS: A Hulkamania T-shirt.
G: Describe your sweet, sweet arm muscles in three words.
KS: All of the Glory of All the Eagles. … Macho Ma'am doesn't have time to count.
G: What's your favorite insult to toss at other wrestlers?
KS: The Macho Ma'am's opponents are nothin' but garbage, and on CLLAW XVII the Macho Ma'am will be takin' out the trash! OOH YEAH! DIG IT!
You can catch the ladies of CLLAW in all their costumed glory on Saturday, March 8, at 10 p.m. Proceeds from the match benefit Sideshow Theatre and CAASE, the Chicago Alliance Against Sexual Exploitation; click here for more information.
Photo: Andrew Nawrocki, Groupon